Toyota will make a full model change to its compact SUV "C-HR" and launch it in 2023.The "C-HR Prologue Concept" was announced in Europe on December 5, 2022 (local time), previewing the production version of the new second-generation "C-HR" scheduled to be announced and released in 2023. there isIt features an evolved styling that gives it a 'hammerhead' style and is available with hybrid and plug-in hybrid powertrains.
table of contents
About the new C-HR full model change
following the first generation2nd generation TNGA (Toyota New Global Architecture) "GA-C platform" adopted. Like the fifth-generation PriusThe 5th generation hybrid system adopts "THS II" with improved efficiency.It adopts next-generation "Toyota Safety Sense" that can detect bicycles during the day and pedestrians at night.The exterior is a keep concept, and the design is conscious of sports models among SUV models.
In the "bZ" series released by Toyota on December 14, 2021, the model "SMALL SUEV", which can be said to be the concept of the new "C-HR", was lined up. Furthermore, there is a possibility that a BEV (battery EV) installed in the UX "UX300e" will be added to the lineup.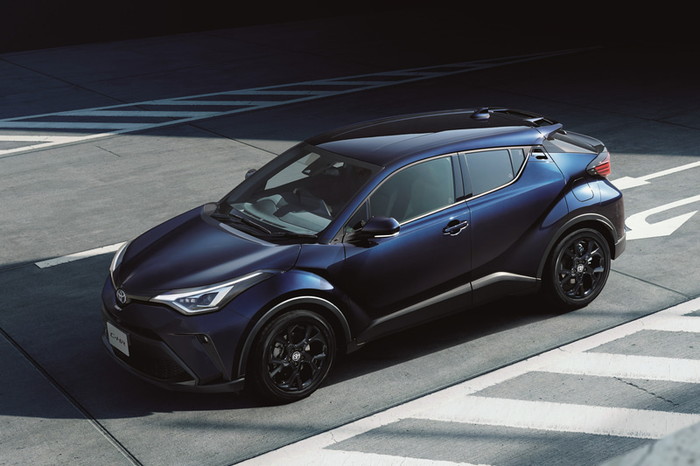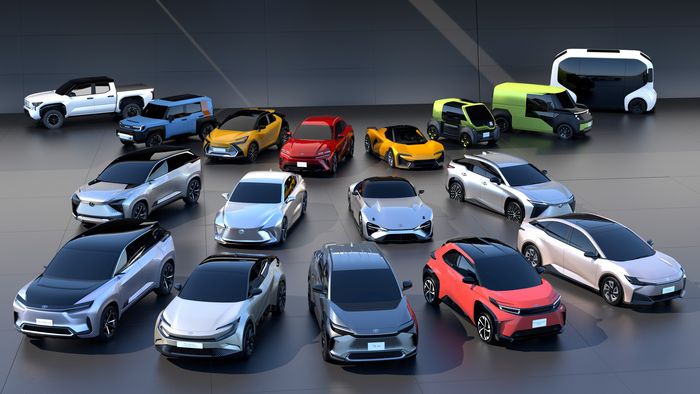 "Hammerhead" style Large "U-shaped" daylight
It adopts a large "U-shaped" daylight and adopts an unprecedented Toyota design, so you can feel the advancedness.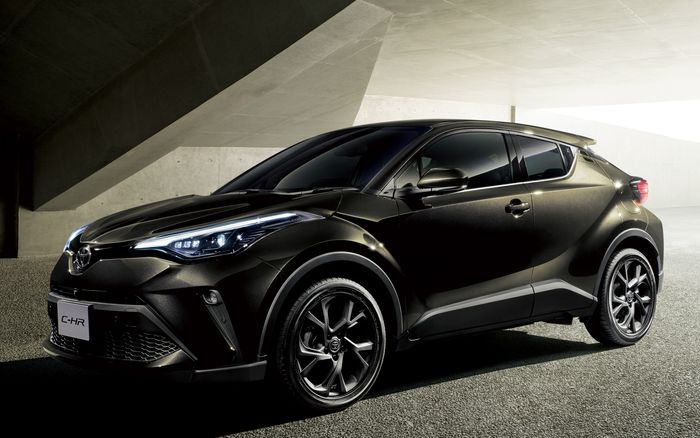 The "Hammerhead" style nose is inspired by the shark's "Hammerhead Shark" with full LED headlights.Including new Toyota vehicles such as "Crown" and "Prius"published December 14, 2021New BEV (battery EV) "bZ" seriesSome models have similar headlight designsindicating that this is a step forward in Toyota's design language.
About the "C-HR Prologue Concept", which is the base of the new Toyota C-HR
It previews the production version of the second-generation new C-HR. We decided to follow the same recipe as our successor in terms of agile exterior design and unconventional proportions. "C-HR Prologue", like its predecessor, was created by Toyota's "ED2 Studio" in the South of France. The front bumper has black elements surrounding large intakes that are mostly covered to improve aerodynamics. The profile is heavily sculpted with small windows reminiscent of the C-HR. A new triangular shape towards the front fenders emphasizes the rear quarter panel and C-pillar. Larger wheel diameters, shorter overhangs and a steeper rear windshield make the SUV look sportier and more compact than its predecessor. Toyota's designers opted for a tri-tone treatment that combines metallic silver shades on the bodywork with recycled carbon black on the rear section and "sulfur" accents on the bumper and rear spoiler. The production version is expected to retain most of the concept's exterior design, though some features, such as flush door handles and a mirror-swap camera, could be swapped out to lower production costs.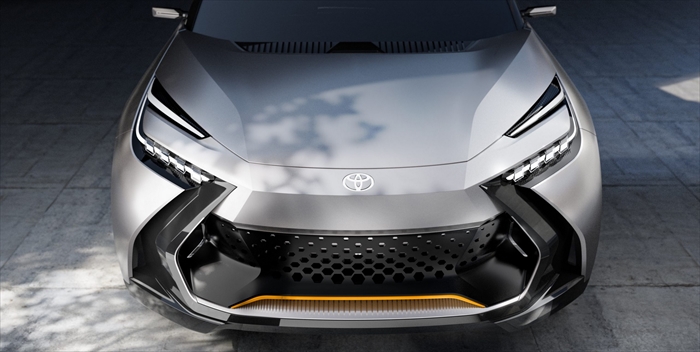 Toyota didn't show any photos or renderings of the interior, but claims it's "more spacious and practical" than before. The new C-HR has more technology with a larger screen for the digital cockpit. Concept black tint windows do not allow you to see inside.
For more information on the platform and powertrain, the company said the new C-HR is available in hybrid and plug-in hybrid formats. This will be Toyota's third PHEV offering in Europe, following the RAV4 and Prius. It will be based on the same evolution of the TNGA-C architecture as the slightly larger Corolla Cross and the new Prius. The auto-charging hybrid setup could come from the former, and the PHEV could come from the latter, with power and range numbers likely to be different for the smaller C-HR.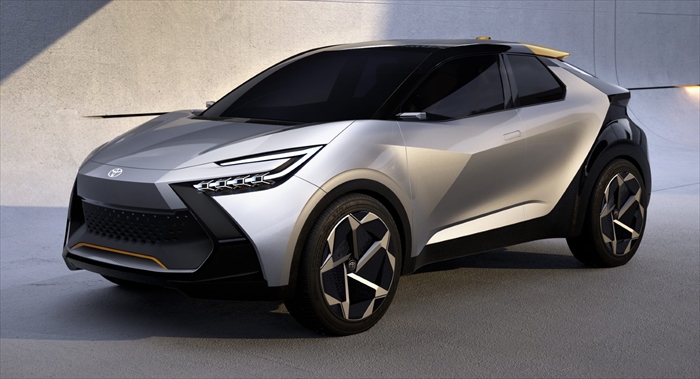 Adopting the 5th generation hybrid system
5th generation hybrid system,Adopted a series parallel hybrid with a reduction mechanism that combines a motor with an in-line 4-cylinder DOHC 1.8L engine "2ZR-FXE".In addition, the upper grade uses a 2.0L straight 4 DOHC "M20A-FXS" + motor to achieve both driving and fuel efficiency.
1.8L inline 4 DOHC + motor model
Inline 4 DOHC 1.8L + motor (series parallel hybrid with reduction mechanism) modelCompared to the 4th generation Prius, the front and rear motors have been greatly strengthened, and the front motor has a maximum output of 53 kW (72 ps) → 70 kW (95 PS) and a maximum torque of 163 Nm (16.6 kgm) → 185 Nm (18.9 kgfm). , rear motor maximum output 5.3kW (7.2ps) → 30kW (41PS), maximum torque 55Nm (5.6kgm) → 84Nm (8.6kgfm), system output 90kW (122ps) → 103kW (140ps).
2.0L straight 4 DOHC + motor model
And by adopting the in-line 4 DOHC 2.0L + motor (series parallel hybrid with reduction mechanism), which is the biggest change this time, it adopts a high-output engine and motor and contributes to driving and fuel efficiency.The maximum system output is 144 kW (190 PS), 1.6 times that of the previous model, ensuring power performance suitable for the sporty reborn Prius.
Uses the latest Toyota Safety Sense
It adopts next-generation "Toyota Safety Sense" that can detect bicycles during the day and pedestrians at night.
The second-generation "next-generation Toyota Safety Sense" is installed as standard on all models."Pre-crash safety" that can detect bicycles during the day and pedestrians at night, and "radar cruise control" that maintains a constant distance between the vehicle and the vehicle ahead, assists the steering operation necessary to keep the lane. Equipped with Lane Tracing Assist (LTA).A function to detect cyclists during the day and pedestrians at night has been added to pre-crash safety. Ensures excellent recognition performance and reliability using millimeter-wave radar and cameras. In addition to the three types of preventive safety functions (collision avoidance support type PCS, LDA, and AHB), a pedestrian detection function is added to the PCS. Collision avoidance support for pedestrians/damage mitigation is possible, and radar cruise control is also installed.
It supports the latest "collision avoidance support type pre-crash safety", "detection at intersections", "low speed acceleration control function" and "emergency steering avoidance support function".Collision avoidance support type pre-crash safety (PCS) with pedestrian detection functionA millimeter-wave radar and camera are used to detect vehicles and pedestrians in front, and alerts, brake assist, and automatic braking are used to help avoid collisions and reduce damage. Automatic braking works on pedestrians in the speed range of 10 to 80 km/h. For example, if the speed difference with the pedestrian is 30 km/h, the vehicle slows down by approximately 30 km/h to help avoid collisions. . For vehicles, it operates in a wide range of speeds from 10km/h to maximum speed. Furthermore, "Acceleration suppression function at low speed""Detecting oncoming vehicles and pedestrians when turning right at an intersection""Emergency steering avoidance support function"Add.
At low speeds, the low-speed acceleration suppression function detects pedestrians, bicyclists, and vehicles in front of the vehicle and suppresses acceleration.
It can also detect oncoming vehicles when turning right at an intersection, and pedestrians crossing the opposite direction when turning right or left.
An emergency steering avoidance support function that assists steering when the driver avoids steering in an emergency.
Road Sign Assist (RSA)In addition to expanding the detection target, it also reads major traffic signs such as "speed limit", "stop", "no entry" and "no stray" on the side of the road and displays them on the instrument panel.
Lane Departure Alert (LDA)A camera recognizes the white and yellow lines in the driving lane, and if it detects the possibility of lane departure, it warns the driver with a buzzer and display to help avoid collisions due to lane departure.
Automatic high beam (AHB)A camera detects the headlights of an oncoming vehicle or the taillights of a preceding vehicle, and automatically switches between high beam and low beam to reduce dazzle for drivers of other vehicles and help secure forward visibility at night.
radar cruise controlThe radar cruise control system uses a millimeter-wave radar to detect the distance between the vehicle and the vehicle in front, and adjusts the vehicle speed to match the speed of the vehicle ahead, allowing the vehicle to maintain a certain distance while following the vehicle. Millimeter-wave radar and a camera detect when the vehicle ahead changes lanes, enabling smoother acceleration and deceleration control. Aiming for the ultimate goal of a mobility society, which is to achieve zero traffic casualties, Toyota researches and develops various safety equipment and systems based on the Integrated Safety Concept, aiming to develop safer vehicles and technologies. While pushing forward, we are strengthening a wide range of initiatives for traffic safety through "participation in traffic environment improvement" and "traffic safety awareness activities for people."
Lane Tracing Assist (LTA)Lane Tracing Assist[LTA]installed in the new Lexus LS series is adopted for the next generation Toyota Safety Sense P for the first time. When driving on a highway or highway, if the Lane Tracing Assist[LTA]switch is turned ON while the radar cruise control is in operation, the steering operation assistance necessary for keeping the lane is performed.
proactive driving assistBy predicting risks according to the driving situation, such as "a pedestrian crossing" or "a person might jump out," the system supports driving operations to prevent danger from approaching too closely, leading to peace of mind for the driver. In addition, by supporting deceleration operations against preceding vehicles and curves ahead, and reducing frequent pedal changes, this function provides gentle support to the driver while driving on public roads.
Advanced safety
Intelligent clearance sonar (parking support brake stationary)A system that mitigates collisions that occur when the accelerator is pressed incorrectly or too far, helping to reduce damage. A function to reduce contact with stationary objects has been added to the "clearance sonar" that notifies the driver of approaching stationary objects by displaying and buzzing when driving such as parking in the garage. The sonar detects glass such as convenience stores firmly. If a stationary object is detected in the direction of travel while driving at low speed (15km/h or less), the hybrid system output is suppressed, and the brakes are automatically applied when the distance is further reduced.
Preceding vehicle start notification functionIf the vehicle stops following the vehicle ahead due to waiting at a traffic light or in a traffic jam, and if the vehicle is left without noticing that the vehicle ahead has started, a buzzer and display will notify the driver.
Emergency brake signal (hazard lamp flashing type)Hazard lamps automatically flash when the brakes are applied suddenly.
Response system for driver malfunctionIf the driver remains inactive during Lane Tracing Assist[LTA]control, the driver will be alerted by sound, display, and gradual deceleration, prompting the driver to operate. The vehicle slows down and stops within 10 minutes to help avoid self-inflicted accidents and reduce accident damage.
digital inner mirrorThe image of the camera attached to the rear of the vehicle is displayed on the rearview mirror.
Advanced Parkwith remote functionAssists in backing up near the target parking position confirmed on the screen, or exiting from parallel parking, by operating the steering wheel, shift position, accelerator, and brake. In addition, a dedicated smartphone application is available so that parking can be performed by remote control from outside the vehicle.
panoramic view monitor(360°monitor) Obstacles can be quickly spotted by checking difficult-to-see areas such as diagonally behind or right beside the vehicle.
Blind Spot Monitor (BSM) Radar detects vehicles running in the next lane. When the vehicle enters the blind spot area, the LED indicator mounted on the door mirror lights up.
Safe Exit Assist (SEA) Blind spot monitor when getting off[BSM]sensor to detect approaching vehicles, including bicycles, from behind. If the system determines that there is a possibility of a collision with an opened door or with a passenger who has exited the vehicle, an indicator in the door mirror lights up to alert the driver.
Rear cross traffic auto brakeDetects blind spots when reversing and calls attention. If there is a risk of collision, the system automatically applies brake control to help reduce damage from collisions with approaching vehicles.
Remote start (app)A new optional service that allows you to start the engine and air conditioner from the MyTOYOTA app.
2nd Generation Next Generation Toyota Safety Sense Feature Comparison
system equipment
first generation
C-HR
2nd generation
New C-HR
Toyota
Safety
Sense
Collision avoidance support type
pre-crash
Safety
◯
Day/Night Pedestrians
Bicycle/motorcycle
◯
Day/Night Pedestrians
Bicycle/motorcycle
proactive
driving assist
–
◯
lane departure
Alert
(Steering
with control function)
◯
steering control
White line/yellow line detection
Wobbling alarm
◯
steering control
White line/yellow line detection
Road edge detection
Wobbling alarm
Adaptive
high beam system
◯
◯
radar cruise
Control
(With all vehicle speed tracking function)
◯
◯
lanet
racing assist
◯
◯
road sign assist
traffic sign reading
◯
◯
Preceding vehicle start notification
◯
◯
prevention
safety
Equipment
blind spot
monitor
◯
◯
intelligent
clearance sonar
◯
◯

rear cross traffic
auto brake

◯
◯
Advanced Park
with remote function
–
◯
Safe Exit Assist (SEA)
–
◯
Driver error
Correspondence system
–
◯
hill start
assist control
◯
◯
panoramic view
monitor
–
◯
comfortable
Equipment
Comfortable thermal sheet +
seat ventilation
◯
◯
steering heater
–
◯
digital inner mirror
(With front and rear recording function)
–
◯
ITS Connect
◯
◯
electric parking brake
&hold
–
◯
power seat
◯
◯
hands free
power back door
–
◯
heads up
display
◯
◯
digital key
–
◯
Navires
–
–
toyota display
audio
◯
◯
In-vehicle communication device (DCM)
◯
◯
Thoughts on the new C-HR 2nd generation
"C-HR" is a compact SUV released by Toyota from December 14, 2016. It will be the second model to adopt the common platform TNGA (Toyota New Global Architecture) following the Prius. As a Toyota vehicle at the time, it was challenging the new genre of compact SUVs. The 2nd generation this time also adopts wonderful equipment for this class, such as the latest "hybrid system" and "safety equipment" following the 5th generation new "Prius". It will be a model that combines not only fuel efficiency but also comfort. but,The times have changed and Toyota's "hybrid system" was used only in the "Prius" or "C-HR", but now many "Toyota vehicles" use the same "hybrid system". Although it is true that the number of people who chose the "C-HR" has decreased because of the high demand, it is interesting to see how much the number of sales will increase after the launch.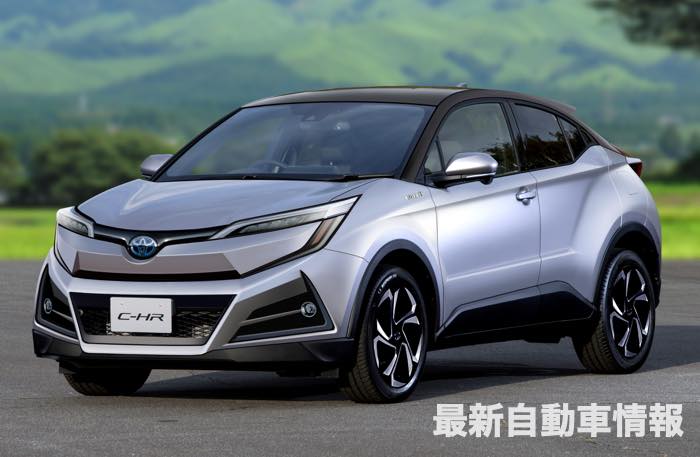 C-HR
https://toyota.jp/c-hr/