Mitsubishi Motors announced on February 2, 2023 that it has received about 4,000 pre-orders for the new minicar "Delica Mini" as of January 31, 2023.
table of contents
About Mitsubishi New Delica Mini
The new "Delica Mini" will be released on May 25, 2023. It is the 55th anniversary of the launch of the first generation Delica. A special site for "DELICA MINI" was opened on November 4, 2022, and the exterior design was unveiled for the first time..
A light vehicle type all-rounder minivan that inherits the Delica name (higher vehicle, equipped with special off-road tires).
Adopt the latest mild hybrid. Equipped with "grip control".
Adopted preventive safety technology "e-Assist" and "MI-PILOT system" for safety equipment.
Based on the light super height wagon "eK Cross Space"madeIt is an all-rounder wagon with a more SUV taste. The design closer to "Delia D: 5" has been changed to the exterior.Even now, there are many similar parts in the design, but the image will be changed by adopting a larger grill and a new generation dynamic shield.Headlights are combined with headlights with built-in semi-circular LED daylights. The front and rear bumpers have also been changed to a Delica-like design.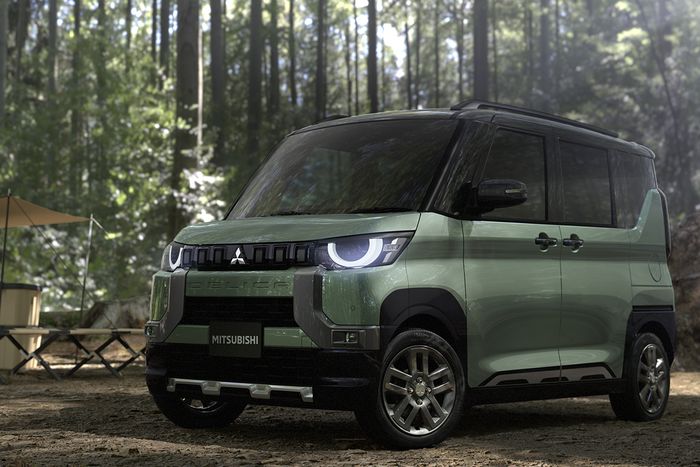 New platform adopted.Special off-road tires are used, and the vehicle height has been increased to give it an SUV-like appearance.FurthermoreA lineup of mild hybrid vehiclesfull-time 4WD that realizes driving according to the road surface, support for starting on slippery roads,Equipped with "grip control".Brake control allows you to drive safely even on steep downhills. Hill descent control[HDC]is adopted.packagedEquipped with "e-Assist" as standard"Collision Mitigation Braking System (FCM)", "Lane Departure Warning System (LDW)", "Lane Departure Prevention Support Function (LDP)", "Misapplication Collision Prevention Assist", "Automatic High Beam (AHB)", and "MI-PILOT system" can be selected as an option.The power sliding doors on both sides have an opening width of 650mm for the rear seats."hands free auto sliding door" is adopted.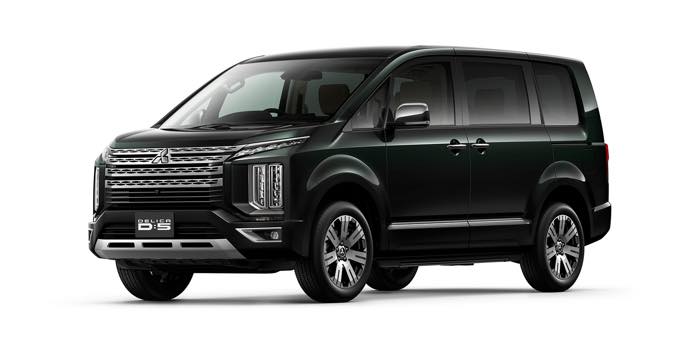 About Mitsubishi New Delica Mini Advanced Safety Equipment e-Assist
The preventive safety technology "e-Assist" is applicable to "wide" of "safety support car S (commonly known as support car S)".
Automatic high beam (AHB)The forward detection camera detects the lights of preceding and oncoming vehicles, as well as the brightness around the road. By increasing the frequency of driving with high beams, it supports safe driving such as early detection of pedestrians.
Collision Mitigation Braking System (FCM)The front camera detects vehicles and pedestrians ahead. When the possibility of a collision increases, a warning message is displayed on the meter display and a buzzer prompts the driver to take evasive action. In the unlikely event that the driver is unable to slow down safely, the system automatically activates emergency braking to avoid a collision or reduce damage and injury in the event of a collision.
Lane Departure Warning System (LDW)If the vehicle is likely to unintentionally deviate from the driving lane, a warning display on the meter display and a buzzer will alert the driver.
Lane Departure Prevention Support (LDP) A force is generated briefly in the direction to bring the car back into the lane, prompting the driver to move the car back into the lane.
Collision Prevention Assist for Pedal Misapplication If there is an obstacle such as a wall in the direction of travel while driving at low speed, such as when parking, the brake operation may be delayed and the driver may perceive the danger of colliding with the obstacle, or may accidentally depress the accelerator pedal for the brake pedal. The driver is warned by the display and buzzer in the meter when the By controlling engine output and braking, it helps prevent collisions with obstacles and excessive acceleration.
Mitsubishi New Delica Mini Other advanced safety equipment
MI-PILOT system (optional)adaptive cruise control[ACC]and lane keep assist[LKA]Equipped with, it mainly supports driving on highways. Monotonous "traffic jam driving" and long "cruising driving" on the highway. Operates when driving on a highway (approximately 0km/h to 100km/h). In these two scenes, the car supports accelerator, brake, and steering operations. Reduces the burden on the driver during high-speed driving.
stop signal In order to reduce the possibility of a rear-end collision with a following vehicle when the brakes are applied suddenly, the brake lights flash to notify the rear of the vehicle of the sudden braking.
Multi-around monitor front & back sonar Sonar detects obstacles and notifies you with a buzzer sound. You can intuitively grasp the surrounding situation as if you were looking down on the car from directly above, and you can park with confidence.
digital room mirrorAn LCD monitor is mounted on the rearview mirror, allowing instant switching between the image from the rear camera and the mirror.
Mitsubishi New Delica Mini Expected Specs
spec
Delica Mini
full length
3,395mm
Width
1,475mm
Height
1,790mm
Wheelbase
2,495mm
model
turbo car
engine
660cc
Water-cooled in-line 3-cylinder DOHC
intercooler turbo
+ motor
Maximum output
47kW (64ps)/
5,600 rpm
Maximum torque
100Nm (10.2kgm)/
2,400rpm~4,000rpm
motor
Maximum output
2.0kW (2.7ps)/
1,200rpm
motor
Maximum torque
40Nm (4.1kgm)/
100rpm
transmission
CVT
(Extronic)
Drive system
4WD
vehicle weight
1000kg-1100kg
JC08 mode fuel consumption
21.8km/L~
23.2km/L
WLTC mode fuel consumption
15.8km/L~
17.2km/L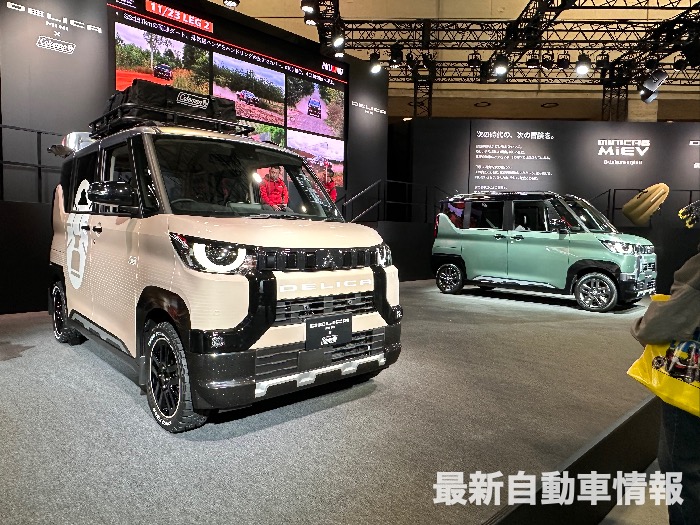 Is there a new Mitsubishi Delica Mini?
Is there a "Delica Mini" while there is an "eK Cross Space"? Of course, the question remains,By positioning Mitsubishi as a compact version of the "Delica D: 5", which has the highest sales power and product appeal, the "Delica Mini" will become a unique demand.Of course, rival models include Honda "N-BOX" and Suzuki "Spacia". In particular, "Spacia" has a lineup of many derivatives, and in the coming era of diversification, such as "Spacia", "Spacia Custom", "Spacia Gear", and "Spacia Base", the line-up of derivative models will lead to strengthening of sales power. It seems possible.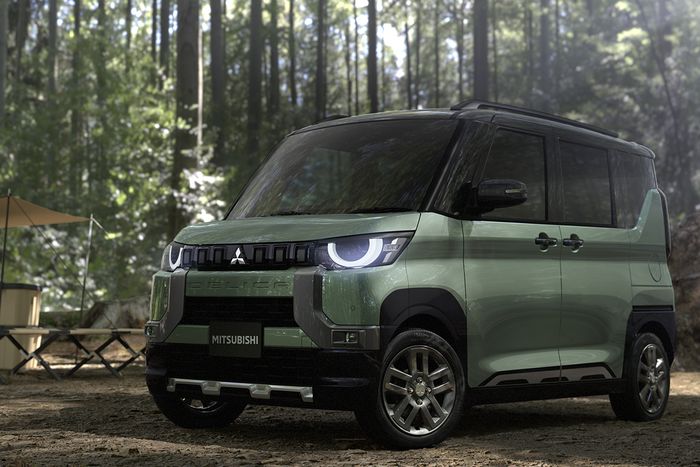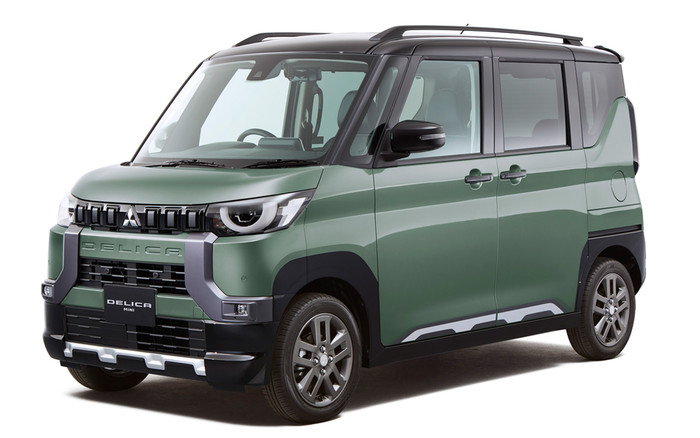 Mitsubishi Motors
https://www.mitsubishi-motors.co.jp/index.html