TOM'S will start accepting orders for the two complete cars, "TOM'S GR YARIS" and "TOM'S IS300", which were exhibited at "TOKYO AUTO SALON 2023" and became a hot topic on the dedicated site from January 23rd.
table of contents
TOM'S GR YARIS
"TOM'S GR YARIS" was developed with sports driving on the circuit in mind. Along with analysis and tuning of the ECU, exchange to a high flow turbine was carried out. Realized 300ps with a margin. The newly developed Advox suspension system has undergone repeated circuit tests and matured. Specifications that can be enjoyed on the circuit. Options include the much-talked-about TOM'S X brembo brake kit, exclusive forged wheels, LSD, and other options that specialize in driving. You can also upgrade according to your budget and skills.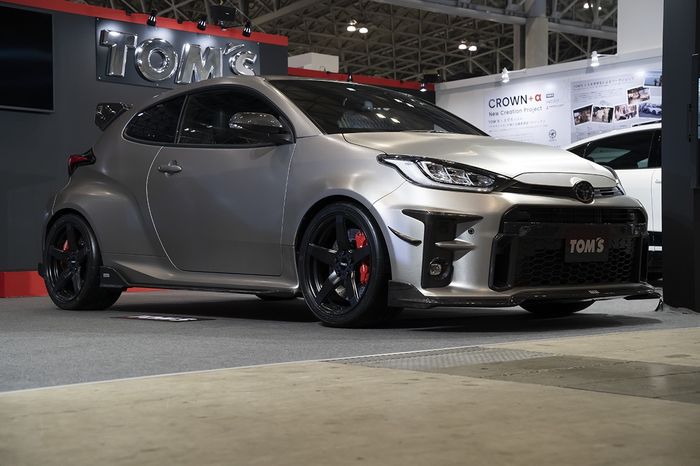 standard equipment
front diffuser
Canard
side diffuser
Type TK rear under diffuser
Type TK rear bumper duct
rear roof wing
Tom's Burrell
Complete car dedicated ECU setting
high flow turbine
intercooler
radiator
clutch
Advox suspension system
TOM'S IS300
The "TOM'S IS300" was developed with the aim of being a sports sedan unique to TOM'S that combines high-speed cruising and sports handling. After analyzing and tuning the ECU, we achieved a performance of 275ps. The newly developed Advox suspension system has also been tested on the circuit. Realizes high quality and supple handling. The front brake is equipped with a TOM'S x brembo caliper kit as standard. Secure stopping power even during high-speed cruising.
standard equipment
front diffuser
side diffuser
rear under diffuser
trunk lid spoiler
Exhaust system "Toms Barrel"
Dedicated ECU
Advox suspension system
TOM'S x brembo caliper kit (front)
TWS 118 Fsport Monoblock front and rear
TOM'S