Mazda Europe announced that it will announce the "Mazda MX-30 R-EV" equipped with a newly developed rotary engine on January 9, 2023 (local time).It will be announced at the "Brussels Motor Show" press conference at 10:00 on January 13 (local time).
table of contents
About the new MX-30 R-EV RE range extender model
The new "MX-30" has the "e-SKYACTIV G" equipped with the currently announced mild hybrid and the electric vehicle "e-SKYACTIV". The mileage of the model equipped with the electric vehicle "e-SKYACTIV" is about 200km, which is less than other electric vehicles, and the mileage after charging is complete, which is honestly unsatisfactory. Therefore, we will adopt a model equipped with the "RE (rotary engine) range extender", which is designed to double the mileage by installing a single rotary engine generator in the "e-SKYACTIV". The WLCT cruising distance is about 400km, which is comparable to other companies. Return of the rotary engine. Mazda probably had a plan to install it on the MX-30 from the beginning. The reason is that the door of the rear seat adopts a double-opening "freestyle door" reminiscent of the last model "RX-8" that adopted the rotary engine. It may be lonely for RX series fans, but with the current SUV boom, adoption in this form is a wonderful decision. In addition, Nissan calls the "Range Extender" another name "e-POWER", and it is currently popular in terms of sales volume.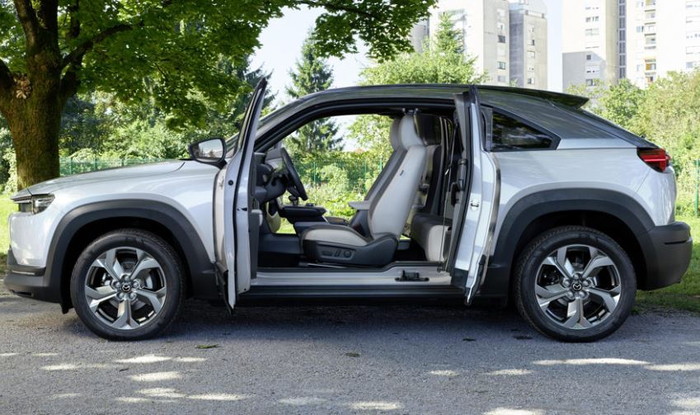 Mazda Rotary (RE) Range Extender
The name of the device is "Mazda RE Range Extender" (Range Extender) A range extender is a device for extending the cruising range by installing an engine dedicated to power generation in an electric vehicle (EV). In contrast to hybrid cars that use both the engine and the motor separately, the Range Extender EV uses only the motor to drive the vehicle.
The engine is only used to charge the battery. It is said that cruising range is the biggest bottleneck for EVs, but it is attracting attention as a technology that complements this. Since the capacity of the installed battery can be suppressed to a certain extent, there is also the advantage that the space inside the vehicle can be secured and the cost of the battery can be reduced.
Put the motor in the front and drive the front wheels. Place the lithium-ion battery in the center. A single rotary engine with a displacement of 330cc is installed as a generator behind it. The rotary engine is a gasoline specification and is equipped with a fuel tank with a capacity of about 9 liters. As a result, the mileage of the MX-30 EV model to be released is 200km/L, but it is said that it can be increased to 400km/L.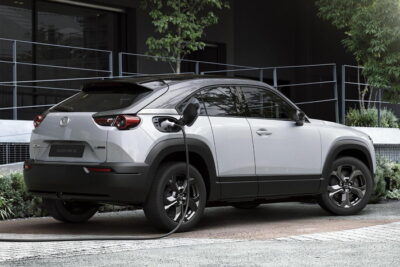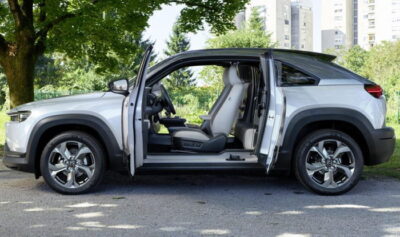 MX-30
https://www.mazda.co.jp/cars/mx-30/
mazda
https://www.mazda.co.jp/