The 43rd 2022-2023 Japan Car of the Year was awarded to electric vehicle (EV) models Nissan "Sakura" and Mitsubishi "ek Cross EV". "2022-2023 K Car of the Year" was also awarded and double awarded. "2022-2023 Design Car of the Year" BMW electric vehicle "iX" won, "2022-2023 Import Car of the Year" awarded to Hyundai Motor "IONIQ5" Electric vehicles have won many awards, and the EV trend is steadily approaching in Japan.
In addition, the Nissan "Leaf" has been sold as an electric vehicle (EV) for a long time as a commercial vehicle in Japan, but recently, investment in global (EV) models and carbon neutrality as a country・Achieving zero greenhouse gas emissions overall). Japan has also established a policy of selling only electric vehicles by 2035. Electric vehicles include hybrid vehicles (HV), electric vehicles (EV), plug-in hybrid vehicles (PHEV), and fuel cell vehicles (FCV). In Japan, hybrid vehicles (HV) and plug-in hybrid vehicles (PHEV) are tributaries. However, overseas manufacturers have released electric vehicle (EV) models. And from 2022, Japanese cars will release electric vehicles (EV) one after another, and they will announce models that will be released in the future.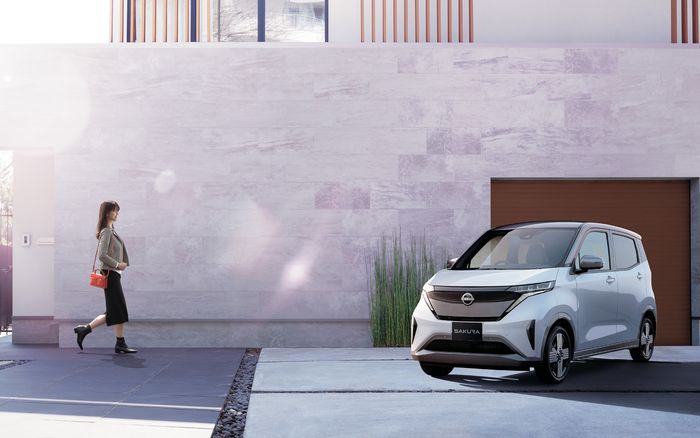 table of contents
What EV models will be released in Japan at the end of 2022?
Nissan Leaf
It has a low center of gravity, sleek proportions, and a sharp and dynamic design. Along with excellent aerodynamics, the sleek silhouette and cool, advanced expression give a sense of exhilarating EV-like driving. The front features a boomerang-shaped lamp signature, which is Nissan's design language, and a V-motion grille. In addition, it expresses that it is a Nissan electric vehicle, such as a deep clear blue flash surface grill and blue molding on the rear bumper.
In the improvement of some specifications in the summer of 2022,A new brand emblem with illumination has been adopted.In addition, the front grill has a seamless and simple shape with a traditional Japanese wooden pattern.New aluminum wheel design. New exterior colors include Pure White Pearl, which pursues even more whiteness, and Midnight Black, which expresses the jet-black feel and sparkle of pearls. A lineup of 15 rich color variations.Visibility has been improved by increasing the resolution of the intelligent rearview mirror.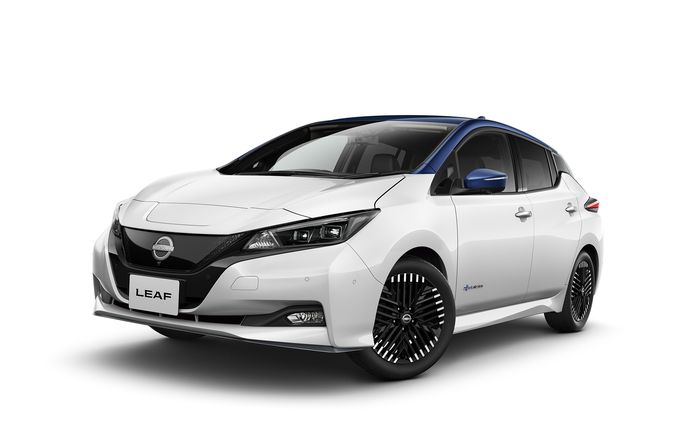 "Nissan LEAF NISMO" has changed the special front bumper, side sill protector, rear bumper, and 18-inch aluminum wheels to the new generation NISMO design coloring.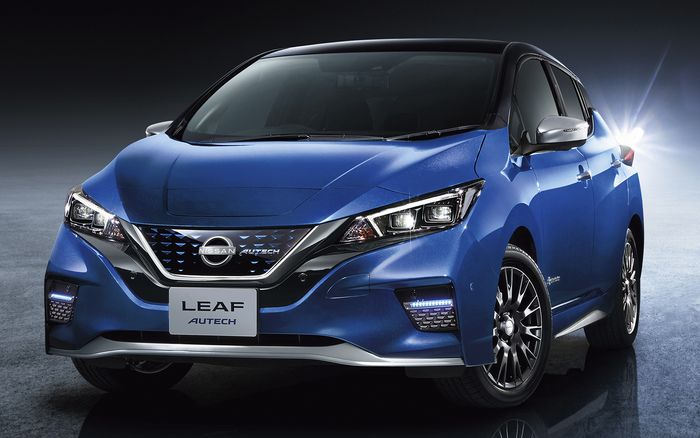 Furthermore, this time, the price will be revised, and the actual purchase price of the "Nissan LEAF" when using the clean energy vehicle introduction promotion subsidy is scheduled to start from about 2.93 million yen (including consumption tax). "Nissan Leaf His Urban Chrome" and the S grade setting with a battery size of 40 kWh are abolished.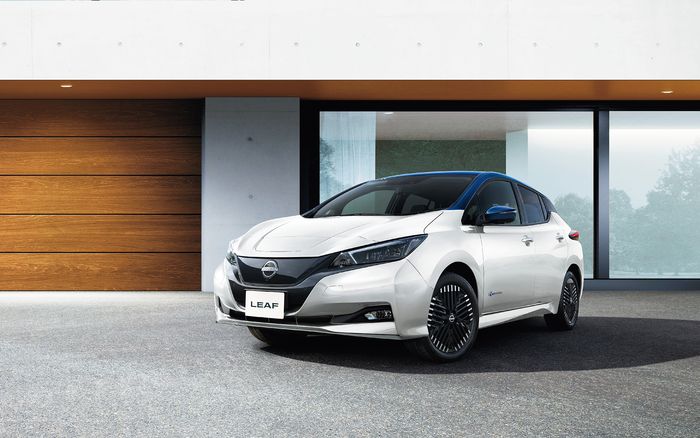 Nissan Sakura
"Nissan Sakura" is equipped with a state-of-the-art lithium-ion battery that is also installed in the "Nissan LEAF". With a universal stack structure that enhances mounting efficiency, while ensuring a large interior space,Up to 180km (WLTC mode), about 80% of users of light and compact cars that are sufficient for daily life drive less than 50km per day (according to in-house research), achieving high reliability. It is also possible to use the electricity stored in the EV battery as power for the home by supplying it to the home via the V2L device.
Advanced equipment for the first time in a light vehicle.Adoption of driving assistance technology "ProPILOT" for single-lane expresswaysIn addition to parking, steering, accelerator, brake, shift change,This is the first light vehicle equipped with ProPILOT Parking, which automatically controls all parking brakes.Advanced technology supports driving from city streets to highways and even parking lots.
Adopted a front face and a glowing emblem that make you feel the next generation NissanAnd finished with an exterior design that makes you feel a calm and mature atmosphere.First light carEquipped with a projector-type 3-lens headlampThe light from the advanced and elegant thin headlights assists safe driving even on the road at night. In addition, the back door is equipped with wide LED rear combination lamps inspired by lattices. For the tire wheels, aluminum wheels with a design inspired by mizuhiki, which gives a sense of traditional Japanese beauty, are used.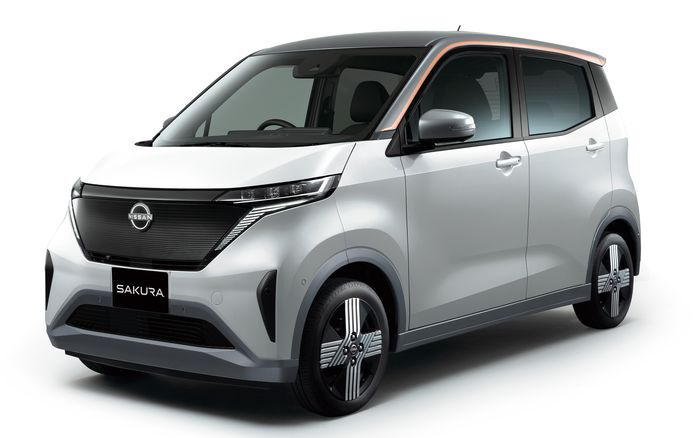 the interior isA 7-inch advanced drive assist display meter and a large 9-inch navigation display are laid out horizontally.. The design is easy to use and easy to see, with a shape that matches the movement of the driver's line of sight.The NissanConnect navigation system includes a route setting function that takes charging into account, an emergency SOS call, and Apple CarPlay wireless connection..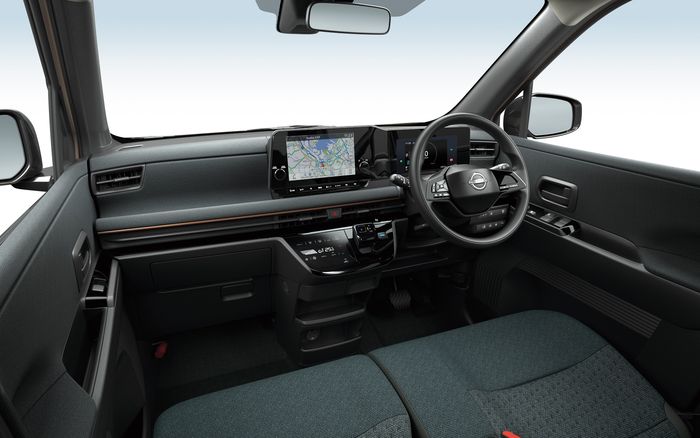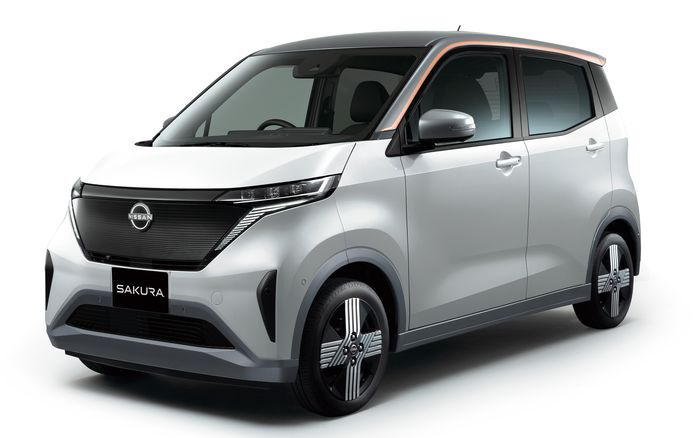 nissan aria
The exterior of the new "Aria" is a model that embodies Nissan's new design language and "Nissan Intelligent Mobility" technology. The simple yet powerful and modern expression reflects the "timeless Japanese futurism" in the design. The headlight with four LEDs adopts a very thin design,Nissan's design signature "V motion" is expressed in white light, and when the blinker lights, it also functions as a "sequential blinker"do.symbol of nissanThe new brand logo shines with LEDs.Motor-driven EVs do not require cooling in the engine room, so the grille is covered with a smoky panel, and the traditional Japanese kumiko pattern is three-dimensionally expressed in it. The panel serves to protect the sensors that support advanced technology such as ProPILOT placed inside.
The body side has a low and smooth roofline, giving an impression of no air resistance. The aluminum wheels are available in 19-inch and 20-inch sizes, and the waistline, which connects the front and rear in a straight line, has the beauty of a building, and from any angle, it seems that beauty and energy reside in it. express vitality.
The rear styling is also impressive, especially the rear combination lamps that extend horizontally with a smoky tone, designed to give a clean look when turned off and a red light that is clearly visible when turned on.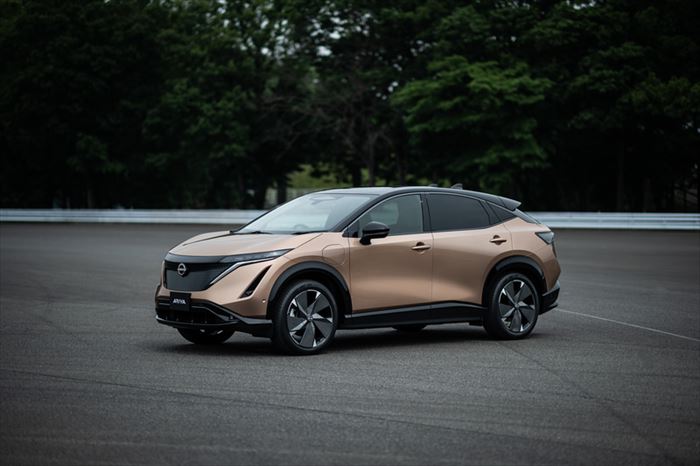 The interior was designed using the Japanese word ma, which means the space between things and the time between successive events. In "aria"Employs a newly developed EV-dedicated platformRealizing a flat and spacious floor, placing the air conditioning unit, which was conventionally placed in the room, in the motor room,Despite its C-segment body size, it has a D-segment-level interior space.In addition, a zero gravity sheet with a slim design,Although it is an EV that is naturally quiet, it uses plenty of sound insulation materials to achieve unprecedented quietness.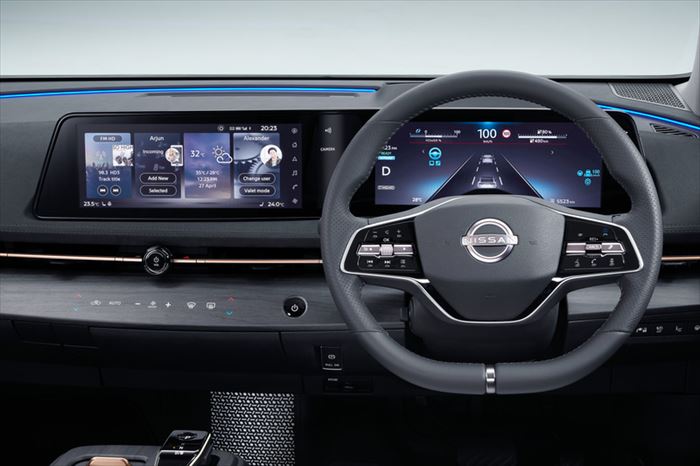 The two 12.3-inch displays and the wood-grained instrument panel do not have physical switches like before. It is a haptic switch that vibrates so that you can feel the operation even while driving.
The center display, which shows maps and music information, can be swiped, and the two displays are seamlessly connected, such as displaying navigation routes on the meter display. Air conditioning and navigation can also be operated by voice, and the hybrid voice recognition function, which can be operated with natural words, supports the driver's operation by calling out "Hello Nissan". Speech recognition in a more natural language is realized by connecting to the Internet.Also in "Aria"Equipped with Amazon Alexa voice service provided by Amazonplay music, check the weather forecast, call family and friends,Control your smart home devices with just your voice.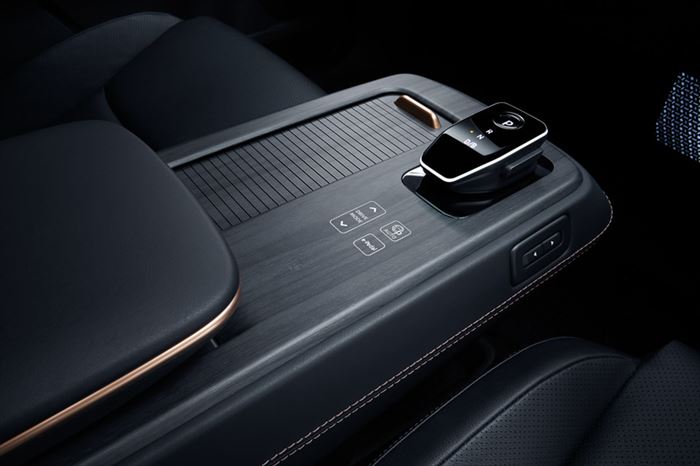 The wide center console can be electronically moved back and forth according to the driver's seat position. A newly designed shift knob with "Advanced Ambient Lighting" is placed above it, and a Qi standard wireless charger is installed in the center console.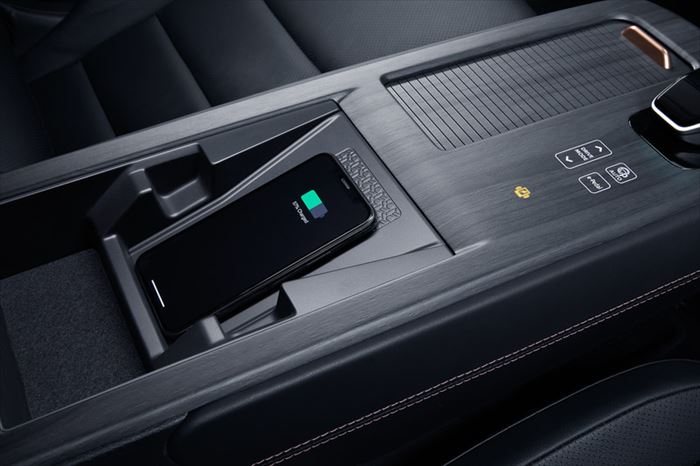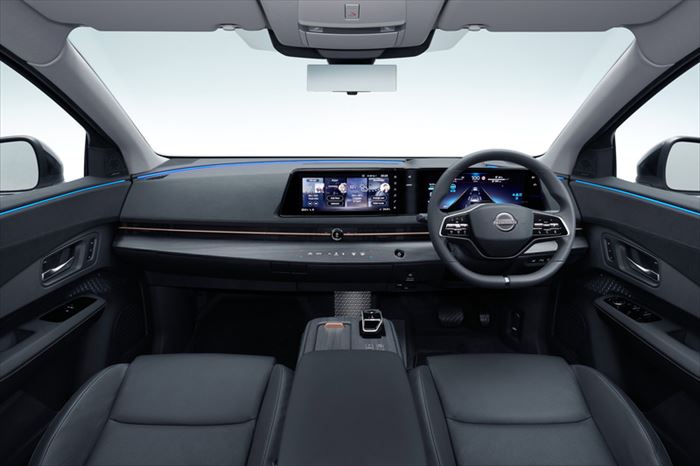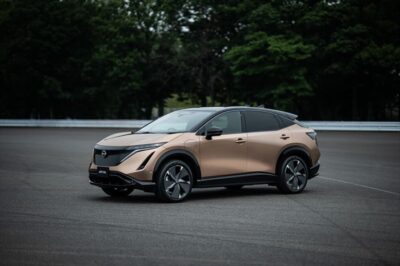 toyota bZ4X
The e-TNGA BEV dedicated platform jointly developed by Toyota and Subaru is adopted.Incorporating requirements unique to BEVs (Battery Electric Vehicles),Low center of gravity and high rigidity platformAs a result, we have pursued smooth and responsive driving performance that is attractive as a single car, and the driving performance of a full-fledged SUV, rather than just because it is a BEV.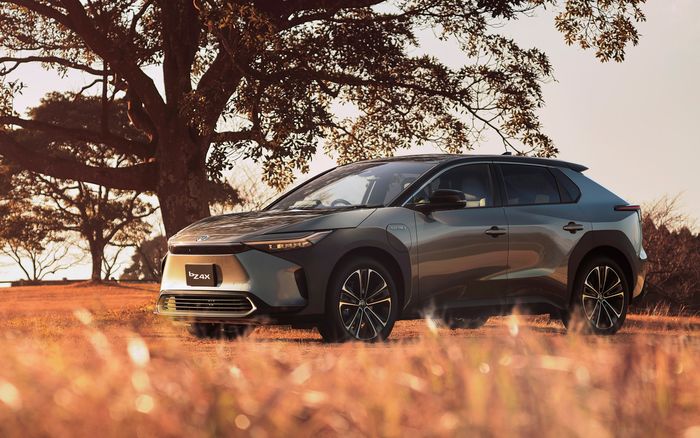 Even if you switch from a conventional car, like other Toyota cars, we have been particular about the performance that you can ride safely with peace of mind. In terms of practical use, we aimed to create a BEV that can be used safely and for a long time, with the goals of securing cruising range, especially in winter, and achieving the world's top-level battery capacity retention rate (90% after 10 years).
A lightweight and highly rigid body structure using hot-stamped materials and high-strength steel for the main frame parts. The e-Axle, which integrates a motor, transaxle and inverter, is adopted (Toyota's first). An Electricity Supply Unit (ESU) that integrates charging and power distribution functions is adopted (Toyota's first). Subaru's AWD technology, X-MODE "Toyota name: Grip-Control" adopted (AWD vehicle, Toyota's first).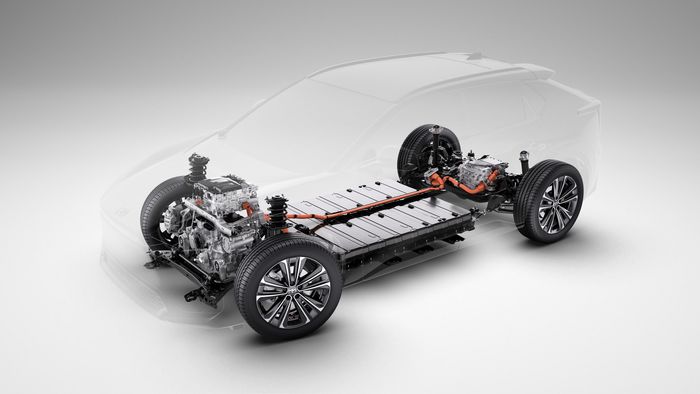 Under the design theme of "Hi-Tech and Emotion," we took on the challenge of creating a form that fuses the advanced feel of a BEV with the inherent beauty of a car. . The body size is 4,690mm in length, 1,860mm in width, 1,650mm in height, and 2,690mm in wheelbase. A thin, high-capacity battery pack is placed under the floor and laid flat.As an impression of actually seeing the live action, I felt that Toyota's RAV 4 was similar in car size, skeleton, and atmosphere.In Japan, we have rarely seen SUV type "electric vehicles" so far, so it seems that this "bZ4X" will run a lot in the city.
Toyota's new "bZ4X" has the same body size as the new "RAV4" and "Harrier", but the wheelbase is 160mm longer. The extended wheelbase creates a spacious interior.
size
New RAV4
New Harrier
New bZ4X
full length
4,600mm
4,740mm
4,690mm
Width
1,855mm
1,855mm
1,860mm
Height
1,690mm
1,660mm
1,650mm
Wheelbase
2,690mm
2,690mm
2,850mm
minimum rotation
radius
5.5m to 5.7m
5.6m to 5.7m
5.7m
The multimedia system utilizes map information on the cloud, and employs a connected navigation system that obtains real-time traffic information and parking space availability information. In addition to normal navigation functions, it also supports BEV-specific functions such as movement support, charging facility display, and cruising area display. Wipers and air conditioners can also be operated by voice recognition function.Toyota's first adoption of a "dial-type shift" that realizes intuitive and easy operationdid.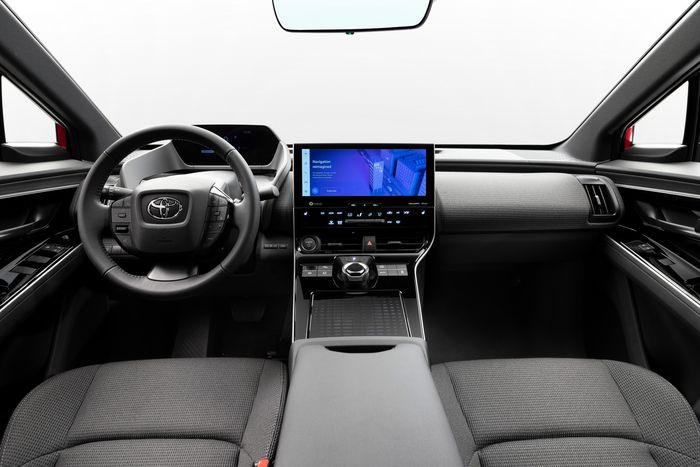 Since there is no transmission or propeller shaft, the floor of the rear seat is almost fully flat.As a result, the rear seats have more interior space.If you carry a smartphone, you can use it without screen operation.Adopts a "digital key" that can be locked, unlocked, and system started.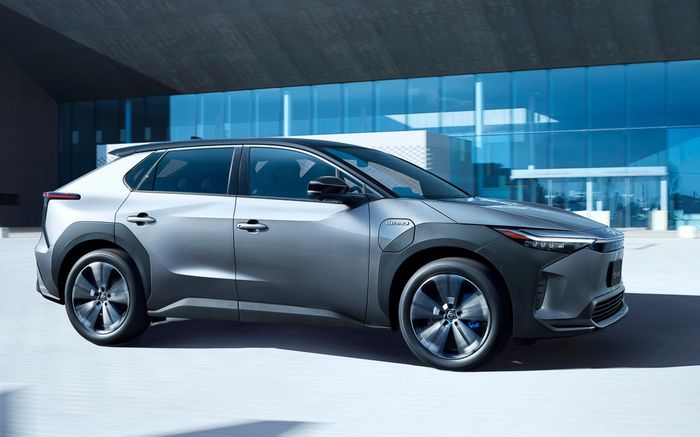 Lexus UX300e
The electric vehicle "LEXUS UX300e" based on the UX model will be released on October 22, 2020. It is also positioned as the first model to be marketed from the electrified vision "Lexus Electrified."Based on the motor control technology cultivated in the hybrid system, the power train, steering, suspension, brakes, etc. are all controlled in an integrated manner. By controlling the driving force according to the driving situation, the ideal vehicle posture is realized, making it a car that is safer and more enjoyable to drive. Developed with a focus on battery reliability while improving the performance of the entire EV system. In addition, advanced connected technology is adopted to realize high convenience in cooperation with smartphones.
Partial improvements include the introduction of a newly developed battery pack, increasing battery capacity from 54.4 kWh to 72.8 kWh, increasing cruising range to 450 km, and improving basic performance as a BEV by more than 40% compared to the previous model. did. As part of the UX series, it offers a refined, clean, and deep driving experience, expanded active safety technology functions, and evolved advanced equipment that employs the latest multimedia system.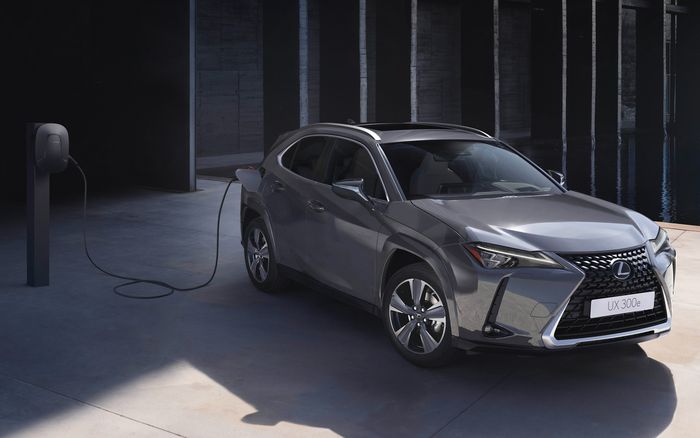 Improved body rigidity. In order to deepen the taste of driving, the body rigidity was strengthened by running at "Toyota Technical Center Shimoyama" and adding 20 spot welding points on the body.In addition, the BEV's unique battery pack placement under the floor lowers the center of gravity, and performance dampers are standard on the rear.®Optimal EPS and absorbers have been tuned to achieve clean and deep driving.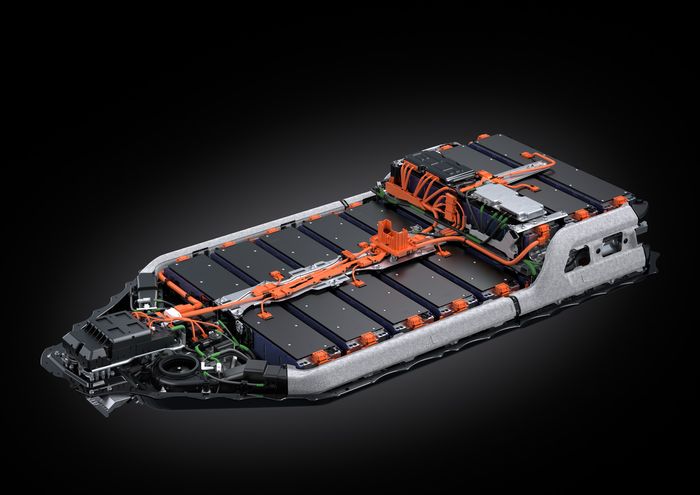 Enhanced functionality of active safety technology and evolution of advanced equipment such as the latest multimedia system. By expanding the functions of the active safety technology Lexus Safety System +, we aimed to make driving even safer and more enjoyable. The latest multimedia system equipped with a large, high-resolution touch display is adopted. In addition, the shape and switch layout around the instrument panel and console have been optimized, and two USB charging connectors (Type-C) have been newly set in front of the console.
Similar to the NX, the multimedia system and connected services have been renewed.New touch display. The navigation display has been enlarged from "10.3 inch wide display" to "12.3 inch touch wide display".Along with that, the "analog clock", "microSD card slot", "CD / DVD / Blu-ray player" installed next to the display"abolished.
The touch pad "Remote Touch" is abolished, and a drink holder is newly adopted.Set "Digital Key".Additional body colors of "Mercury Gray Mica" and "Sonic Chrome" are available.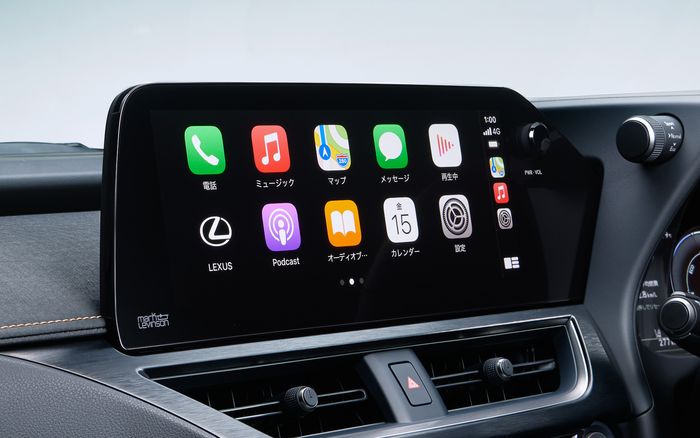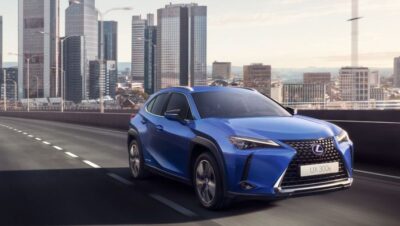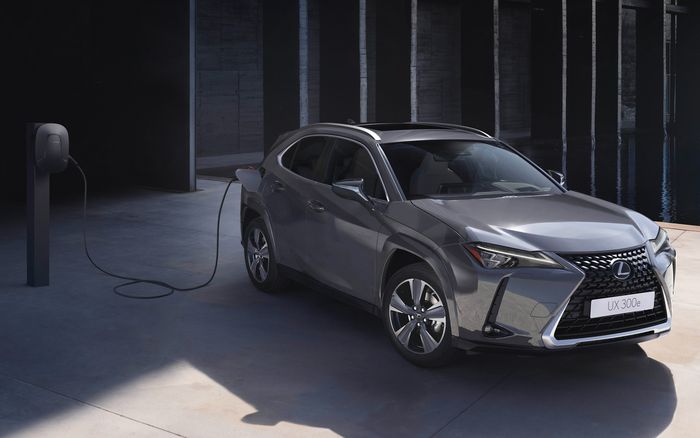 honda e
newly developedPlatform for EVadopted. Focusing on town riding, it has a compact body with a long wheelbase and adopts rear-wheel drive.50:50 weight distributionIt strikes the perfect balance between stability and handling performance.High capacity 35.5 kWh lithium-ion batterycan use either a type 2 "AC connector" or a "CCS2 DC quick charger".Achieved an EV mileage of approximately 218km. Supports fast charging that can charge up to 80% in 30 minutesis doing. 0-100km/h acceleration is about 8 seconds. Equipped with a "side camera mirror system" that functions as a pop-up door handle and door mirror.Easy to drive even on narrow roads common in JapanWith a turning radius of about 4.3m, it is equivalent to a light vehicle.I'm with you. (The minimum turning radius of the company's popular model "N-BOX" is 4.5m for the FF model.)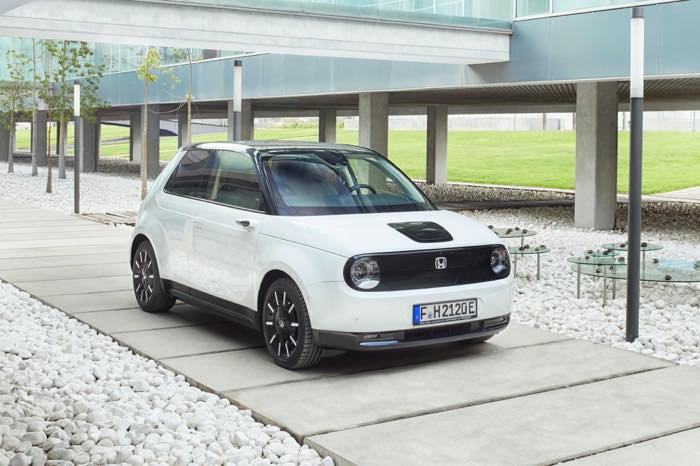 Standard on all Honda SENSING models.NFC on B-pillar. Enables locking with a smartphone. "side camera mirror system" will be standard equipment on Honda's compact electric vehicle "Honda e". A compact rear-view camera replaces the side mirrors, displaying live images on two 6-inch screens positioned inside the car at either end of the dashboard.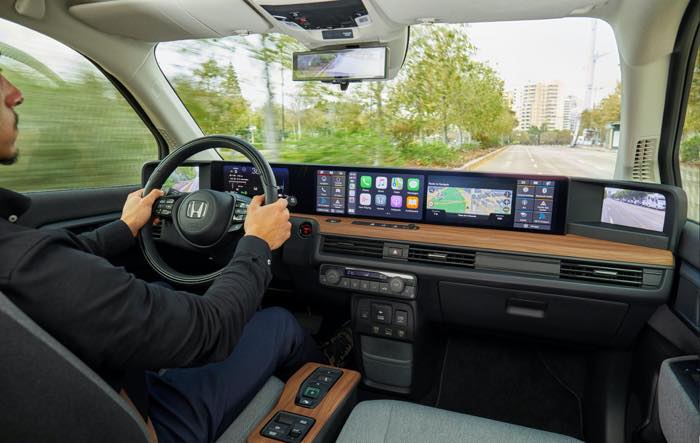 12.3 inch LCD dual touch screen on dashboardadopted. Both sides are displays that display digital inner mirrors.AI assistant function "Honda Personal Assistant"(Honda Personal Assistant) "Voice Command"ok honda" to start. The smartphone app "My Honda+" is provided to remotely connect, lock and unlock the vehicle.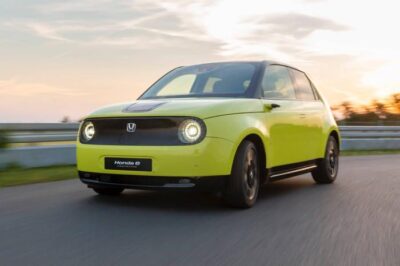 Mazda MX-30
Based on Mazda's design theme "KODO – SOUL of MOTION", we challenged ourselves to further enhance the artistry and expand the expression as "Car as Art". The design is based on the concept of "Human Modern", aiming to be close to changes in values ​​and new lifestyles for the future, based on beautiful shapes and craftsmanship created by human hands. created. The next-generation vehicle structure technology "SKYACTIV-VEHICLE ARCHITECTURE" is adopted. The rear seat door adopts a double-opening "freestyle door" reminiscent of the RX-8. Safety system "i-ACTIVSENSE" introduced the latest model.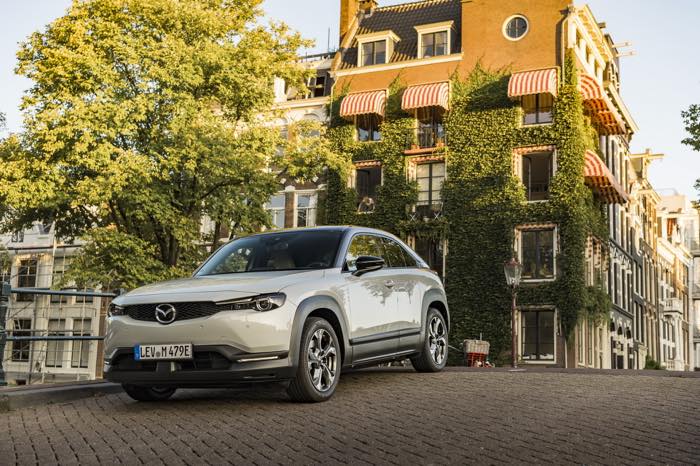 Based on the human-centered development concept, we pursued the "joy of driving with Jinba-ittai," which does not change even with EVs. New electrification technology "e-SKYACTIV" is adopted. Electric Technology Prove-Out Vehicle (e-TPV) electric motor with a maximum output of 141 HP (143 PS / 105 kW) and a maximum torque of 265 Nm (195 lb-ft) dedicated to a 35.5 kWh lithium-ion battery Adopt a platform.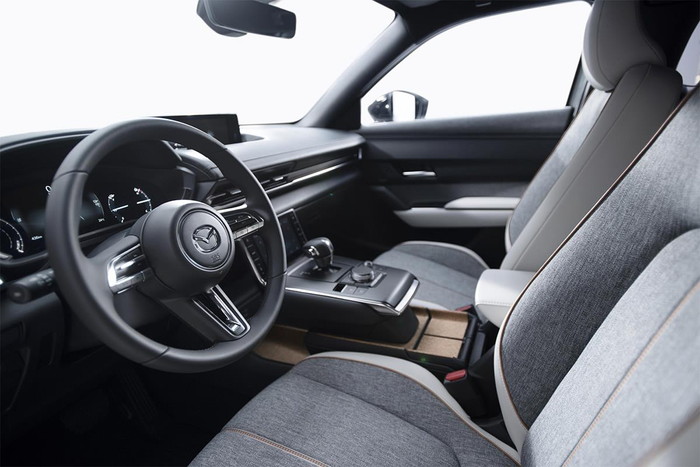 The area around the center console creates a space with a feeling of openness by giving it a sense of openness. Eco-friendly materials such as cork and fabrics made from recycled materials have been used to bring out their natural charm and create a comfortable interior space. It has an 8.8-inch infotainment system.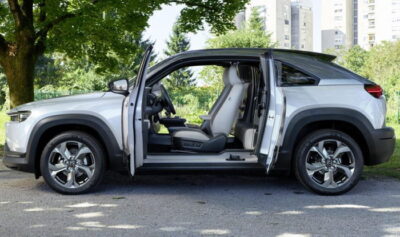 mitsubishi ek cross ev
The new "eK Cross EV" is an EV model newly set in the eK Cross series, which is a mini vehicle with an SUV taste, and is equipped with a newly developed drive battery with a total power consumption of 20 kWh. The driving range on a single charge is 180km in WLTC mode, which is sufficient for daily use, and it realizes the smooth and powerful acceleration unique to EVs, overwhelming quietness, and a comfortable ride. It has a spacious and comfortable interior space equivalent to the eK Cross light height wagon and is easy to use. It combines comfort and convenience with TID technology. The large-capacity drive battery is reliable even in an emergency, and electrical appliances can be used as a convenient power source through V2L equipment.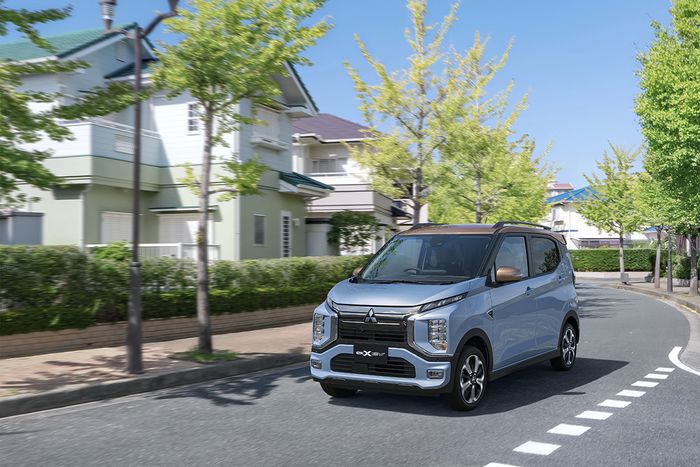 By making the drive battery thinner and laying it out under the floor, we have achieved class-leading rear seat knee room. In addition, the front seat shoulder room is also at the top level in its class, realizing a comfortable interior space. Securing top-level cargo space in its class.
It is the first Mitsubishi Motors to adopt "My Pilot Parking", which supports smooth parking. Equipped with "My Pilot" driving support function for driving in the same lane on highways.radar cruise control system[ACC]and lane keeping assist function[LKA]This reduces the burden on the driver by keeping the distance between vehicles and near the center of the lane. (Manufacturer's option for "P" and "G") Adopts "MITSUBISHI CONNECT" to support a safe, secure and comfortable car life.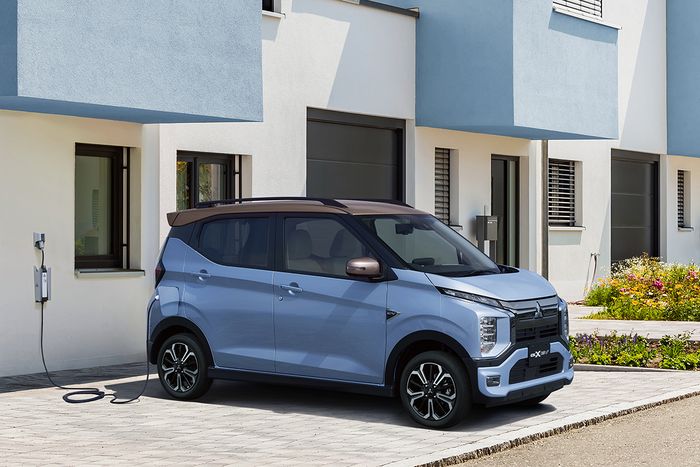 Foreign manufacturers EV models are next