Stellantis Japan introduced the 2022 model of Fiat Professional's commercial vehicle "DUCATO" to Japan and released it on December 1, 2022.
table of contents
About the Fiat New Ducato
The DUCATO, which will be introduced to the Japanese market for the first time, is a light commercial vehicle with a long history that will celebrate its 40th anniversary in 2020. In 2020 and 2021, it will be the best-selling model in Europe, and has a 70% share of the European commercial vehicle market. In the Japanese market, in anticipation of the booming camper car market, it will be officially introduced as a base vehicle for camper cars.
fiat new ducato exterior
Fiat's design team offers an attractive and distinctively Italian styling that sets it apart from the competition. The large front grille bears the iconic Fiat emblem, indicating that it was built at the Attesa factory in Italy. Equipped with headlights and daytime running lights with LED technology, the light signature is unique to the Ducato. Front fog lamps with cornering function are installed on the left and right of the lower part of the bumper. The body frame adopts the traditional "all-forward" architecture, which is unparalleled in the commercial vehicle segment in Japan. The wide luggage space and various arrangements that take advantage of the front-wheel drive provide excellent comfort and loadability.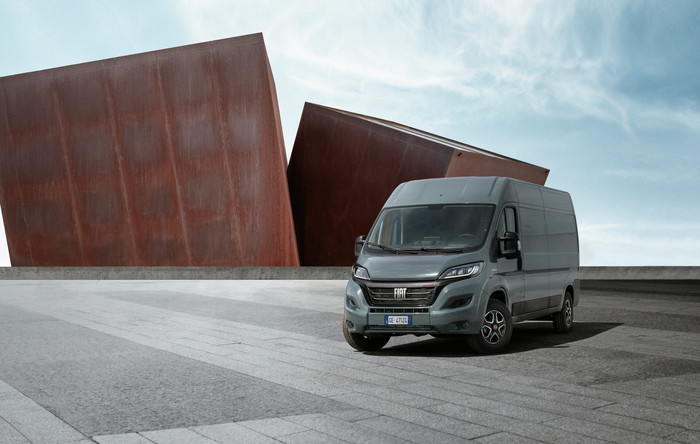 fiat new ducato interior
The interior is designed to be as safe and comfortable as it is practical. It features an electric parking brake, a functional and space-saving door panel, and a spacious cabin. With a leather-wrapped steering wheel that integrates operation switches and a 7-inch full-color TFT display for meters, you can enjoy a driving experience that is comparable to that of a passenger car. A digital room mirror that displays a digitally processed rear view image is used to ensure rearward visibility. Equipped with a Uconnect interface with a 10-inch touchscreen in the center of the center console. In addition to the navigation system, Apple CarPlay/Android Auto can also be used. Equipped with a wireless charger for smartphones, 3 USB ports (Type-A × 1, Type-C × 2), and 3 cup holders. The Keyless Entry & Go function allows locking/unlocking the cabin and luggage compartment doors and starting the engine without a key. Captain seats are used for the driver and front passenger seats. The comfort is enhanced by the integrated headrest, wide backrest and supportive double armrests. In addition, both the driver's and passenger's seats can be rotated 180 degrees, allowing efficient use of the space in front of the vehicle when used as a camper.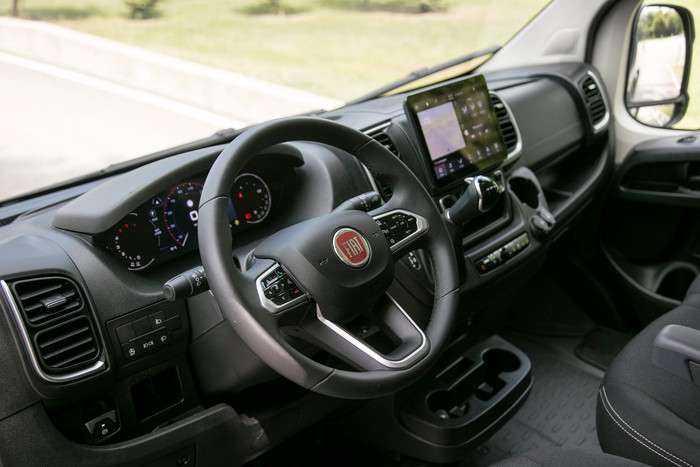 Fiat New Ducato Powertrain
It is equipped with a third-generation 2.2L MultiJet 3 diesel engine that develops a maximum output of 180hp and a maximum torque of 450Nm. This highly efficient, durable and reliable engine is paired with the latest 9-speed automatic transmission featuring smooth operation.
Fiat New Ducato Safety Equipment and Driver Assistance
Despite being in the commercial vehicle category, the new Ducato is equipped with passive and active safety functions similar to those in the passenger car segment, such as a speed limiter, brake control when encountering unexpected obstacles (forward collision warning and pedestrian detection). Equipped with features such as collision damage mitigation brakes, lane keeping assist, and traffic sign recognition to prevent unintentional departure from the lane. Electronic Stability Control (ESC) is a state-of-the-art electronic system for vehicle stability. It constantly monitors the vehicle's driving conditions (direction and wheel movement) and, if necessary, applies the brakes to one wheel or reduces the engine output to further enhance safety. Traction Plus uses an intelligent electronically controlled differential lock that supports driving in mud, sand and snow.
Fiat new Ducato body size is 3 types
L2H2: Length 5,410mm, Width 2,050mm, Height 2,525mm, Wheelbase 3,450mm
L3H2: Length 5,995mm, Width 2,050mm, Height 2,525mm, Wheelbase 4,035mm
L3H3: Length 5,995mm, Width 2,050mm, Height 2,765mm, Wheelbase 4,035mm
In addition to the standard, long wheelbase model, and long wheelbase, there are 3 variations with a high roof specification. The interior height of the L2H2 and L3H2 is 1,970mm, and the interior height of the L3H3 is 2,210mm. The maximum loading weight is 1,300 kg for L2H2, 1,250 kg for L3H2, and 1,200 kg for L3H3. Sliding side doors with wide openings and side-opening rear doors make it easy to load and unload luggage.
grade
model
engine
price
(tax included)
L2H2
DUCATO Van
2.2L MultiJet 3
diesel
9 AT
5,125,000 yen
L3H2
5,300,000 yen
L3H3
5,475,000 yen
About the Fiat New Ducato Spec
spec
ducat
L2H2
ducat
L3H2
ducat
L3H3
full length
5,410mm
5,995mm
5,995mm
Width
2,050mm
2,050mm
2,050mm
Height
2,525mm
2,525mm
2,765mm
Wheelbase
3,450mm
4,035mm
4,035mm
engine
2.2L MultiJet 3
diesel
2.2L MultiJet 3
diesel
2.2L MultiJet 3
diesel
Maximum output
132kW (180PS) /
3,500rpm
132kW (180PS) /
3,500rpm
132kW (180PS) /
3,500rpm
Maximum torque
450Nm/
1,500rpm
450Nm/
1,500rpm
450Nm/
1,500rpm
Trance
Mission
9 AT
9 AT
9 AT
vehicle weight
2WD
2WD
2WD
Minimum turning radius
6.3m
7.2m
7.2m
Stellantis Japan News Release
https://www.stellantis.jp/news/20221201_fiat_professional_ducato