Subaru previously released "REX" as a light car with a 1.2L enginedidThe new crossover SUV "REX" was announced on November 11, 2022.It is an OEM vehicle that supplies Daihatsu's "Rocky" to Subaru.
table of contents
About the new Subaru REX
The new "REX" is SUBARU's first compact SUV with a length of 3,995mm, width of 1,695mm, and height of 1,620mm. Despite its compact body, the exterior design emphasizes the activeness and dependability of an SUV with large fenders and large-diameter tires that express a powerful presence. While realizing good maneuverability with a minimum turning radius of 5.0m, it is equipped with the latest "Smart Assist" safety equipment and uses a 1.2L engine in a packaging that allows people and luggage to be placed securely. Nine body colors are available.
Two-tone colors with eye-catching contrast are also available for the Z grade. The interior design is designed to give an active impression, and the front seats are decorated with red decorations to give it a sporty look.
For safety performance, a blind spot monitor and rear cross traffic alert are adopted to support rear confirmation. Equipped with the latest "Smart Assist". In addition, the collision safety performance has been improved by adopting a body that won the Five Star award in the 2019 JNCAP collision safety performance evaluation.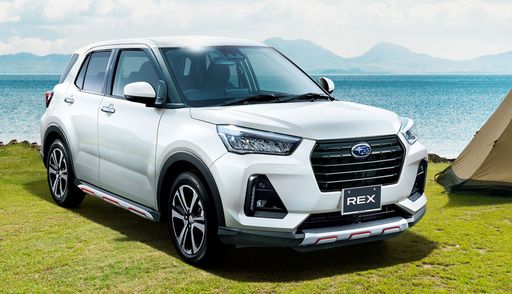 About Subaru New REX Specs
The engine adopts only "1.2L straight 3-cylinder engine".
spec
New REX
full length
3,995mm
Width
1,695mm
Height
1,620mm
Wheelbase
2,525mm
engine
1.2L inline 3 cylinder
engine
Maximum output
64kW (87ps)/
6,000rpm
Maximum torque
113Nm (11.5kgfm)/
4,500 rpm
Trance
Mission
CVT
Drive system
2WD
Minimum turning radius
5.0m
tire size
195/60R17
WLCT mode fuel consumption
20.7km/L (2WD)
JC08 mode fuel consumption
23.6-24.6km/L (2WD)
About Subaru REX
The Rex is a minicar manufactured by Subaru, which was released in 1972 as a remodeled version of the R-2, and was sold for 20 years, ending sales in March 1992. The successor will be the Vivio.
Subaru News Release
https://www.subaru.co.jp/news/2022_11_11_152235/
Subaru
https://www.subaru.jp/