Citroen made a minor change to the "C5 AIRCROSS SUV (C5 Aircross SUV)" and released the Japanese model on November 1, 2022.
table of contents
About Citroen's new "C5 Aircross SUV" minor change
The exterior has a more fearless SUV style, and the rounded front face has been changed to a more linear and modern design. An independent double chevron is placed in the center. The front design, which has become even more fearless with the introduction of V-shaped signature lights, further clarifies that it is a member of the Citroën family. The air scoop on the front side and the air bumps on the body side have accent colors. The rear LED light cluster has a design that emphasizes the three-dimensional effect with a prominent 3D effect. The roof is a bi-tone that is integrated with the black roof rails to tighten the overall form. In addition, the 18-inch aluminum wheels also have a new design with diamond cuts. The body size is 500mm long, 1,850mm wide and 1,710mm high, making it a comfortable size for a C-segment SUV.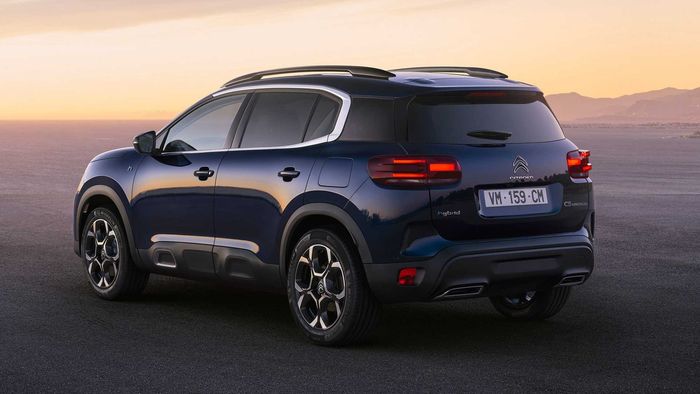 The interior is a space that pursues quality and comfort, and all seats are equipped with Citroen's original advanced comfort seats that provide a comfortable sitting experience. The base is made of high-density urethane with a low repulsion effect, and a soft sponge with a thickness of 15 mm is sandwiched between the surface layers. High-density foam and thick construction provide posture retention and dynamic comfort performance that reduces fatigue on long drives. The rear seats have three full-size independent seats. All three seats have the same seat width, and each has a reclining function and a 150mm forward/backward sliding function, allowing you to adjust according to your preference. The upper-grade PLUG-IN HYBRID and SHINE PACK seats feature a combination of dark blue Nappa leather and black perforated leather for the central seat and backrest for a softer feel and an even higher quality. It has evolved into a comfortable sitting position. Front seat heaters and the driver's seat multi-lumbar support, which supports long-distance driving with eight airbags built into the seatbacks, enhance comfort. The seat of SHINE uses alcantara in the center of the backrest and Tep leather on the sides. Both seats have blue stitching with a double chevron motif. As a specification common to all grades, the black dashboard and door armrest stitching are blue. In addition, by adopting a compact shift selector and drive mode selector in the center console, the capacity of the accessory compartment has been expanded, further improving convenience. The foot pedals are finished with aluminum specifications.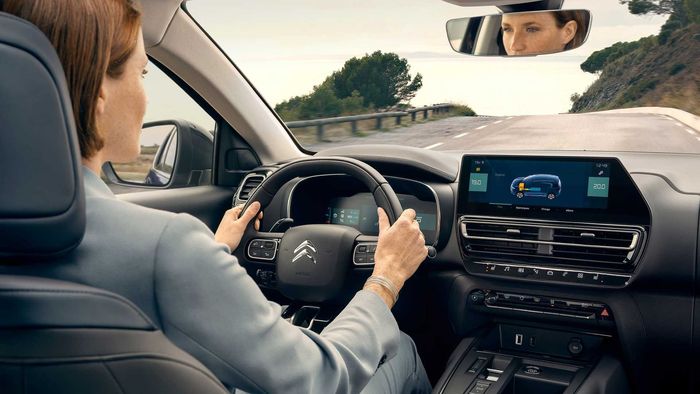 Adopt ADAS (advanced driver assistance system). Significantly reduces fatigue and stress during high-speed driving and traffic jams. All models are equipped with the latest safety and driver assist features. Active Cruise Control, which keeps the distance between the vehicle and the vehicle ahead, integrates Lane Positioning Assist, which maintains the driving position, and Traffic Jam Assist, which automatically restarts the vehicle after stopping in traffic jams. This reduces fatigue and stress when driving at high speeds or in traffic jams. In addition, it is equipped with a blind spot monitor that assists in checking the rear when changing lanes, and a park assist that automatically operates the steering wheel when parking in a garage or parallel parking. Also equipped with an intelligent high beam that automatically switches between high beam and low beam.
Citroen new "C5 Aircross SUV" minor change powertrain
There are three options: petrol, diesel and PHEV.
Gasoline model specs
spec
new citroen
C5 Aircross
full length
4,500mm
Width
1,850mm
Height
1,710mm
Wheelbase
2,730mm
engine
1.6L turbo engine
Maximum output
133kw (180ps)/5,500rpm
Maximum torque
250Nm/1,650rpm
transmission
8-speed AT
WLCT mode fuel consumption
15.0km/L
diesel model specs
spec
new citroen
C5 Aircross
full length
4,500mm
Width
1,850mm
Height
1,710mm
Wheelbase
2,730mm
engine
2.0L turbo diesel engine
Maximum output
130kW (177PS)/3,750rpm
Maximum torque
270lb-ft (366Nm)/5,200rpm
transmission
8-speed AT
WLCT mode fuel consumption
17.1km/L
plug-in hybrid specs
| spec | New Citroen C5 Aircross |
| --- | --- |
| full length | 4,500mm |
| Width | 1,850mm |
| Height | 1,710mm |
| Wheelbase | 2,730mm |
| engine | 1.6L turbo gasoline engine |
| Maximum output | 133kW (180ps)/6,000rpm |
| Maximum torque | 300Nm/3,000rpm |
| motor output | 81kW/2,500rpm |
| motor maximum torque | 320Nm/500-2,500rpm |
| transmission | 8-speed AT |
| WLCT mode fuel consumption | 16.1km/L |
| Equivalent EV driving distance | 65km |
Citroen new "C5 Aircross SUV" minor change price grade
Model name
Power train
Price (tax included)
SHINE
1.6L petrol engine
8AT 180PS/250Nm
4,879,000 yen
SHINE Blue HDi
2.0L diesel engine
8AT 177PS / 400Nm
5,094,000 yen
SHINE PACK Blue HDi
5,525,000 yen
PLUG-IN-HYBRID
1.6ℓ gasoline engine + motor
8AT 225PS/360Nm
6,376,000 yen
citroen
https://www.stellantis.jp/news/20221101_citroen_new_c5_aircross