Toyota's "RAV4" is being improved every year, and it is highly likely that the 2023 Japanese model will also adopt the "GR SPORT" grade. Toyota Europe added "GR SPORT" to the partially improved model of the new "RAV4" and announced it on October 7, 2022 (local time).
table of contents
"GR SPORT" adopted overseas is also adopted in Japanese models
Among the models released by Toyota in the past, the "GR SPORT" grade was announced first from overseas models, and there are some models that have been adopted in Japan after the release. "Hilux" announced "Hilux GR SPORT" at the Sao Paulo Motor Show 2018 on November 6, 2018. After that, in Japan, on October 8, 2021, "Hilux Z 'GR SPORT'" was added with some improvements. is on sale.
Currently, "Yaris", "Yaris Cross", "Aqua", "Corolla", "C-HR", and "Hilux" models are available in the "GR SPORT" grade. do not have.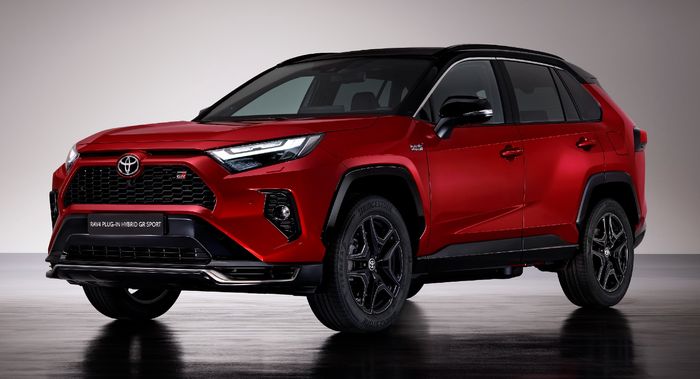 About the new Toyota RAV4 GR SPORT
The "RAV4 ​​GR SPORT" adopts a hybrid model (in-line 4-cylinder 2.5L direct injection engine D-4S + motor (THS II)), and the exterior pursues a wide and low stance, giving it an intelligent, sporty and aggressive form. To. GR exclusive front bumper, GR exclusive radiator grill, GR exclusive upper grill/GR exclusive hood molding, GR exclusive LED illumination beam, GR exclusive rear bumper, GR exclusive back door garnish, GR exclusive rear combination lamp, exclusive emblem, GR exclusive 19 inch aluminum wheels & tires.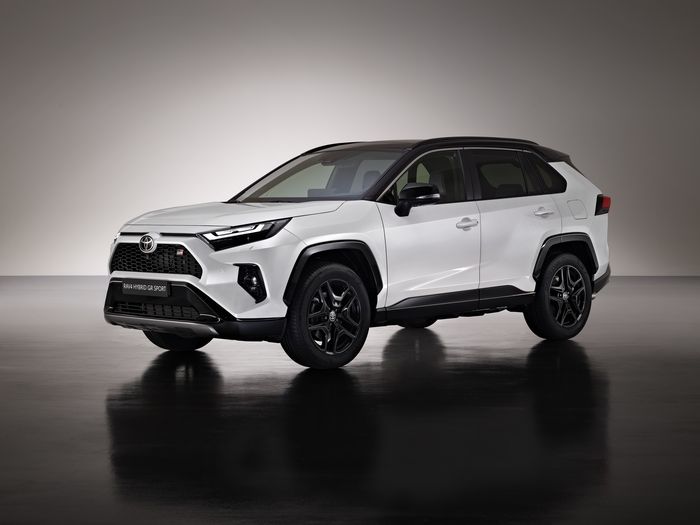 The interior color is black, leather-wrapped steering wheel (silver stitch, black paint), GR-only front sporty seat, center console box with armrest (silver stitch), GR-only leather-wrapped shift knob, GR-only power switch (red). / with GR logo), aluminum pedals (accelerator and brake), front door speaker rings (plated decoration), GR exclusive floor mats, etc.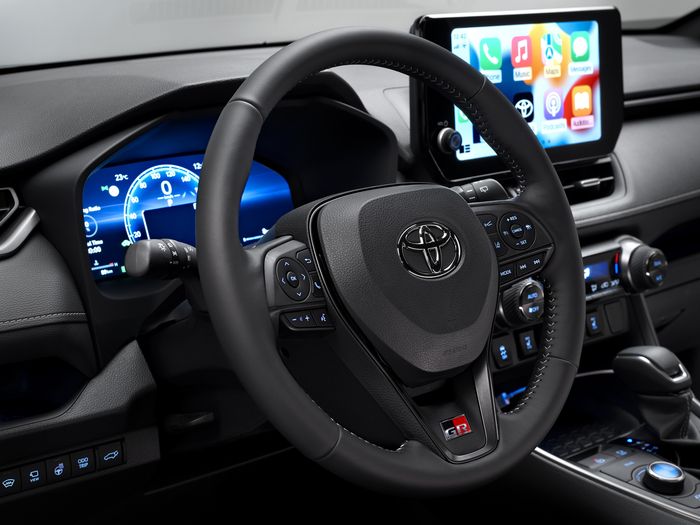 Added braces from front and center to back.In order to further improve maneuverability due to the low center of gravity of the base vehicle, we implemented the most effective brace reinforcement. In particular, the floor center brace, which connects the floor frame and the rear suspension attachment, greatly improves rear tire responsiveness during steering, realizing pleasant handling.
Added 10 spot welds to the door opening and rocker flange.Special tuning that can only be done by the manufacturer that is the main body. Welding points were added to the door openings and rocker flanges during vehicle assembly to increase body rigidity from the inside. The body improves the sense of stability and security during high-speed driving and cornering, and maximizes the potential of the suspension and tires.
Strengthen the spring rate of the ill spring.By strengthening the front spring rate, it suppresses the movement of the car body and improves the steering response and stability. Furthermore, along with the reinforcement of the body and changes in the suspension, the absorbers are optimally set so as not to sacrifice ride comfort. By tuning the damping force and spring rate to support the sporty and light driving characteristics of the FF compact hybrid, excellent vehicle responsiveness and ride comfort are achieved.Such
Toyota new RAV4 GR SPORT specs
spec
New RAV4 GR SPORT
full length
4,600mm
Width
1,855mm
Height
1,690mm
Wheelbase
2,690mm
engine
Inline 4 cylinder 2.5L
Direct injection engine D-4S
+Motor (THSⅡ)
Maximum output
131kW (178ps)/
5,700rpm
Maximum torque
221Nm (22.5kgm)/
3,600-5,200rpm
front motor
Maximum output
88kw (120ps)
front motor
Maximum torque
202Nm (20.6kgm)
rear motor
Maximum output
40kW (54ps)
rear motor
Maximum torque
121Nm (12.3kgfm)
system output
E-Four: 163kW (222ps)
2WD: 160kW (218ps)
transmission
Electric continuously variable transmission
battery
Lithium Ion Battery
Drive system
2WD/4WD (E-Four)
Boarding capacity
Five people
JC08 mode fuel consumption
25.0km/L~
25.2km/L
WLTC mode fuel consumption
20.6km/L~
21.4km/liter
Next for the current model RAV4