"Roadster" to be improved in December 2022. Advance reservations have already started, and I have actually checked the price and specifications at the dealer, so I summarized the contents.The "Roadster", which has already been on sale for 7 years, underwent a full model change on May 20, 2015. Released on May 21, 2015. It is said that there are many differences in what kind of evolution has been achieved so far.
table of contents
About Mazda New Roadster Product Improvement 2022 Model
body colorzircon sand metallic"The set.
Limited special edition car "BROWN TOP"The set.
"i-ELOOP" for MT vehicles is abolished.
In this product improvement, we will set a new limited special edition car "BROWN TOP" with a brown color for the soft top car. "Zircon Sand Metallic" is set as the body color, and "Polymetal Gray Metallic" is abolished. The interior uses a bright new color "Terracotta".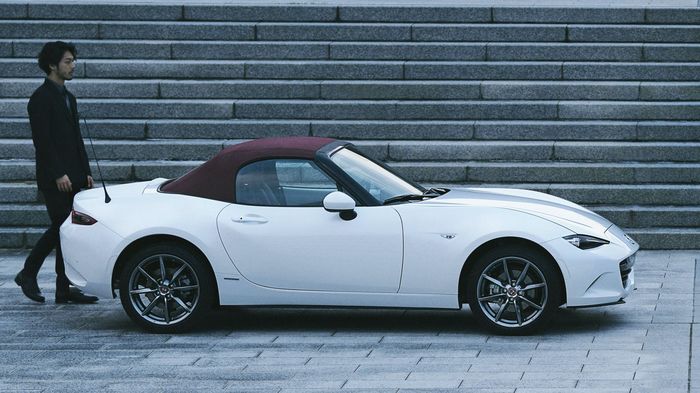 New Roadster Product Improvement 2022 Model Specs
spec

New Roadster
New Roadster RF
full length
3,915mm
Width
1,735mm
Height
1,235mm
1,245mm
Wheelbase
2,310mm
engine
SKYACTIV-G direct 4DOHC 1.5L
SKYACTIV-G straight 4DOHC 2.0L
Maximum output
131ps/7,000rpm
158ps/6,000rpm
Maximum torque
15.3kgm/4,800rpm
20.4kgm/4,600rpm
transmission
SKYACTIV-MT 6-speed MT/6EC-AT
vehicle weight
990-1,060kg
1,100-1,130kg
JC08 mode fuel consumption
17.2~18.8km/L
15.6km/L
Thoughts on the new Roadster
For Mazda, the "Roadster" is a 2-seater open model in the Japanese market and is becoming quite valuable.This time, Mazda will be able to acquire a new customer base by adding new grades and body colors.
New Roadster Product Improvement 2021 Model
In this product improvement, "Platinum Quartz Metallic" is newly added to the body color used in "MAZDA2" and "CX-8". S grade baseSpecial specification car with a vehicle weight of 990 kg"990S" is added.Dark blue "Blue Top" special edition "Roadster Navy Top"Add. Equipped with G-Vectoring Control.
New Roadster Special Edition "990S"
Based on the lightest grade "S", we have added a special specification model that offers a lighter and more comfortable feeling of Jinba unity by further reducing unsprung weight and by special settings of the chassis and engine that take advantage of the lightness.
Uses RAYS 16-inch forged aluminum wheels (RAYS ZE40 RS). About 800g per one, about 3.2kg in total, reducing unsprung weight.
Front brake: Brembo large-diameter ventilated disc & Brembo opposed 4-piston caliper (black painted with blue letters) Rear brake: Large-diameter brake rotor & caliper (black painted)
990S exclusive settings (damper, coil spring, electric power steering, engine control)
The exterior is a dark blue hood
The interior is an air conditioner louver bezel (blue / piano black)
Dedicated floor mat (with blue stitch/embroidery)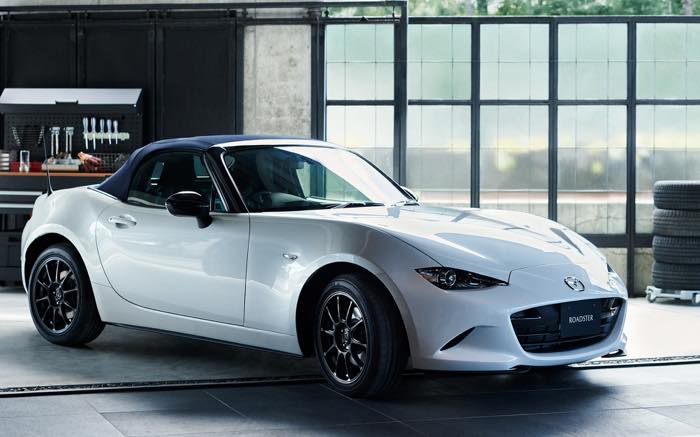 New Roadster Special Edition Roadster Navy Top
Based on the grade "S Leather PKG", a cool and urban special edition car that combines a classy dark blue hood and black leather interior has been added. Limited release from December 16, 2021 to May 31, 2022.
Dark blue hood (with insulator)
Body color electric remote control mirror
Bright painted 16-inch aluminum wheels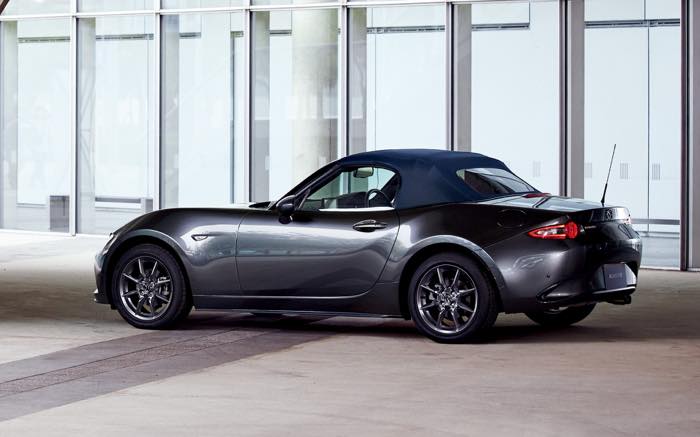 New Roadster RF VS Terracotta Selection
A new model with the image of a relaxing holiday for adults has been added with a bright new color "Terracotta" for the interior color of Nappa leather interior that stands out for its smooth touch and high quality.
Terracotta nappa leather seats
Terracotta instrument panel/door trim stitching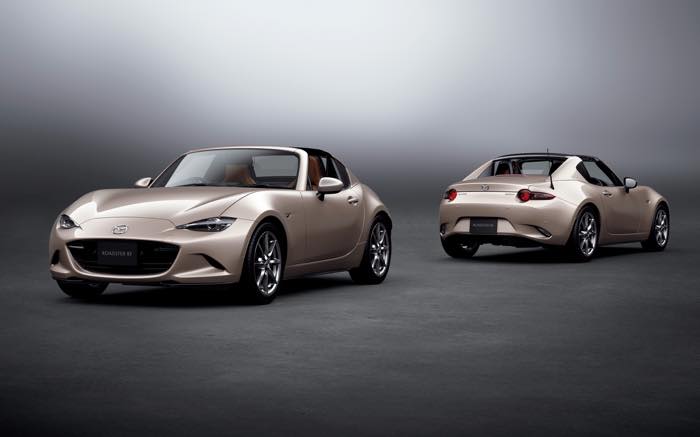 New Roadster price grade
soft top model grade
grade
engine
drive
method
Trance
Mission
price
(Ten%)
S.
SKYACTIV-G1.5
2WD
(FR)
6 MT
2,623,500 yen
Special edition 990S
2,893,000 yen
S Special Package
6 MT
2,840,200 yen
6EC-AT
2,955,700 yen
S Leather Package
6 MT
3,191,100 yen
6EC-AT
3,306,600 yen
S Leather Package
White Selection
6 MT
3,231,800 yen
6EC-AT
3,347,300 yen
RS
6 MT
3,356,100 yen
Special edition Navy Top
6 MT
3,191,100 yen
6EC-AT
3,306,600 yen
RF grade
grade
engine
drive
method
Trance
Mission
price
(Ten%)
S.
SKYACTIV-G2.0
2WD
(FR)
6 MT
3,461,700 yen
6EC-AT
3,489,200 yen
VS
6 MT
3,757,600 yen
6EC-AT
3,785,100 yen
VS
Terracotta Selection
6 MT
3,798,300 yen
6EC-AT
3,825,800 yen
VS
White Selection
6 MT
3,798,300 yen
6EC-AT
3,825,800 yen
RS
6 MT
3,922,600 yen