Mercedes-Benz Japan announced on September 29, 2022 its first luxury EV, the new "EQS". At the same time as the release of "EQS 450 +", reservations for "Mercedes AMG EQS 53 4MATIC +" have started.
table of contents
About the new EQS, the first luxury EV
The Mercedes-Benz EQS is an electric vehicle that realizes the ideals of luxury and comfort that Mercedes-Benz has cultivated over many years. In addition to designing and developing a new dedicated platform, the exterior design takes advantage of the usefulness of the package unique to an electric vehicle, expressing advanced beauty that combines the functionality of aerodynamics.
The touch-type MBUX Hyper Screen, which has an overwhelming presence in the room, also has both functionality and beauty. Thorough NVH countermeasures have been taken to achieve an unprecedented level of quietness. The air purification system with HEPA filters keeps the indoor air clean. In this way, the Mercedes-Benz EQS was born as an electric vehicle that allows you to experience the next generation of luxury through the human senses of sight, hearing, touch and smell. The EQS 534MATIC+ is also announced, the first Mercedes-AMG electric car model based on the EQS.
Mercedes-Benz New EQS Exterior
EQS isNew dedicated EV platformmounted on. The body size is 5,216mm in length, 1926mm in width and 1512mm in height.body incredibleAchieved 0.20Cd. Equipped with a lithium-ion battery with a capacity of 107.8 kWh. The "EQS450 +" motor has a maximum output of 245kW (333PS) and a maximum torque of 419lb ft, 0-100km/h acceleration in 6.2 seconds, a maximum speed of 210km/h, and a WLTP cruising range of up to 770km. WLTC mode one charging mileage 700km.
The motor of the "Mercedes-AMG EQS 53 4MATIC+" has a maximum output of 484 kW (658 PS) (up to 560 kW[761 PS]when using RACE START). Equipped with a 107.8 kWh lithium-ion battery, it has a range of 601 km per charge in WLTC mode.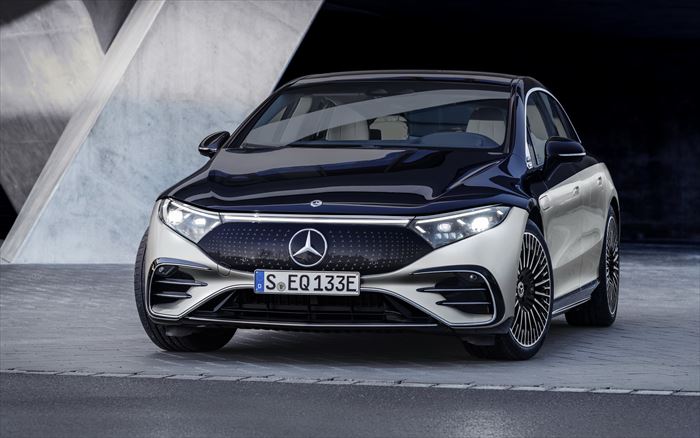 Mercedes-Benz New EQS Interior
The interior is equipped with 8 CPUs, 24GB of RAM, and the latest MBUX softwareAdopt hyper screen.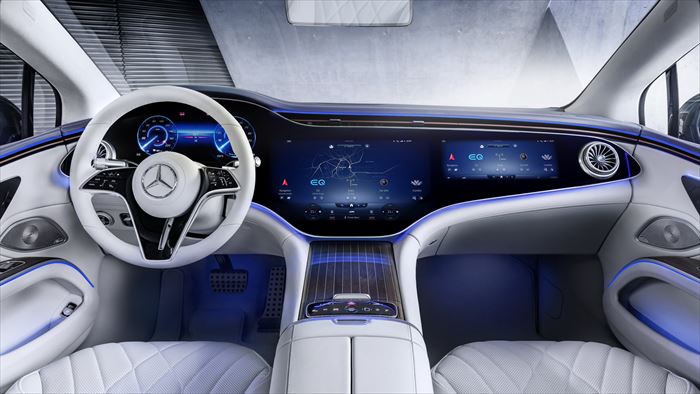 Compatible with AC normal charging up to 6.0kW (for 200V/30A charging) and DC fast charging up to 150kW (CHAdeMO standard). Charging time from 10% to 80% with DC fast charging (CHAdeMO standard) is about 110 minutes for the 50kW type, about 55 minutes for the 90kW type, and about 48 minutes for the 150kW type.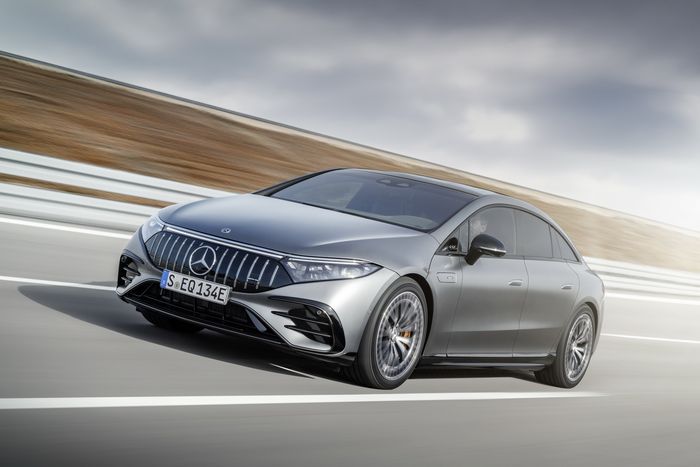 mercedes benz news release
https://media.mercedes-benz.jp/download/1246459/20220929-eqs-fnl.pdf
Mercedes-Benz
https://www.mercedes-benz.co.jp/