Mazda is "CX-5"Product improvement(annual improvement) will be announced in Japan in November 2022 and will be released in December.
table of contents
About Mazda New CX-5 Product Improvement
In this product improvement of "CX-5", the USB terminal has been changed from Type A toChange to Type C.Mazda adopts its own special paint color "Rhodium White Premium Metallic".The "Rhodium White Premium Metallic" announced to be adopted from the new SUV "CX-60" will also be adopted for the CX-5.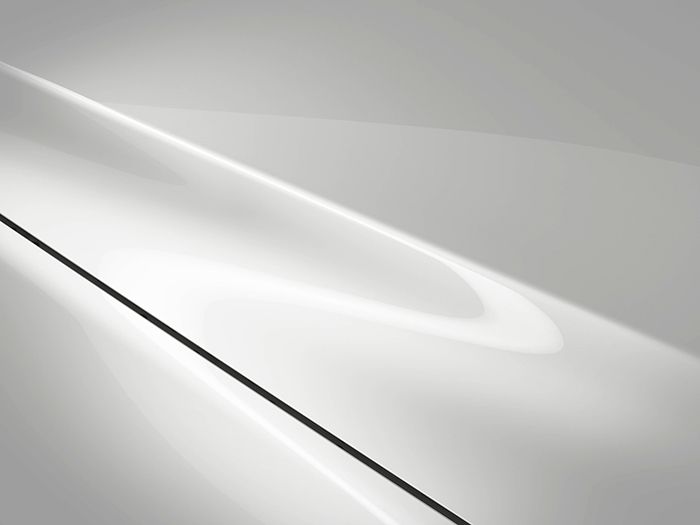 Based on the KODO design themes of "Japanese beauty" and "subtraction aesthetics," it combines a pure whiteness with no harshness and a metallic texture that accentuates the shading expression of the fine grained surface. feature. The third series following Soul Red Crystal Metallic and Machine Gray Premium Metallic. By evolving Takumi-nuri, we have succeeded in mass-producing colors with excellent expressiveness with only three layers: a clear layer, a reflective layer, and a color layer (color development layer). In the color layer (coloring layer), a newly developed white pigment expresses a fine silky whiteness. In the color layer (coloring layer), a newly developed white pigment expresses fine whiteness like silk. In the past, white-based colors tended to have a thicker coating than other colors because the undercoat tends to be more transparent. Resource conservation and CO reduction in production processes2Contribute to emission reduction.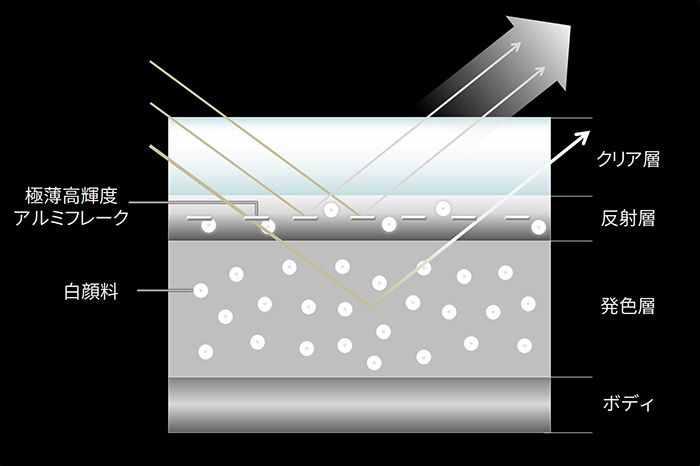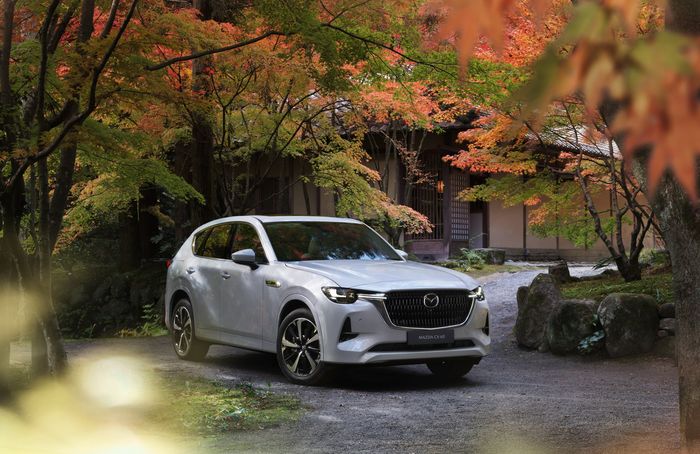 New CX-5 minor change (significant improvement) 2021 model
Mazda makes minor changes to "CX-5" Great improvement(annual improvement) will be announced in Japan on November 8, 2021, and will be released in December.The new "CX-5" is equipped with many of the equipment used in the high-end model "CX-8." A new front grille has been adopted for the exterior to give an impression and a sense of luxury. Adopted more subdivided "ALH adaptive LED headlights"do. Equipped with a power liftgate with a hands-free function that is used in the "CX-8".Configure wireless charging (Qi). 550L luggage compartment capacity (73L increase). Incorporating the concept of vehicle structure technology "SKYACTIV-VEHICLE ARCHITECTURE",Aiming for exercise performance that reduces fatigue even when driving for long hours, and further improves comfort and quietness. The body color "titanium flash mica" has been discontinued. Add a new color "Zircon Sand Metallic". Add two special specification cars, becoming a sports model "Sports Appearance". Off-road model "Field Jorney" comes standard with all-season tires. Depending on the driving scene, the driving mode can be switched arbitrarily with a single switch operation.MAZDA INTELLIGENT DRIVE SELECT (Mi-DRIVE)" is newly adopted.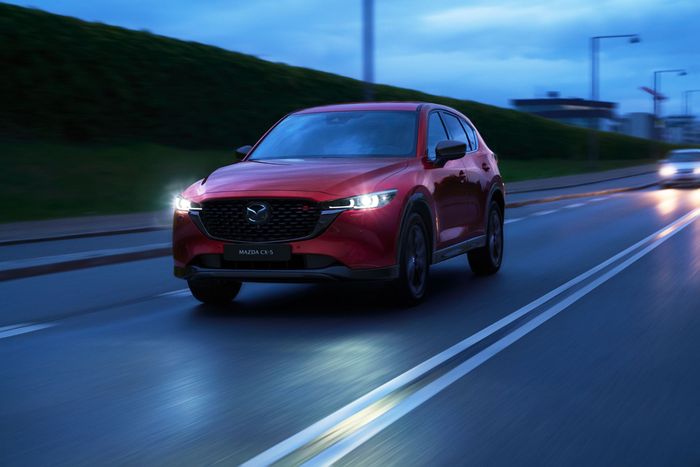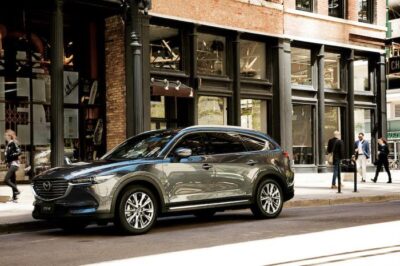 New CX-5 Special Edition "Sports Appearance"
A design with red accents that stimulates the sports mind of mature adults by putting the whole body in black. The exterior features a black finish that accentuates the fearlessness of the car with a deep luster, including the front grille, signature wings, lower bumper, wheel arches, under-door garnishes, and door mirrors. The wheels are also black metallic painted 19 inches. The classic red of the first generation Roadster is used for the accent red in the front grille. The interior uses black leather seats, steering wheel, doors and shifters with passionate red stitching.
New CX-5 Special Edition "Field Jorney"
The exclusive exterior expresses a toughness that is as strong as the strength and strength of nature. In addition to silver-painted front and rear bumper center garnishes and side garnishes, black door mirrors and gray metallic-painted 17-inch aluminum wheels are used. All-season tires are standard equipment. For the interior, the lime green used to accent the front grill is also used for seat stitching, piping, and air conditioner louvers. Adoption of a reversible board in the luggage room. Set off-road mode on Mi-DRIVE.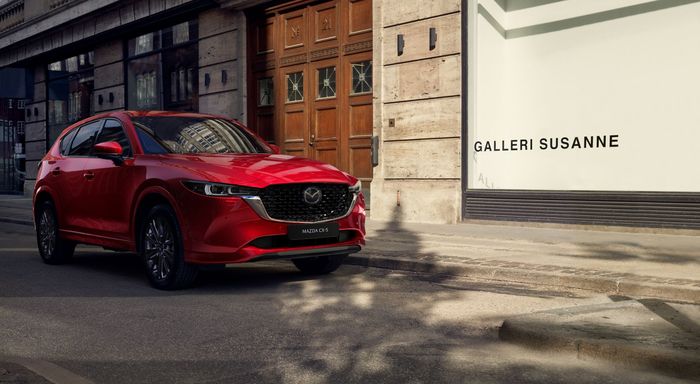 About the new CX-5 specs
spec

CX-5
SKYACTIV-G 2.0

CX-5
SKYACTIV-D 2.2

CX-5
SKYACTIV-G 2.5

full length
4,545mm
4,545mm
4,545mm
Width
1,840mm
1,840mm
1,840mm
Height
1,690mm
1,690mm
1,690mm
Wheelbase
2,700mm
2,700mm
2,700mm
engine
SKYACTIV-G 2.0
2.0L inline 4 cylinder
engine
SKYACTIV-D 2.2
2.2L 4 cylinder
direct injection turbo
diesel engine
SKYACTIV-G 2.5
2.5L 4 cylinder direct injection
gasoline engine
Maximum output
114kW (155PS)/
6,000rpm
140kW (190PS)/
4,500 rpm
140kW (190PS)/
6,000rpm
Maximum torque
196Nm (20.0kgm)/
4,000rpm
450Nm (45.9kgm)/
2,000rpm
251Nm (25.6kgm)/
3,250rpm
transmission
6-speed AT
6-speed AT
6-speed AT
Drive system
2WD
2WD (FF)/4WD
2WD (FF)/4WD
Boarding capacity
Five people
Five people
Five people
JC08 mode fuel consumption
16.0km/L
2WD vehicle 19.0km/L /
4WD vehicle 18.0km/L
2WD vehicle 14.8km /
4WD vehicle 14.2km/L
mazda news release
https://newsroom.mazda.com/ja/publicity/release/2022/202206/220610a.html
https://news.mazdausa.com/2022-07-26-2023-Mazda-CX-5-Pricing-and-Packaging
CX-5
https://www.mazda.co.jp/cars/cx-5/