Lexus will set a new lineup "IS500 F SPORT Performance" for the domestic market in the new "IS series" and release it in December 2022.IntroductionA special specification car "F SPORT Performance First Edition" has been set, and 500 units will be sold by lottery from August 25, 2022.The winner will be contacted by the designated retailer and business negotiations will begin.
table of contents
Lexus "IS500 "F SPORT Performance First Edition""
Similar to the recently announced RX500h "F SPORT Performance", in addition to the conventional F SPORT specifications, the IS500 is newly set with "F SPORT Performance" as a performance model with enhanced powertrain. We aim to provide new appeal, such as the joy of driving, and to meet the diverse needs and lifestyles of our customers.
The IS500 "F SPORT Performance" introduced this time is equipped with a V-type 8-cylinder 5.0L engine, and the maximum output of 354kW (481PS) and maximum torque of 535Nm bring about a relaxed and comfortable acceleration, pursuing emotional and sensual sounds. AVS and EPS have been tuned, and in addition to the front, the rear also has "performance dampers".®By adding ", we have achieved excellent ride comfort and steering stability according to various driving situations. In addition, braking power is improved by adopting large-diameter brake rotors of 356mm at the front and 323mm at the rear. In terms of design, the hood design, special black calipers, and quadruple exhaust mufflers that make you feel the presence of a large-displacement V8 engine emphasize strength and power.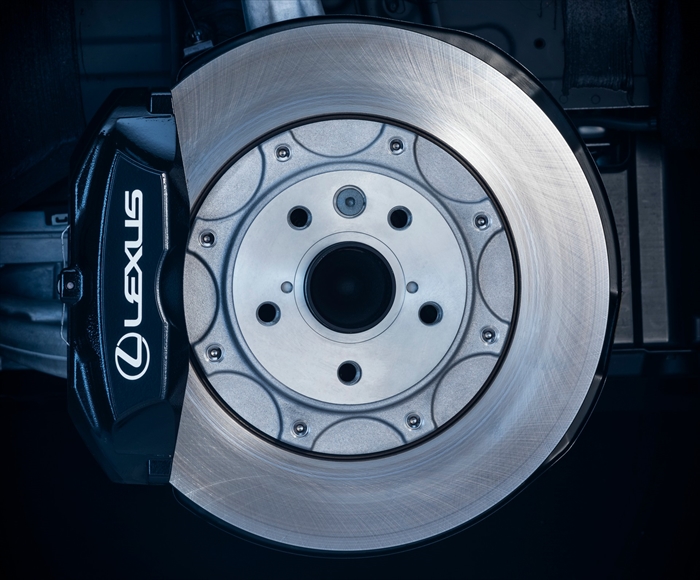 Main Equipment List of Special Edition IS500 "F SPORT Performance First Edition"
exterior
19-inch forged aluminum wheels for special-purpose vehicles (BBS matte black paint)
Door mirrors (black paint for special-purpose vehicles)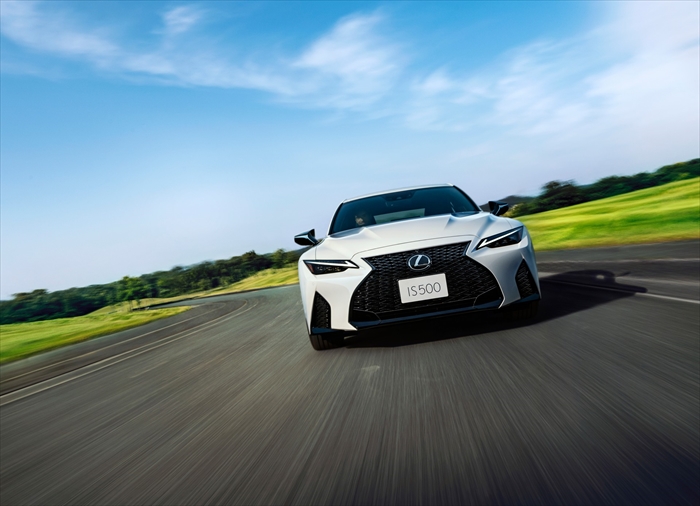 interior
Ash (open finish/red iron) + exclusive dimple genuine leather steering wheel (with paddle shift)
Ornament panel for special-purpose vehicles (power window switch base) Ash for special-purpose vehicles[Open finish/Bengala]
Ultra suede for special specification vehicles®/ L-tex sports seat (black/brown perforation + brown stitching)[Driver's seat position memory/with driver's seat and passenger's seat ventilation function]
Plate for special specification car (Ash[Open finish/Bengala])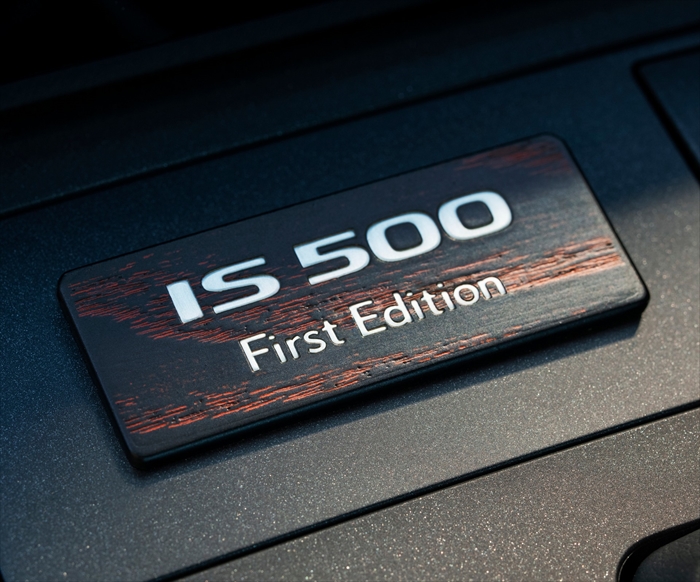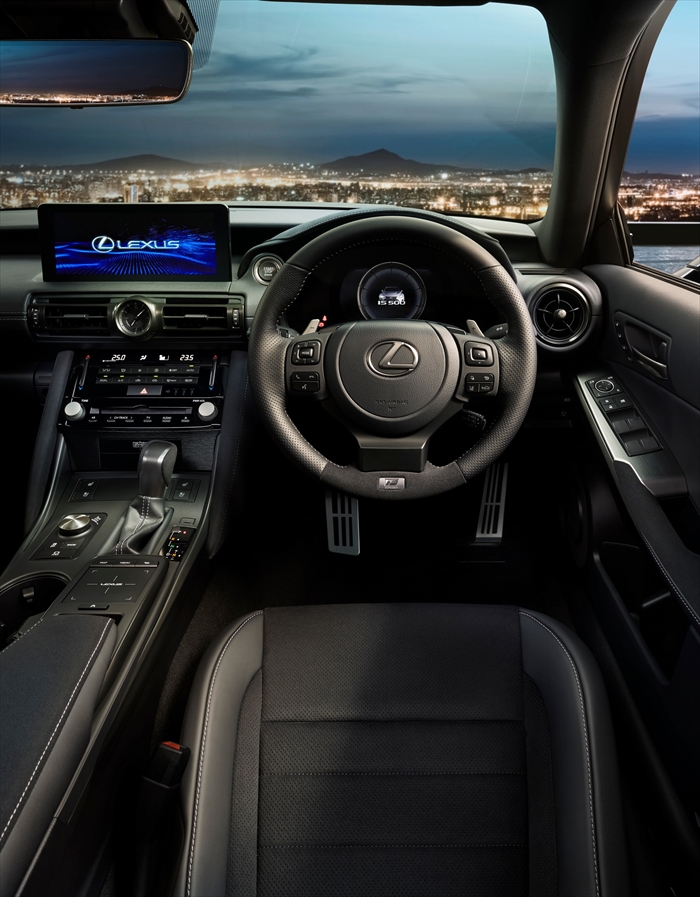 About the new IS500 F SPORT Performance
"IS500 F SPORT Performance"teethThis is the first model in the "LEXUS F SPORT Performance" line.The engine has improved displacement and performance over the "IS350" 3.5L V6.The 5.0L V8 engine has a maximum output of 354kW (481PS) and maximum torque of 535Nm, and an 8-speed sports direct shift automatic transmission.The vehicle tips the scales at 3,891 pounds and gains just 143 pounds of extra curb weight over the standard IS 350 FSPORT. The IS 500 is4.5 seconds for 0-100km/h acceleration (0-60mph acceleration), with a manufacturer-estimated highway rating of 24mpg. Performance enhancements on the IS500 include a quad-throat exhaust system with dual-stack tailpipes that fully amplify the new V8 engine.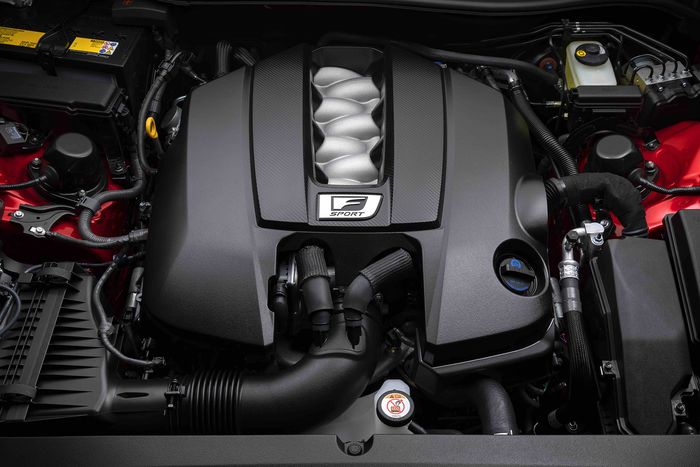 The IS500 is Standard on F SPORT handling Dynamic Adaptive Variable Suspension (AVS) and Torsen Package (DHP).Improved Limited Slip Differential (LSD) performance. LSD also helps maintain linear stability.Yamaha engineers®The addition of a rear performance damper and improved chassis performance. This damper reduces dynamic structural distortion, increases comfort at low speeds, and increases stability and agility at high speeds. Enhanced brake cooling is also made over the standard IS 350 FSPORT with additional aerodynamic cooling and a larger 14.0-inch two-piece aluminum front rotor and 12.7-inch rear rotor.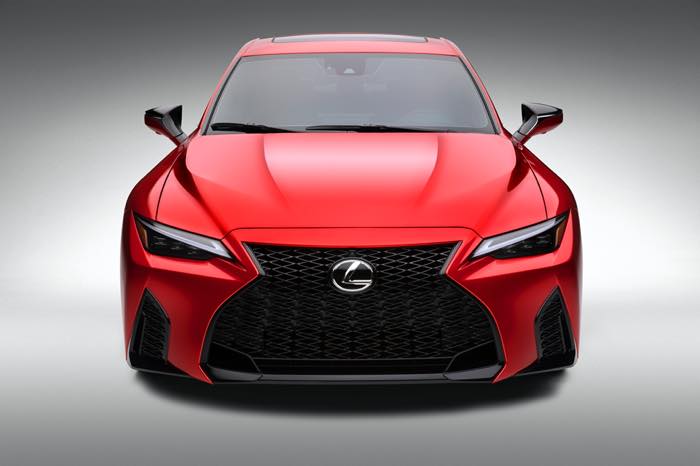 The IS 500 features subtle cosmetic enhancements that set it apart from the standard IS 350 F SPORT. The hood has been raised nearly two inches to receive a sculpted central character line, and the front bumper and fenders have been lengthened to accommodate the vehicle's naturally aspirated V8 muscle. The IS 500 hasExclusive 19-inch split 10-spoke Enkei aluminum wheels are standard equipment.In addition to being beautifully complex, the wheels are about 1 pound lighter per front and 2 pounds lighter per rear than the standard 19-inch FSPORT wheels. Other exterior updates includeQuad exhaust systemIt includes a revised lower rear diffuser accent that accentuates the , and dark chrome window trim. Tying together these visual and performance cues is the black 'IS FSPORT' rear lip spoiler.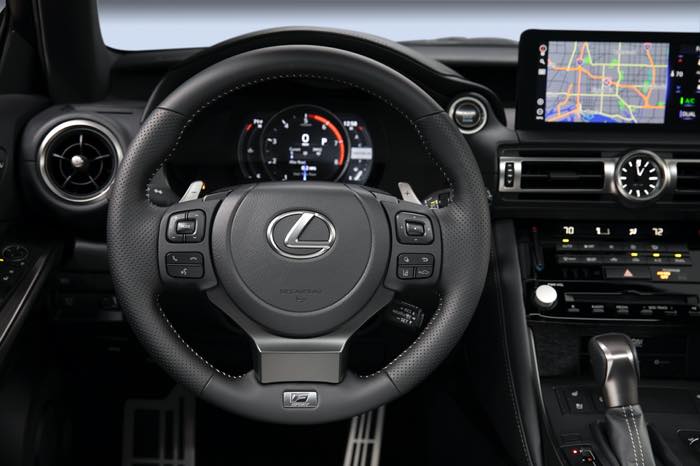 Drivers are greeted with black F SPORTPerformance badges on the leather-wrapped steering wheel and door sill scuff plates. It also comes standard with an IS F SPORT accelerator pedal, brake pedal and footrests, while the combination instrumentation meter receives an updated activation animation exclusive to the IS500.
Main Equipment List of Special Edition IS500 "F SPORT Performance"
Engine hood design change
Front fender panel design change
Front bumper garnish design change
Rear bumper garnish design change
Dedicated quadruple exhaust muffler
Dedicated aluminum wheel new setting
Exclusive black brake caliper
Additional skin color setting (titanium carbide gray)
Dedicated emblem (front fender)
interior
Dedicated 8-inch TFT liquid crystal meter / Dedicated opening
Dedicated scuff plate (front: stainless steel["F SPORT" logo])
Exclusive ultra suede®(Black) / "F SPORT" exclusive L-tex sports seat (driver's seat position memory / with ventilation function for driver's seat and front passenger's seat)
Exclusive ultra suede®(Door trim armrest/meter hood/knee pad[front console side/shift knob]/front console)
exclusive*3dimple genuine leather + ultra suede®Steering (with paddle shift)
performance
Equipped with a V-type 8-cylinder 5.0L engine
AVS/EPS changed (control constants changed for both AVS/EPS)
Coil spring change (spring constant change)
Rear performance damper®"addition
Torsen®LSD (rear differential gear)
Large diameter brake rotor (front: 356mm / rear: 323mm)
About the new IS500 F SPORT Performance specs
spec
IS500
"F SPORT Performance"
full length
4,757mm
Width
1,840mm
Height
1.435mm
Wheelbase
2,800mm
engine
5.0L V8 engine
Maximum output
352kW (479ps)/7,100rpm
Maximum torque
535Nm (54.6kgm)/4,800rpm
transmission
8-Speed ​​SPDS
0-100km/h acceleration
4.5 seconds
WLTC mode Fuel consumption
-km/L
price
¥8,500,000
New IS500 F SPORT Performance price grade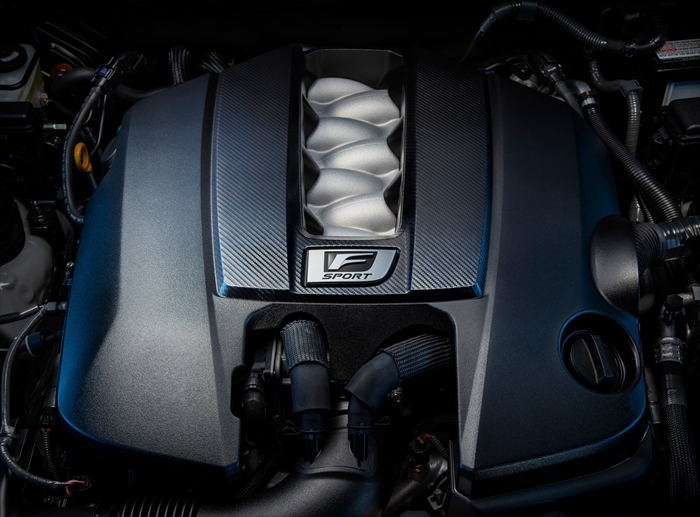 grade
engine
Trance
Mission
driving
method
price
(Ten%)
IS500
"F SPORT Performance"
5.0L V8 engine
8-Speed
SPDS
2WD
¥8,500,000
IS500
"F SPORT Performance First Edition"
5.0L V8 engine
8-Speed
SPDS
2WD
9,000,000 yen
lexus news release
https://global.toyota/jp/newsroom/lexus/37835132.html
Lexus IS
https://lexus.jp/models/is/