Mazda will make product improvements (annual improvements) to the new MX-30 and release it on October 3, 2022.
table of contents
About Mazda New MX-30 2022 Product Improvement
The exterior is equipped with the optional "D pillar plating + MAZDA logo" as standard equipment. The body color is a new color "Zircon Sand Metallic". Adopted the latest design shift lever. "Industrial Classic" and "Modern Confidence" with enhanced texture are set. "Accessory Outlet" AC100V1500W outlet can be added as an option.
About the new MX-30
Based on Mazda's design theme "KODO – SOUL of MOTION", we challenged ourselves to further enhance the artistry and expand the expression as "Car as Art". The design is based on the concept of "Human Modern," aiming to be close to changes in values ​​and new lifestyles for the future, based on beautiful forms and craftsmanship created by human hands. created. Adopts next-generation vehicle structure technology "SKYACTIV-Vehicle Architecture". The rear seat door adopts a double-opening "freestyle door" reminiscent of the RX-8. Safety system "i-ACTIVSENSE" introduced the latest model.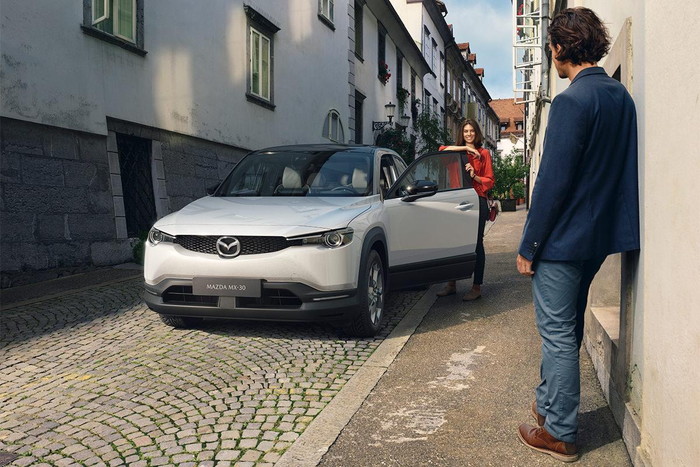 New MX-30 Exterior
In addition, we have adopted freestyle doors so that customers can use their imaginations to create a variety of ways to enjoy the car.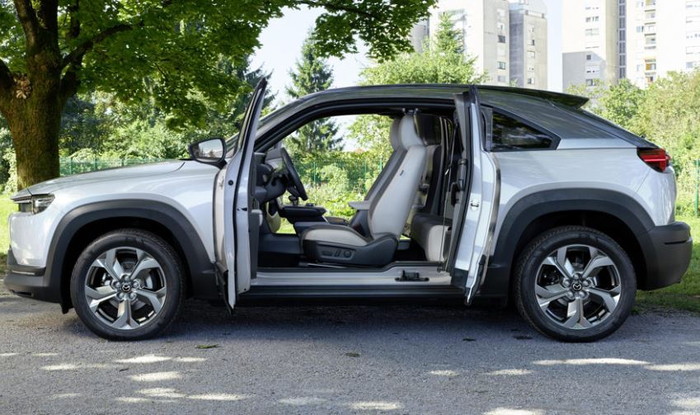 Based on the human-centered development concept, we pursued the "joy of riding with Jinba-ittai" that does not change even with EVs. New electrification technology "e-SKYACTIV" is adopted. Furthermore, the 2.0L direct-injection gasoline engine "SKYACTIV-G 2.0" combined with the mild hybrid system "M HYBRID"e-SKYACTIV GEquipped with. "MAZDA eG-Vectoring Control Plus (GVC +)" is also adopted.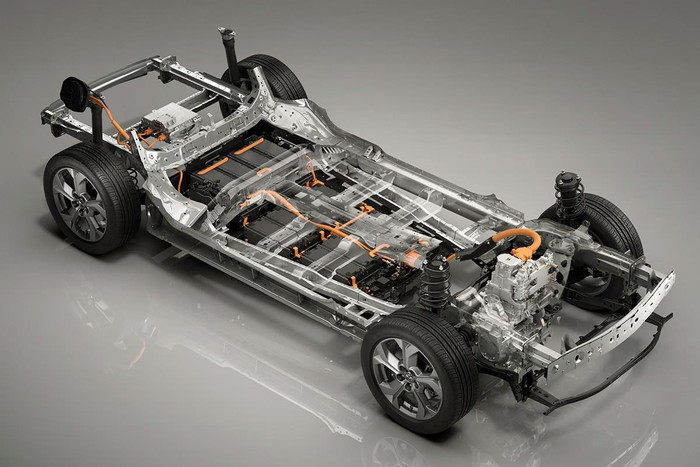 New MX-30 interior
The area around the center console creates a space with a sense of openness by giving it a loose shape. Eco-friendly materials such as cork and fabrics made from recycled materials have been used to bring out their natural charm and create a comfortable interior space. It has an 8.8-inch infotainment system.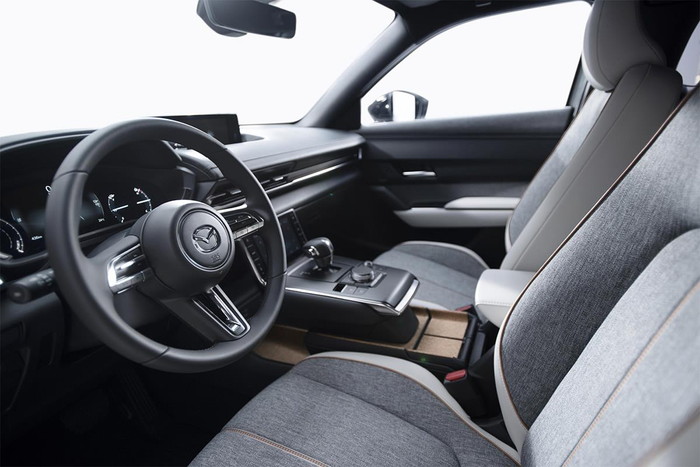 About the new MX-30 "e-SKYACTIV G"
Direct injection gasoline engine "SKYACTIV-G 2.0" maximum output 115kW (156PS) / 6,000rpm, maximum torque 199Nm (20.3kgfm) / 4,000rpm, original mild hybrid system "M Hybrid" maximum output 5.1kW (6.9PS) / Equipped with "e-SKYACTIV G" that combines 1,800 rpm and maximum torque of 49 Nm (5.0 kgfm) at 100 rpm, it achieves quiet and smooth acceleration and high-quality drive feel, contributing to low fuel consumption.
spec
MX-30
full length
4,395mm
Width
1,795mm
Height
1,570mm
Wheelbase
2,655mm
motor
2.0L in-line 4-cylinder DOHC direct injection
+ motor
Maximum output
115kW (156PS)/6,000rpm
Maximum torque
199Nm (20.3kgfm)/4,000rpm
motor output
5.1kW (6.9PS)/1,800rpm
motor maximum torque
49Nm (5.0kgfm) 100rpm
battery
24V lithium ion
transmission
SKYACTIV-
DRIVE (6AT)
Drive system
2WD/4WD
Boarding capacity
Five people
WLCT mode fuel consumption
15.6km/L 2WD
15.1km/L 4WD
price
2,420,000 yen
2,656,500 yen
About the new MX-30 grade price
model
engine
Trance
Mission
drive
method
price (10%)
MX-30
2.0L inline 4 cylinder
DOHC direct injection
+ motor
SKYACTIV-
DRIVE
(6 AT)
2WD
2,420,000 yen
4WD
2,656,500 yen
MX-30
100th anniversary
special commemorative car
2WD
3,157,000 yen
4WD
3,393,500 yen
About the new MX-30 "e-SKYACTIV"
Electric Technology Prove-Out Vehicle (e-TPV) electric motor with 141 HP (143 PS / 105 kW) and 265 Nm (195 lb-ft) peak torque powered by a dedicated 35.5 kWh lithium-ion battery Adopt a platform.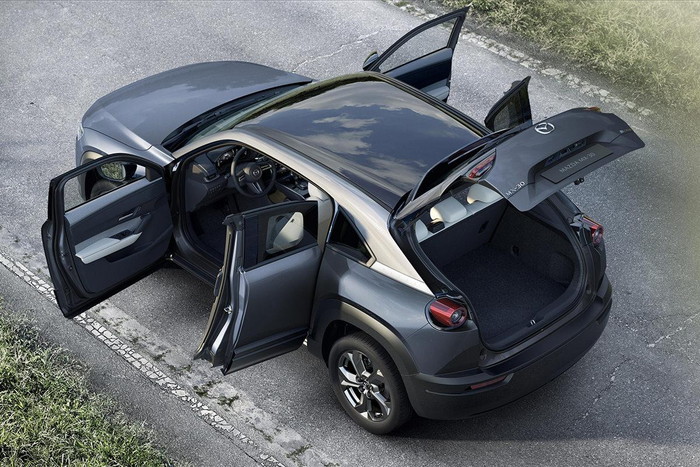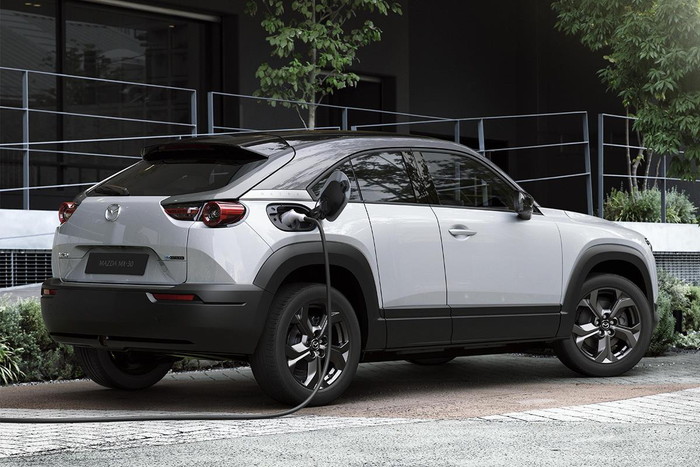 spec
MX-30
full length
4,395mm
Width
1,795mm
Height
1,570mm
Wheelbase
2,655mm
motor
e-SKYACTIV
Maximum output
143PS / 105kW
Maximum torque
265 Nm
battery
Lithium Ion 35.5 kWh
Drive system
2WD
Boarding capacity
Five people
WLCT range
about 200km
price
From 4,510,000 yen
5,016,000 yen
New MX-30 EV MODEL price
Model name
motor
transmission
drive
method
price (10%)
EVs
e-SKYACTIV
EV only
unit
2WD
(FF)
4,510,000 yen
EV Basic Set
4,587,000 yen
EV Highest Set
4,950,000 yen
Mazda new MX-30 equipped with mild hybrid "e-SKYACTIV G" Released on October 8, 2020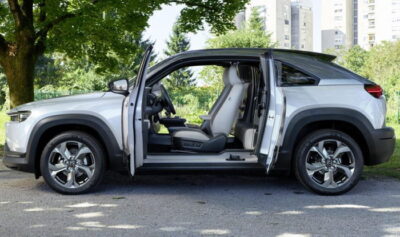 mazda news release
https://www2.mazda.com/ja/publicity/release/2019/201910/191023a.html
https://newsroom.mazda.com/ja/publicity/release/2020/202007/200731a.html
MX-30
https://www.mazda.at/konfigurator/MAZDA%20MX-30/5WGN/
https://www.mazda.com/ja/new-generation/mx-30/