Mazda will improve the product of the 3-row seat crossover SUV "MAZDA CX-8" and release it in January 2023.
table of contents
About the new CX-8 product improvement 2023
Mazda's new design is adopted for the exterior like the CX-5.Mazda adopts its own special paint color "Rhodium White Premium Metallic".. A new "" is added to the interior seats.Greige sheet" is newly set.Line up a new special specification car.
About the new CX-8 product improvement 2022
With this additional setting, the "CX-8" has three types of engines, both the highest grade "Exclusive Mode" that welcomes passengers and the special specification car "Black Tone Edition" that expresses a sporty world view with outstanding individuality. (SKYACTIV-G 2.5, SKYACTIV-G 2.5T, SKYACTIV-D 2.2) can be selected.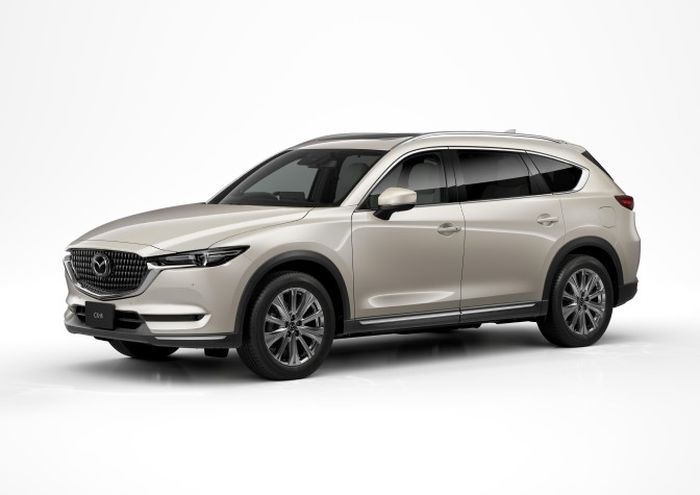 About the new CX-8 product improvement 2020
Mazda's new "CX-8" will be improved (annually improved) and announced on December 3, 2020, and will be released on December 17, 2020.
In this 2020 product improvement, the revamped "NEW MAZDA CONNECT" installed from "MAZDA3" is installed and an 8.8-inch or 10.25-inch center display is adopted. Compatible with "Android Auto" and "Apple CarPlay". The touch panel is not installed and everything is operated by commander control. In-vehicle communication device is set as standard. It is possible to link the connected service with the smartphone app "MyMazda". A new body color, "Platinum Quartz Metallic," has been added.
Equipped with a power liftgate with hands-free function. Configure wireless charging (Qi).
Vehicles equipped with "SKYACTIV-D 2.2" have improved output. The maximum output has been improved from 140 kW (190 ps) / 4,500 rpm to 147 kW (200 ps) / 4,000 rpm. SKYACTIV-DRIVE (6AT) improved responsiveness.
The grade "PROACTIVE" base special specification car "BLACK TONE EDITION" is adopted. A new color "Platinum Quartz Metallic" (Exclusive Mode, L Package) has been added. A new front grille is used in some grades (Exclusive Mode, L Package) to give an impression and luxury.
About the new CX-8 product reform price grade
grade
engine
Trance
Mission
Drive system
Price (10%)
25S
In-line 4-cylinder DOHC
2.5L direct injection engine
6-speed AT
2WD
2,994,200 yen
4WD
3,230,700 yen
25S SMART
EDITION
(special specification car)
2WD
3,137,200 yen
4WD
3,373,700 yen
25S
PROACTIVE
2WD
3,445,200 yen
4WD
3,681,700 yen
25S
Black Tone Edition
(special specification car)
2WD
3,616,800 yen
4WD
3,853,300 yen
25S
L Package
2WD
3,999,600 yen
4WD
4,236,100 yen
25S
100th anniversary special car
2WD
4,490,200 yen
4WD
4,726,700 yen
25T
100th Anniversary Special Commemorative Car
In-line 4-cylinder DOHC 2.5L
direct injection turbo engine
2WD
4,873,000 yen
4WD
5,109,500 yen
25T
Exclusive Mode
2WD
4,763,000 yen
4WD
4,999,500 yen
XDMore
SMART EDITION
(Special specification car)
In-line 4-cylinder DOHC 2.2L
Direct injection diesel
turbo engine
2WD
3,520,000 yen
4WD
3,756,500 yen
XDMore
PROACTIVE
2WD
3,828,000 yen
4WD
4,064,500 yen
XD
PROACTIVE
S Package
2WD
3,999,600 yen
4WD
4,236,100 yen
XD
Black Tone Edition
(Special specification car)
2WD
3,999,600 yen
4WD
4,236,100 yen
XDMore
Package L
2WD
4,382,400 yen
4WD
4,763,000 yen
XDMore
Exclusive Mode
2WD
4,763,000 yen
4WD
4,999,500 yen
XD
100th anniversary special car
2WD
4,873,000 yen
4WD
5,109,500 yen
About the new CX-8 specs
spec
New CX-8
SKYACTIV-D 2.2
New CX-8
SKYACTIV-G 2.5
New CX-8
SKYACTIV-G 2.5T
full length
4,900mm
4,900mm
4,900mm
Width
1,840mm
1,840mm
1,840mm
Height
1,730mm
1,730mm
1,730mm
wheel
base
2,930mm
2,930mm
2,930mm
engine
2.2L 4-cylinder DOHC
direct injection turbo engine
2.5L inline 4 cylinder
direct injection gasoline engine
2.5L in-line 4-cylinder
direct injection gasoline
turbo engine
Maximum output
129kW (175ps)/
4,500 rpm
140kW (190PS) /
6,000rpm
169kW (230ps) /
4,350rpm
Maximum torque
420Nm (42.8kgm) /
2,000rpm
252Nm (25.7kgm)/
4,000rpm
420Nm (42.8kgm)/
2,000 rpm
Trance
Mission
SKYACTIV-DRIVE
6-speed AT (6-speed automatic transmission)
SKYACTIV-DRIVE
6-speed AT (6-speed automatic transmission)
SKYACTIV-DRIVE
6-speed AT (6-speed automatic transmission)
Drive system
2WD (FF) / 4WD
2WD(FF)/4WD
2WD (FF) / 4WD
Riding capacity
6 people/7 people
6 people/7 people
6 people/7 people
JC08 mode
Fuel economy
– –
13.4km/L
12.0km / L
WLTC mode
Fuel economy
15.8km / L
12.4km/L
11.6km / L
price
From 3,828,000 yen
4,890,600 yen
From 2,948,000 yen
4,205,300 yen
From 4,352,700 yen
4,809,200 yen
mazda news release
https://newsroom.mazda.com/ja/publicity/release/2022/202201/220114a.html
https://www.mazda.co.jp/cars/cx-8/