Nissan made a full model change of the new "X-TRAIL" and released the Japanese model on July 25, 2022.We have a lineup of models that combine a turbo engine with the 2nd generation e-POWER. I will tell you in detail what kind of model it became.
table of contents
New "X-Trail" full model change
The exterior isNew generation design・New "Nissan Emblem"Is adopted.
The interior is12.3-inch full LCD digital meter and 9-inch touch screen display for digital LCD meterAdopt and renew.
Renault-Nissan's new platform "CMF (Common Module Family)"Is adopted.
Next-generation "e-POWER"The installed engine is "1.5L 3-cylinder gasoline engine turbo (VC)For 4WD modelsLatest electric technology "e-4ORCE"Is adopted.
Driving support system "ProPilot"Is adopted.
About the new "X-Trail" full model change exterior
The body size is compact, 30 mm shorter, 20 mm lower, 4660 mm in length, 1840 mm in width, and 1720 mm in height. The overall length is compact while maintaining the wide interior length, and the minimum turning radius is reduced by 0.2 m to 5.4 m. Renault-Nissan's new platform "CMF (Common Module Family)Is adopted. Exterior design change, front and rear bumper design change. It features a large double "V motion grille" with LED daytime running lights attached to the top of the split headlights.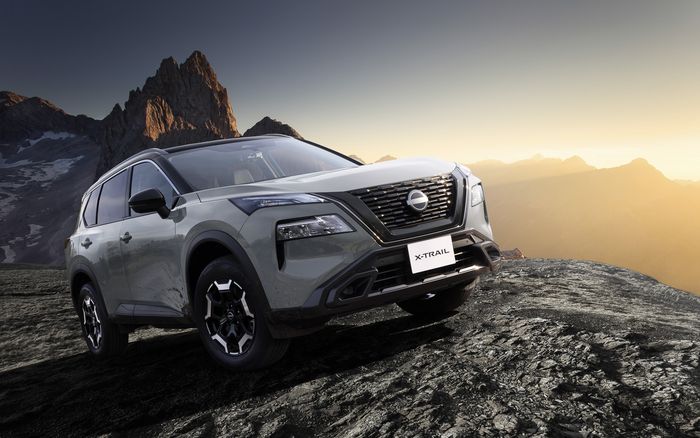 New "X-Trail" full model change Interior
New steering wheel in the interior,A 5-inch or 7-inch display and a 12.3-inch full LCD digital meter are set for the digital LCD meter."10.8 inch color head-up display" was adopted. Adopted the latest big infotainment system. A soft pad is used on the upper surface of the instrument panel to enhance the sense of quality. The "Nissan Connect Infotainment System" uses an 8-inch or 9-inch touch screen display compatible with "Apple CarPlay" and "Android Auto." The center console has a small shifter knob for terrain setting, a rotary selector, and an electric parking brake and hold.The lineup includes two-row five-seater or three-row seven-seater.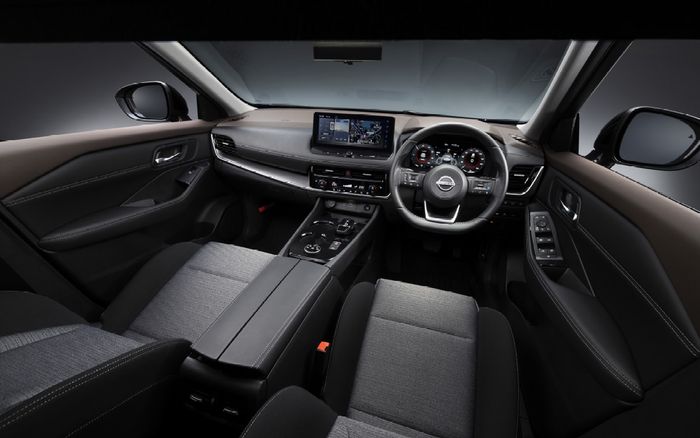 New "X-Trail" full model change Equipped with omnidirectional driving support system "360 ° Safety Assist"
"360 ° Safety Assist" consists of seven types of advanced driver assistance systems. "Intelligent Emergency Brake" "Misstepping Collision Prevention Assist" "Adaptive High Beam Assist / High Beam A" "Vehicle Detection Warning when Reversing RCTA" "Intelligent LI / LDW (Lane Departure Warning)" "RCTA Vehicle Detection Warning when Reversing" "Sign Detection" "Function" is adopted.
Intelligent emergency brake The front camera detects vehicles in front (about 10-80km / h) and pedestrians (about 60km / h or less). Works even when driving at night. When the possibility of a collision increases, a warning is displayed on the in-meter display and a buzzer alerts the driver to avoid it. In the unlikely event that the driver cannot decelerate safely, the brakes support collision avoidance operations or reduce damage and injuries in the event of a collision.
Misstepped collision prevention assist If the brake operation is delayed or the accelerator pedal is mistakenly depressed for the brake pedal during parking operation (less than about 15km / h) in a place with a wall in the direction of travel, a warning is given and the engine output and brake are controlled. And supports excessive acceleration and collision prevention. Detection of vehicles and pedestrians.
Intelligent LI / LDW (Lane Departure Warning) If you are likely to deviate from the driving lane unintentionally, you will be alerted by the display and sound.
Adaptive High Beam Assist / High Beam Assist The front detection camera detects the lights of preceding and oncoming vehicles and the brightness around the road, and automatically switches between high beam and low beam.
RCTA Reverse vehicle detection warning An alarm alerts the driver when there is a risk of collision with a vehicle trying to cross behind when reversing.
Intelligent BSI (rear side collision prevention support system) When a vehicle traveling behind an adjacent lane, which tends to be a blind spot, is detected, the driver is notified by a display, and when a lane change is started, a force is generated to return the vehicle to the original lane with an alarm. And assist to avoid contact with vehicles in the adjacent lane.
Sign detection function (no entry sign detection, maximum speed sign detection, stop sign detection) The front camera detects the "vehicle entry prohibition sign", "maximum speed sign", and "stop sign" in front. A warning is displayed on the in-meter display and a buzzer is used to inform the driver.
Intelligent room mirror The intelligent room mirror projects the camera image behind the vehicle on the mirror surface.
Intelligent cruise control When the preceding vehicle is detected, the vehicle speed (about 30 to 100km / h) set by the driver is set as the upper limit, and the vehicle follows the vehicle in the range of stop to about 100km / h to keep the distance from the preceding vehicle.
Intelligent Around View Monitor Supports smooth parking by displaying an image as if looking down from the sky on the display.
Pro pilot The car supports accelerator, brake, and steering operations in the two major scenes where you feel a burden on the highway.
What is Nissan 360 ° Safety Assist Omnidirectional Driving Assistance System?About installed vehicles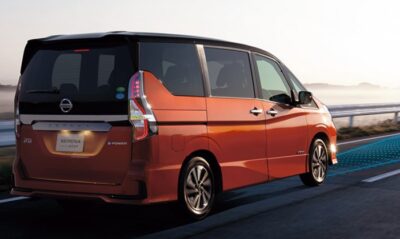 About the new "X-Trail" full model change specs
spec
New X-Trail
e-POWER
full length
4,660mm
Full width
1,840mm
Overall height
1,725mm
Wheelbase
2,705mm
engine
In-line 3-cylinder DOHC 1.5 L
VC turbo
+ Motor
Model: EM57
Model MM48 type
front
Motor maximum output
106kW / 4,400-5,000rpm
front
Motor maximum torque
250Nm / 2,400-4,000rpm
rear
Motor maximum output
100kW / 4,897-9,504rpm
rear
Motor maximum torque
195Nm / 0-4,897rpm
Maximum output
150kW / 4,501-7,422rpm
Maximum torque
330Nm / 0-3505rpm
Drive system
2WD / 4WD
Riding capacity
5 people 7 people
WLCT mode fuel economy
19.7km / L (2WD)
18.3km / L ~ 18.4km / L (4WD)
price
From 3,198,800 yen
4,499,000 yen
Thinking about the new X-Trail
For Nissan, the "X-Trail" is a compact SUV in the Japanese market and has high sales power.This time, Nissan has achieved normal evolution, and by renewing everything from the exterior to the interior to the engine, it will be a model that feels evolution when riding more than it looks. It will be one that you can rely on due to the enhancement of safety equipment and the latest interior equipment.This time, the contents of the full model change are all the changes that make you feel the awesomeness of Nissan.Especially appreciated is the change in the engine lineup.Even if you look at the models sold by Nissan cars, there is always a lineup of "e-POWER" models."Note", "Note Aura", "Serena", "Kicks", etc., but this time, by installing the new "e-POWER", the product value will be unprecedented. In addition, you can feel that you are riding the latest model by incorporating all the trends as a modern car such as an information display and a full LCD digital meter.It combines the quality of an exterior sports SUV with the quality of an interior, and there is no doubt that it will be a car model comparable to the particularly strong Toyotas in SUVs!
Nissan news release
https://global.nissannews.com/ja-JP/releases/release-eeb3fca6e4d3baab92962a71650490a1-220720-01-j
X-Trail
https://www3.nissan.co.jp/vehicles/new/x-trail.html