Toyota made a full model change of the "Crown" and announced the 16th generation on July 15, 2022, released around the fall of 2022However, from July 16th to 18th, 2022, the new "Crown" that was just announced at "Roppongi Hills North Tower Square" was exhibited, and I actually saw the actual car. I will talk about my impressions.
table of contents
Impressions of seeing the 16th generation new Crown actual vehicle
After looking at the actual vehicle, I actually considered purchasing it, and after researching various things, I summarized the places that I thought were "great!", "Like!", And "recommended!".
Exterior design is fresh
until nowCrossover, not a royal road sedanIn SUV styleAdopted a new design like a coupe on the rear.As for the impression I saw, I frankly feel that it is a new genre of SUV. There are several coupe SUVs overseas, but I was not familiar with Japanese cars, so I could feel the freshness, quality and suppleness.And trendyThe front part adopts a headlight with a daylight that has a single horizontal character..Continued adoption of the "Crown" emblem..The rear adopts "LED rear combination lamp" and adopts a thin and sharp rear combination lamp that extends horizontally.The one-letter rear combination lamps are often seen on Harriers, so I got the impression that they are incorporating trends.21-inch aluminum wheels and 4-eye LED headlightsWas particularly impressive.
Crown CROSSOVER G "Advanced Leather Package"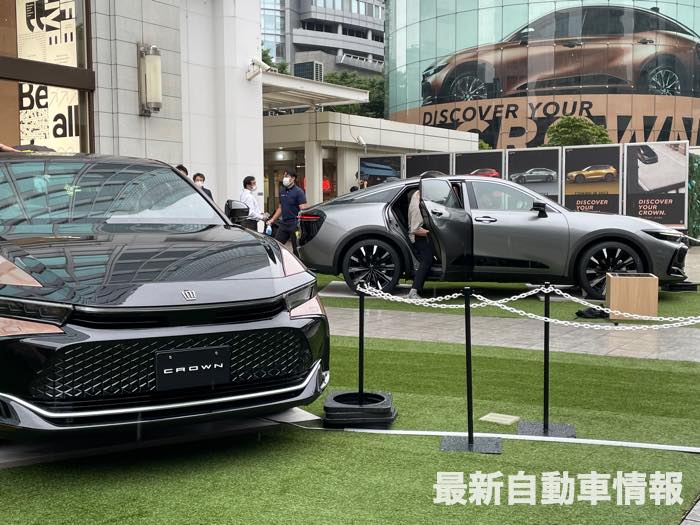 Crown CROSSOVER RS "Advanced"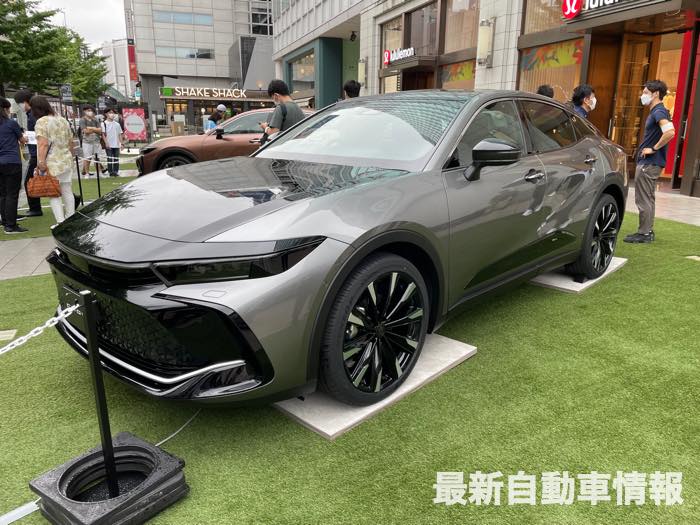 I will compare it with the "Harrier" by all means, but overall I get the impression that the sedan has been converted to an SUV.
Comparison of new Harrier and new Crown body size
Comparing the body sizes of the new Harrier and the new "Crown", the overall length and wheelbase of the Crown are longer, but the overall height is -150mm lower.
spec
4th generation
New Harrier
16th generation
New crown
difference
full length
4,725mm
4,930mm
+ 205mm
Full width
1,835mm
1,840mm
+ 5mm
Overall height
1,690mm
1,540mm
-150mm
Wheelbase
2,690mm
2,850mm
+ 160mm
Although it is an SUV, it dares to be 1550 mm or less. There are many mechanical multi-storey car parks in central Japan, and if it is a multi-storey car park in a department store or downtown, the total height is 2,000 mm or less.In the case of a normal tower-type multi-storey car park, the total height is often 1,550 mm or less. Those who want to ride an SUV from now on or who are considering purchasing may think that they have no choice but to give up the multi-storey car park because the vehicle height is high, and there may be people who have never cared about it in the first place. ..Therefore, vehicles that can be stored in tower-type multi-storey car parks with SUVsIt is supposed to be.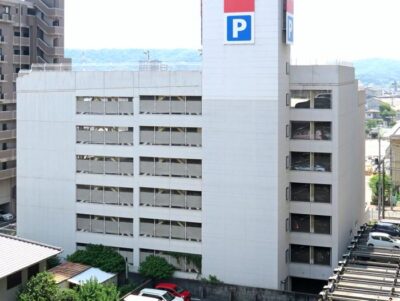 The interior is fully equipped with the latest equipment
The interior isThe design has a luxurious feel but also a casual feel, creating an interior space that makes you feel like you are riding a "crown" when you sit down.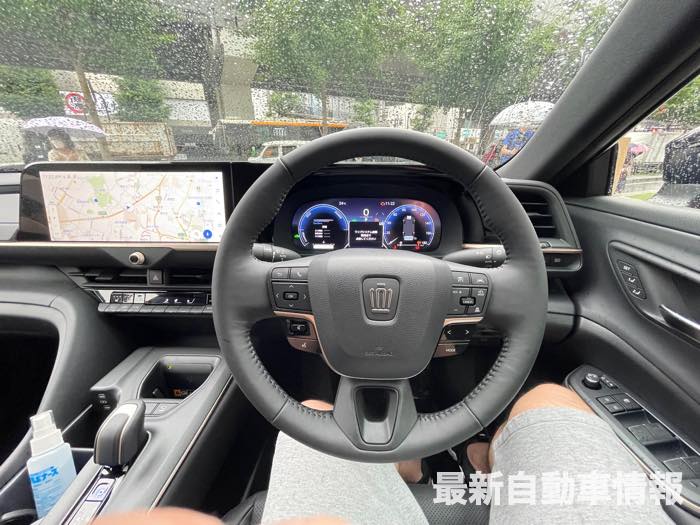 Meter from "Display Audio""12.3 inch large full LCD digital meter"The visibility was very good."12.3 inch large full LCD digital meter"Is a point that makes you feel fresh rather than luxurious.Navigation system"Connected Navigation"I would like to expect that this will evolve from the current situation.Electric parking brake & holdThe position of the button is very easy to press, and I felt that the charging position was set in a very convenient place just by placing it with the drink folder.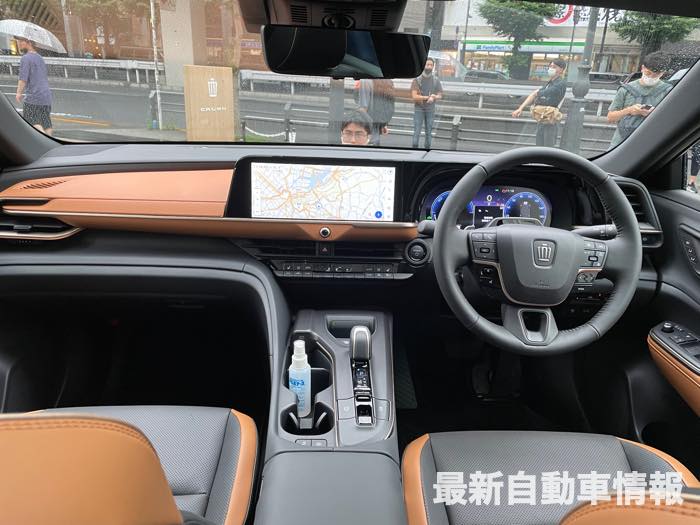 The rear seats have a strong hospitality element like a crown.
The crown is a flagship model because the rear seats are also inherited from the ease of getting on and off and the comfort of sitting.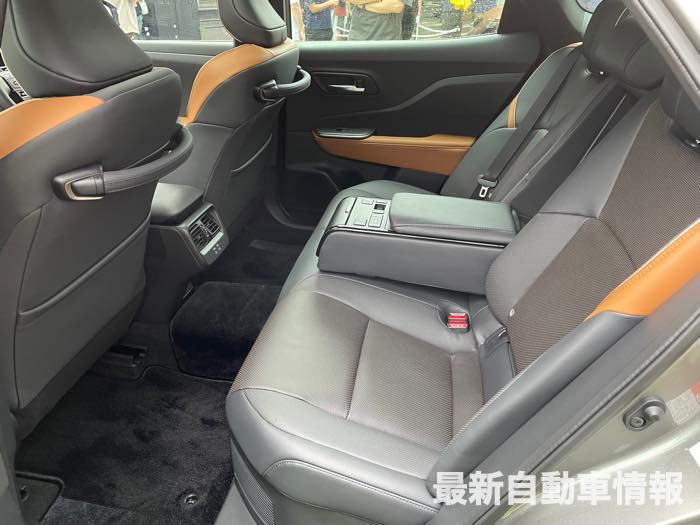 About luggage space
It is made like a sedan, but the bottom feels deep and there is some storage space. The trunk through in the center of the rear seats also seems to be easy to use. Up to 3 golf bags can be stored.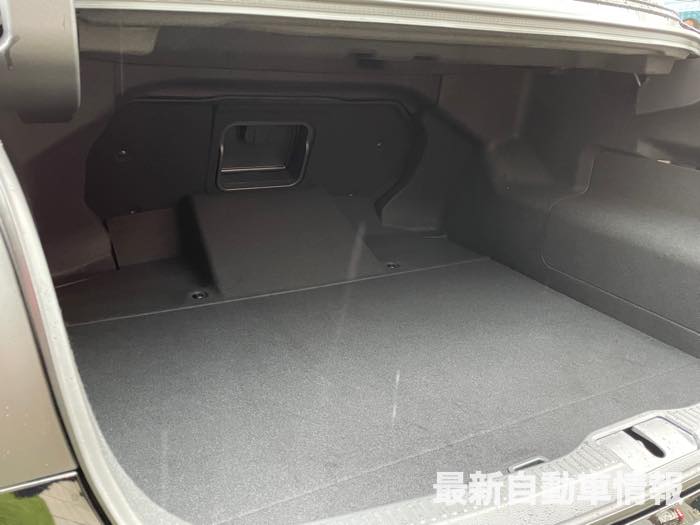 Toyota's advanced safety equipment "Toyota Safety Sense" adopted
The next-generation "Toyota Safety Sense" with higher functionality than the previous model will be adopted.Oncoming straight-ahead vehicles when turning right and crossing pedestrians after turning left or right are also detected.Will be.Advanced driving assistance technology "Toyota Teammate"MIRAI also adopts the latest advanced driving support technology developed based on Toyota Motor's original concept of autonomous driving "Mobility Teammate Concept" to run together. Incorporating AI technology centered on deep learning, we support the prediction and response to various situations that may be encountered while driving. "Advanced Park]Etc. are adopted.
Adopts the latest hybrid system in its class for fuel efficiency
Adopted in combination with a newly developed bipolar nickel-metal hydride battery.Adopts the newly developed "2.4L direct injection turbo engine + hybrid system"..Adopts a four-wheel drive system "DIRECT4" that utilizes electrification technology.
spec
New crown
2.4 Turbo Hybrid
New crown
2.5 hybrid
full length
4,930mm
4,930mm
Full width
1,840mm
1,840mm
Overall height
1,540mm
1,540mm
Wheelbase
2,850mm
2,850mm
engine
In-line 4-cylinder 2.4L
Direct injection turbo engine
+ Motor
In-line 4-cylinder 2.5L
Direct injection engine D-4S
+ Motor (THSⅡ)
Maximum output
200kW (272ps) /
6,000 rpm
137kW (186ps) /
6,000 rpm
Maximum torque
460Nm (46.9) /
2,000-3,000 rpm
219Nm (22.5kgm) /
3,600 rpm
Front motor
Maximum output
61kw (82.9ps)
88kW (119ps)
Front motor
Maximum torque
292Nm
202Nm
Rear motor
Maximum output
61kW (59ps)
40kW (54.4ps)
Rear motor
Maximum torque
169Nm
121Nm (12.3kgfm)
transmission
Direct Shift-6AT
Electric continuously variable transmission
battery
Nickel metal hydride battery
5Ah
Nickel metal hydride battery
5Ah
Drive system
4WD
(E-Four Advanced)
4WD
(E-Four)
Riding capacity
Five people
Five people
Vehicle weight
1900-1920kg
1750-1790kg
WLTC mode fuel economy
15.7km / L
22.4km / L
summary
The "Crown" is a special existence for Toyota, and it is a car model that I want Toyota to continue forever. The "Crown" brand will also make an unprecedented evolution as a new model aimed at revival, but the revival on the luxury line is expected to be a little steep. By making it an "SUV coupe style", I feel the desire to have people in their 40s and 30s ride by changing the impression of luxury and design. I felt the will to leave the "Crown" as a Toyota brand and the will to take on the challenge.The remaining models will be released over a year, but it is possible to put the actual vehicle in the public relations, but since the influence of semiconductors is expected to continue in the future, the release date is postponed or the delivery date is delayed. There is no doubt that you will be forced to struggle.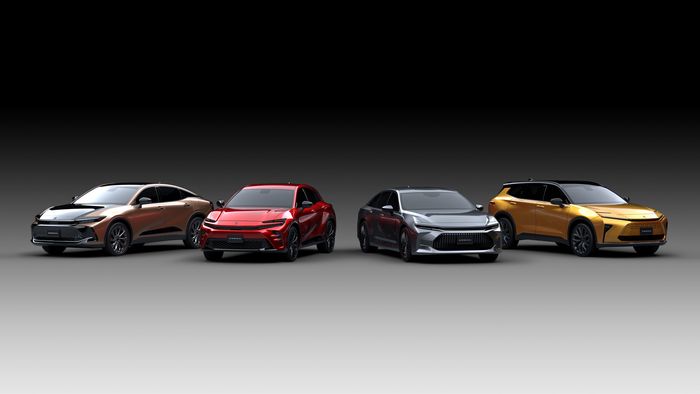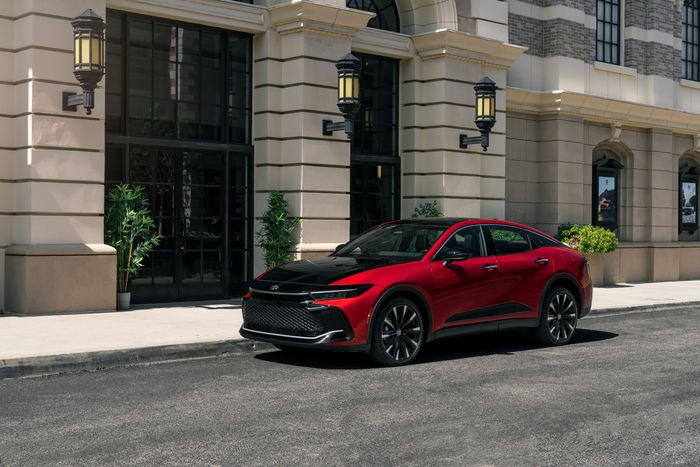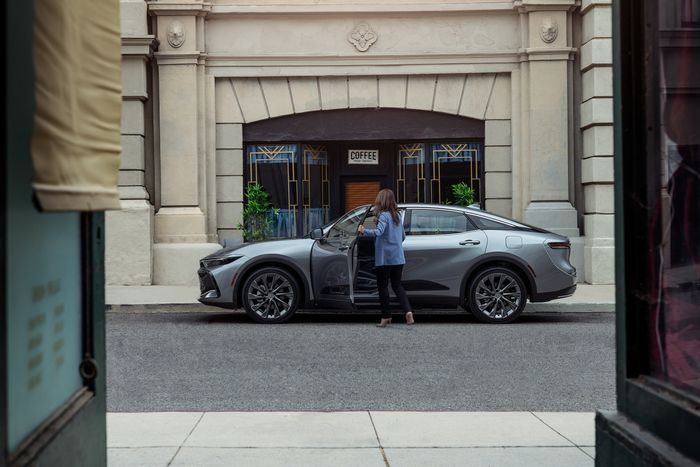 Toyota crown
https://toyota.jp/crown/