Honda will start accepting pre-orders for the new SUV "ZR-V" in September 2022. New information about ZR-V is released on a special site.
table of contents
About the features of the new SUV "ZR-V"
Honda latest "Digital meterIs adopted.
The exterior isNew generation brand designAdopt
Hybrid (e: HEV)Equipped with
Smartphones can be used as keys instead of "Honda digital key"Adopted.
"9 inch Honda CONNECT Honda displayIs adopted. Honda car dedicated in-vehicle communication module "Honda CONNECTIs installed. "Honda Total Care Premium" is available.
The ZR-V was developed with the aim of creating a car that unleashes the individuality of the customer and enhances the mood like a favorite Ichizora, based on the grand concept of "releasing the distinctiveness." It provides new value to SUVs as a car that gives drivers confidence and leeway, such as a beautiful and sophisticated design with the keyword "glamorous and elegant" and dynamic performance aimed at manipulating at will.
Exterior
From the front to the rear, the exterior has a sleek proportion with a rich and smooth surface. The front has a high-quality yet dignified look due to the vertical grille that has continuity with the surrounding shape and the horizontally long and sharp headlights. The rear is shaped to emphasize the wide tread by narrowing it down smoothly while giving volume to the bottom of the body.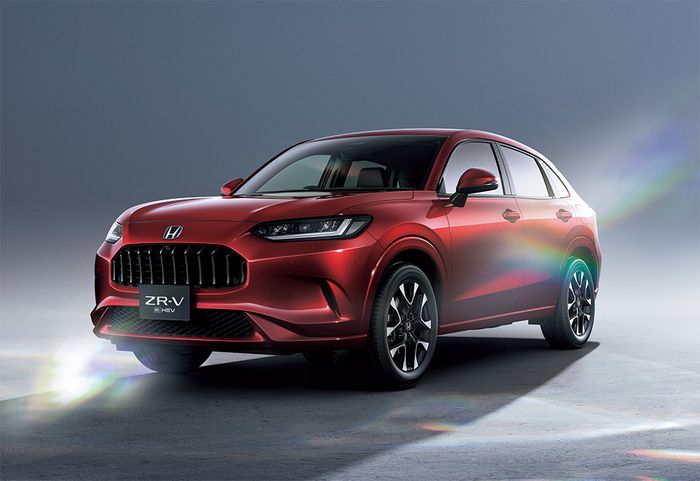 interior
The interior creates a spacious space by adopting an instrument panel that spreads out to the left and right. In addition, the details of the parts have been tailored to emphasize the beauty of the molding with a functional and precise finish, aiming for a high-quality interior space that is one class higher. A personal space is created by separating the driver's seat and passenger's seat with the high deck center console.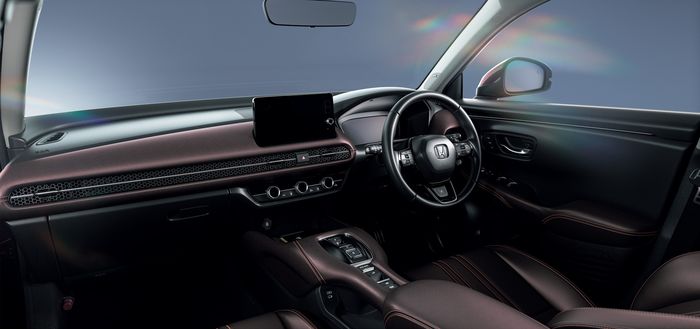 Packaging
By achieving both a low and stable driving position and an eye point with a good view, we aimed to ensure ease of driving and enhance the sense of unity between the driver and the car. In addition to the wide and horizontal front view, we pursued a good view when driving by making it easy to recognize other vehicles and pedestrians in the rear.
As for the rear seats, by setting the hip point low as in the front seats, it is possible to increase the degree of freedom in designing the roof end, achieving both a sleek roofline and improved aerodynamic performance. We have prepared a variety of easy-to-use storage spaces and secured utilities that can meet the various needs of our customers.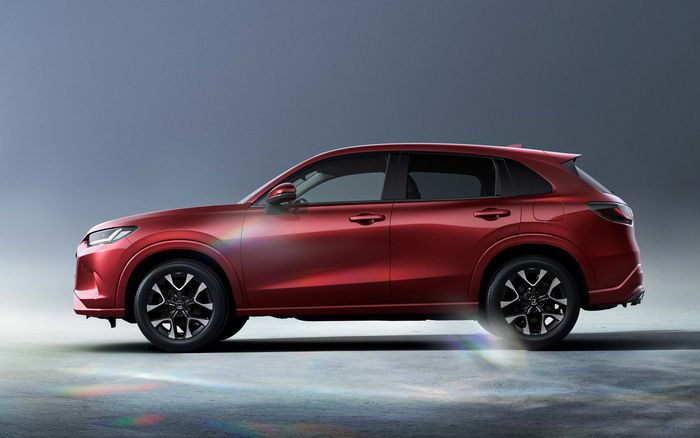 engine
The hybrid model is the first SUV to be equipped with a 2.0L direct-injection engine newly developed for the "Civic e: HEV" and an electric CVT with a built-in 2-motor. A 1.5L turbo engine + CVT gasoline model that provides high response and light driving is also available.
Real-time AWD is set for both the hybrid model and the gasoline model. It has excellent snow turning and climbing performance, and realizes driving on snow with a sense of security.
About Honda's new ZR-V
It is said that the new "HR-V" for North America will be released as "ZR-V" in the Japanese model. Originally, the Japanese name of "HR-V" was "Vezel", but it is already in Japan and Europe. The "HR-V Vezel" has been released, and the name "ZR-V" is available as another vehicle name. The model is just between the Japanese "Vezel" and "CR-V", and the front view, which features a strong grille and sharp headlights, has a proportion that connects to the rear in a relaxed manner, and is of high quality and sophistication. Represents the designed design.
About Honda's new ZR-V exterior
In addition to the horizontal belt line and elegant proportions, the exterior has a longer wheelbase than the previous model, giving it a low and firm stance. The size of the car body is such that it is easy to handle even in the city, while having enough interior space and practicality to enjoy various activities such as weekend leisure. In terms of driving performance, we aimed to achieve both ease of handling, sophisticated driving, and the joy of maneuvering by adopting a more agile response engine and a newly adopted independent rear suspension. The body size is 4,580 mm in length, 1,800 mm in width, 1,630 mm in height, and 2,735 mm in wheelbase.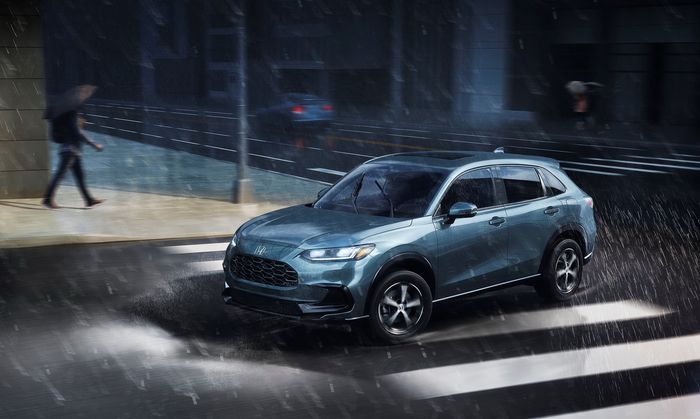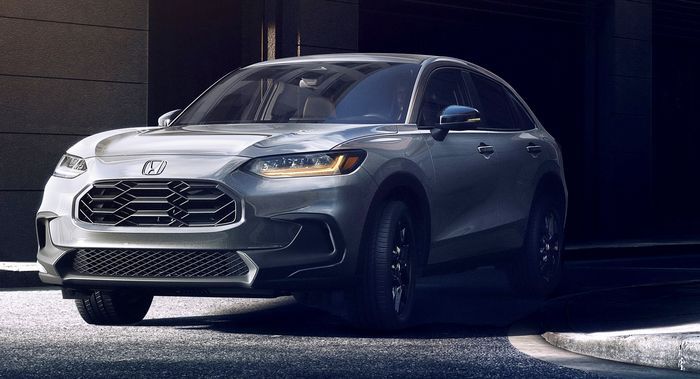 About the difference between "Vezel" and "ZR-V" body size
The "ZR-V" has a body size that is between the "Vezel" and the "CR-V", so it seems to be easy to use in Japan. Furthermore, there is no reason to make other companies more choices due to the lineup of intermediate sizes.
| spec | Vezel | ZR-V | CR-V |
| --- | --- | --- | --- |
| full length | 4,340mm | 4,580mm | 4,605mm |
| Full width | 1,790mm | 1,800mm | 1,855mm |
| Overall height | 1,590mm | 1,630mm | 1,680mm |
| Wheelbase | 2,610mm | 2,735mm | 2,660mm |
| Riding capacity | Five people | Five people | 5-7 people |
About Honda New ZR-V Interior
The interior panel will be designed in a horizontal and straight line, reducing the movement of the line of sight based on the concept of HMI (Human Machine Interface), arranging operations along the flow line, and improving the visibility. Solid form with a solid core "Sleek & Long Cabin" is adopted to provide an exhilarating view in all seats.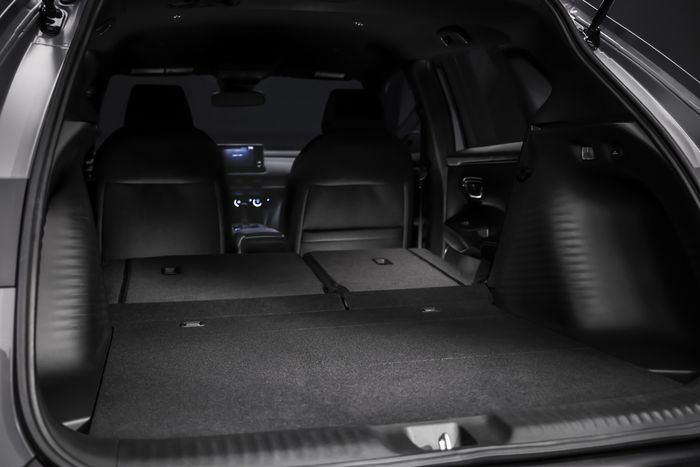 The interior is "Auto brake holdEquipped with a function, it keeps the vehicle stopped even if you take your foot off the brake pedal while the vehicle is stopped, and it is released when you step on the accelerator, so it is useful in traffic jams etc..."Parking brake system"Is adopted. In-vehicle communication module equipped with new-generation connected technology "Honda CONNECTA connected service that allows you to enjoy a safer and more comfortable car life through ""Honda Total Care Premium (Honda Total Care Premium)Provided. On the center display, "9 inch Honda CONNECT Honda displayIs adopted.Compatible with "Apple CarPlay" and "Android Auto".. Honda car dedicated in-vehicle communication module "Honda CONNECTIs installed. "Honda Total Care Premium" is available. Remote operation with a smartphone and trouble support that enables quick and accurate response by connecting the car itself to the emergency support center in the event of an emergency such as an accident are possible. Equipped with "automatic map update service". Smartphones can be used as keys instead of "Honda digital key"Honda App Center" Purchases data communication capacity in the car and adopts "in-car Wi-Fi" that can be enjoyed by connecting to the Internet.
Equipped with Honda SENSING
Advanced driver assistance system "Honda SENSING"for,"Front wide view cameraA new high-speed image processing chip has been adopted, and a "short-range collision mitigation brake" has been added by combining it with a total of eight sonar sensors mounted on the front and rear of the vehicle, making it standard equipment on all vehicles. Four sensors are placed on the rear bumper to detect obstacles behind and notify by sound and display.
About Honda's new ZR-V engine
"2.0L straight-four DOHC i-VTEC + motor (e: HEV)" with a maximum output of 107kW (145ps) / 6,200rpm + motor 135kW (184ps) / 5,000-6,000rpm.
spec
New ZR-V e: HEV
full length
4,690mm
Full width
1,855mm
Overall height
1,640mm
Wheelbase
2,680mm
engine
2.0L straight 4 DOHC i-VTEC
+ Motor (i-MMD) e: HEV
Maximum output
107kW (145ps) /
6,200 rpm
Maximum torque
175Nm (17.8kgm) /
4,000 rpm
Motor maximum output
135kW (184PS) /
5,000-6,000rpm
Motor maximum torque
315N ・ m (32.1kgf ・ m) /
0-2000rpm
EV maximum speed
2WD (FF) /
Real-time AWD
Riding capacity
Five people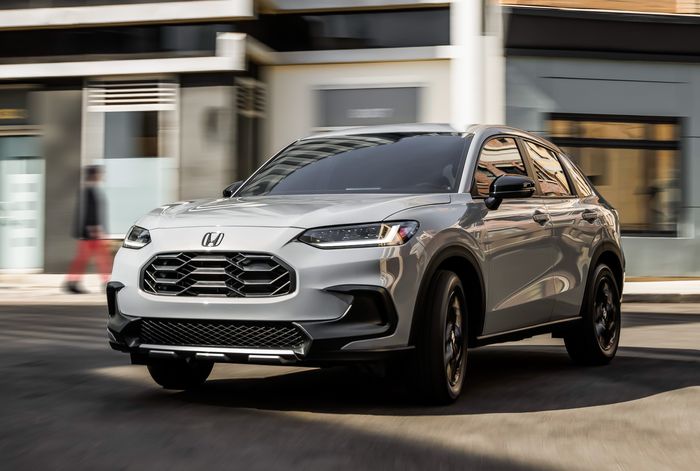 Honda news release
https://www.honda.co.jp/news/2022/4220714.html
ZR-V
https://www.honda.co.jp/ZR-V/new/