Honda of the United States officially announced the new "CR-V" in 2023 on July 13, 2022 (local time). Launched in the summer of 2022. An additional hybrid model will be released in the fall.
table of contents
Honda new CR-V full model change about 2023
The exterior of the new "CR-V" has a sportier and more sophisticated design. Overhauled headlights with LED daytime running lights previewing the front end of the SUV. Equipped with a larger grill that stands out. At least in this hybrid trim, there is a silver shroud on the bottom air intake, finished in black. The shape and curve of the front fascia are also quite different from the conventional model. The rear has the same L-shaped taillight that extends the D-pillar, but has become a more sophisticated and sport-revised LED signature. Other parts of the eye-catching new CR-V include a fake silver tailpipe and various tailgates. The total length is 4,694 mm, the total width is 1,864 mm, the total height is 1,681 mm, and the wheelbase is 2,700 mm.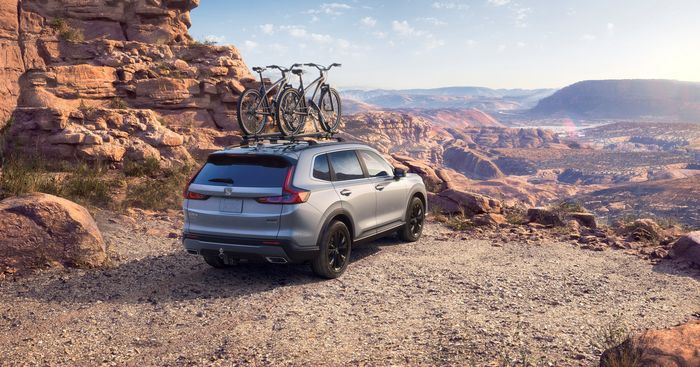 Based on Honda's enhanced global architecture, the CR-V's wheelbase has been expanded for a smoother ride and greater stability. Significantly wider trucks also improve stability. The body with high torsional rigidity of 15% further supports the improvement of ride comfort, handling and overall refinement.
New CR-V full model change 2023 interior
The interior panel will be designed in a horizontal and straight line, reducing the movement of the line of sight based on the concept of HMI (Human Machine Interface), arranging operations along the flow line, and improving the visibility. "Sleek & long cabin" is adopted. The meter is the "Accord," "Insight," "Vezel," etc.7.0 inch instrument clusterIs adopted.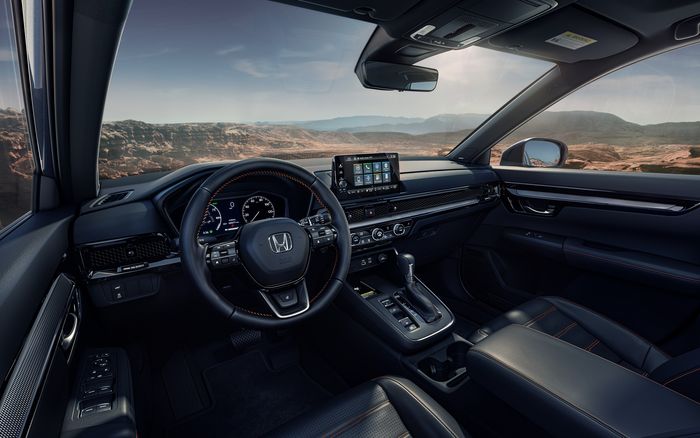 Equipped with an "auto brake hold" function, it keeps the vehicle stopped even if you take your foot off the brake pedal while the vehicle is stopped, and it is released when you step on the accelerator, so it is useful in traffic jams. By adopting the "telescopic & tilt steering mechanism", it is possible to drive in the best position from the large one to the small one. Adopt a "parking brake system".
On the center display, "9 inch Honda CONNECT Honda displayIs adopted. Compatible with "Apple CarPlay" and "Android Auto". Equipped with "Honda CONNECT", an in-vehicle communication module for Honda vehicles. "Honda Total Care Premium" is available. Remote operation with a smartphone and trouble support that enables quick and accurate response by connecting the car itself to the emergency support center in the event of an emergency such as an accident are possible. Equipped with "automatic map update service". "Honda Digital Key" and "Honda App Center" where smartphones can be used as keys. "In-car Wi-Fi" is adopted, which allows you to purchase data communication capacity in the car and enjoy it by connecting to the Internet. The CR-V Sport Touring is also equipped with a 12-speaker Bose premium audio system.
New CR-V full model change 2023 engine
Equipped with a new 4th generation 2-motor hybrid system that combines a 2.0L Atkinson cycle 4-cylinder + electric motor. The total output will be a maximum output of 204hp and torque of 247lb-ft (335 Nm) / 0-2,000rpm. "1.5L 4-cylinder turbo engine VTEC Turbo" lineup with maximum output of 190hp / 6,000rpm.
New CR-V full model change 2023 Safety technology
Next-generation "Honda SENSING" is installed as standard on all models. The front wide-view camera with a wide horizontal angle of view and eight front and rear sonar sensors are installed for the first time in Honda vehicles. Collision mitigation braking system (CMBS) helps avoid collisions with day and night pedestrians and bicycles. In addition, it becomes an ACC with a traffic jam tracking function, and is also equipped with a "rearward false start suppression function" and "auto high beam". Added "Short-range collision mitigation brake". Collision mitigation braking (CMBS), off-road deviation suppression function, sign recognition function, and lane keeping support system (LKAS) have been further evolved from the previous model.
System equipment
Old model CR-V
New CR-V
CMBS
◯
(Day / night pedestrians)
◯
(Day / night pedestrians
bicycle)
False start suppression function
◯
◯
Pedestrian accident reduction steering
◯
◯
Off-road deviation suppression function
◯
◯
ACC
◯
(With traffic jam tracking function)
◯
(With traffic jam tracking function)
LKAS
◯
◯
Preceding vehicle start notification function
◯
◯
Sign recognition function
◯
◯
Backward false start suppression function
– –
◯
Automatic high beam
◯
◯
Blind spot
information
◯
◯
Multi-view camera system
– –
◯
USA HONDA
https://hondanews.com/en-US/honda-automobiles/releases/release-db2492147c55da663fd32edfea17c772-americas-favorite-suv-gets-even-better-all-new-honda-cr-v-gets-a-sophisticated- and-rugged-design-and-more-advanced-sporty-hybrid-system