The Lexus "IS" will be released in Japan on August 25, 2022 with some improvements.There are many differences from the past, so I summarized what kind of evolution the "IS", which has been about two years since its release, has evolved.
table of contents
"IS 500 F SPORT Performance" added to Lexus "IS"
"IS500 F SPORT PerformanceIs newly set.
The hybrid emblem has been changed in the same way as the gasoline model.
For body colorNew color "Titanium bite gray <1L8>"Add.
"IS500 F SPORT Performance"teethThis is the first model in the "LEXUS F SPORT Performance" line.The engine has improved displacement and performance over the "IS350" 3.5L V6.The 5.0L V8 engine has a maximum output of 472hp (479ps) / 7,100rpm, a maximum torque of 54.6kgm (395lb.-ft) / 4,800rpm, and an 8-speed sports direct shift automatic transmission... The vehicle tilts the scale at 3,891 pounds and gains only 143 pounds of additional curb weight over the standard IS 350 F SPORT. IS 500 is4.5 seconds at 0-100km / h acceleration (0-60 mile acceleration)It has a highway rating of 24mpg estimated by the manufacturer. Performance enhancements for the IS500 include a throat quad exhaust system with dual stack tailpipes that fully amplify the new V8 engine.
About Lexus IS500 F SPORT Performance
IS500 is Standard equipment for handling F SPORT's Dynamic Adaptive Variable Suspension (AVS) and Torsen-included Package (DHP).Improved Limited Slip Differential (LSD) performance. LSD also helps maintain linear stability.The engineer is Yamaha®The rear performance damper has been added and the chassis performance has been improved. This damper reduces dynamic structural distortion, increases comfort at low speeds, and increases stability and agility at high speeds. Brake cooling enhancements will also be made to the standard IS 350 F SPORT with additional aerodynamic cooling and a larger 14.0 inch two-piece aluminum front rotor and 12.7 inch rear rotor.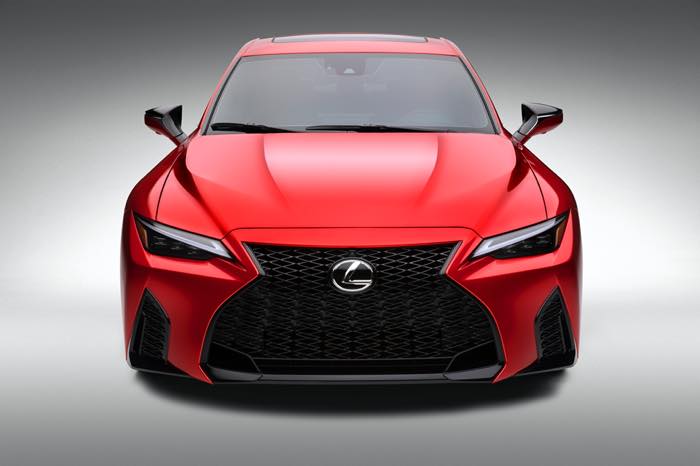 The IS 500 features a subtle appearance enhancement that sets it apart from the standard IS 350 F SPORT. The hood has been lifted nearly two inches to receive the engraved central character line, and the front bumpers and fenders have been lengthened to accommodate the vehicle's naturally aspirated V8 muscles. IS 500Dedicated 19-inch split 10-spoke Enkei aluminum wheels are standard equipment.Not only is it beautiful and complex compared to the standard 19-inch F SPORT wheels, but the wheels are about £ 1 lighter per front wheel and £ 2 lighter per rear wheel. For other exterior updates,Quad (4 pieces) exhaust systemIncludes a revised lower rear diffuser accent to emphasize, and dark chrome window trim. Combining these visual and performance clues is the black "IS F SPORT" rear lip spoiler.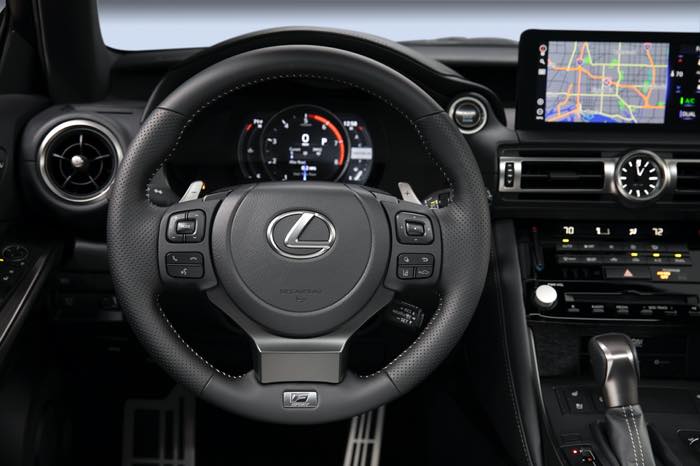 The driver is greeted by a black F SPORT Performance badge on a leather-wrapped steering wheel and door sill scuff plate. In addition, the IS F SPORT accelerator pedal, brake pedal, and footrest are standard equipment, but the combination instrumentation meter receives the latest startup animation dedicated to the IS500.
About the new IS500 F SPORT Performance specs
| spec | New IS500 |
| --- | --- |
| full length | 4,757mm |
| Full width | 1,840mm |
| Overall height | 1.435mm |
| Wheelbase | 2,800 mm |
| engine | 5.0L V8 engine |
| Maximum output | 352kW (479ps) / 7,100rpm |
| Maximum torque | 535Nm (54.6kgm) / 4,800rpm |
| 0-100km / h acceleration | 4.5 seconds |
| WLTC mode fuel economy | -km / L |
| Expected price | About 7 million yen |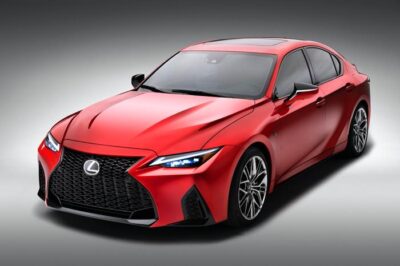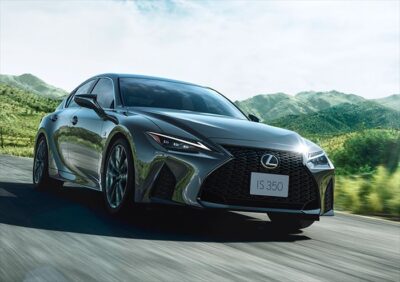 Lexus IS
https://lexus.jp/models/is/