Citroën will introduce the "C3 Aircross SUV Blue HDi" equipped with a clean diesel engine to the compact SUV "C3 Aircross SUV" and release it on July 1, 2022.
table of contents
Citroen New "C3 Aircross SUV BlueHDi"
The "C3 Aircross SUV BlueHDi" equipped with a clean diesel engine is a new addition to the lineup of the 1.5L clean diesel engine, which has a maximum output of 120ps and a maximum torque of 300Nm. 6-speed AT. WLTC mode fuel efficiency is 21.3km / L, which is the top level performance among B-segment compact SUVs. In addition to being subject to the eco-car tax reduction and using relatively inexpensive light oil, it has excellent economic efficiency.
There are two grade configurations, the advanced specification "SHINE PACK BlueHDi" equipped with a panoramic sunroof, HiFi speaker, grip control, etc., and the basic model "SHINE BlueHDi" equipped with 16-inch wheels.
To commemorate the introduction of the clean diesel engine model, the C3 AIRCROSS SUV BlueHDi Debut Edition, a special specification car with a high-quality interior that uses gray leather seats and gray tep leather dashboard, is available. The distinctive interior, worthy of the Debut Edition name, is designed to be enjoyable across generations, symbolizing Citroën in recent years. The back and seat of the seat are in two-tone color, and a lighter pattern is also applied. Gray Tep leather is also used for the dashboard to create an elegant Citroen space. A model that colors the C3 AIRCROSS SUV Blue HDi lineup.
New C3 Aircross SUV
Exterior
The front face of the C3 has a fearless look that symbolizes the new generation of Citroen. A dynamic front face with an impressive unique lighting design consisting of sharp and sharp LED daytime lights and newly adopted LED headlights. The air bumps on the side make it an even more eye-catching icon. New spring blue and rouge body colors add emerald to his elixir and roof colors. With a body size of 4160 mm in length, 1765 mm in width, and 1630 mm in height, it is extremely compact and yet has a spacious interior space.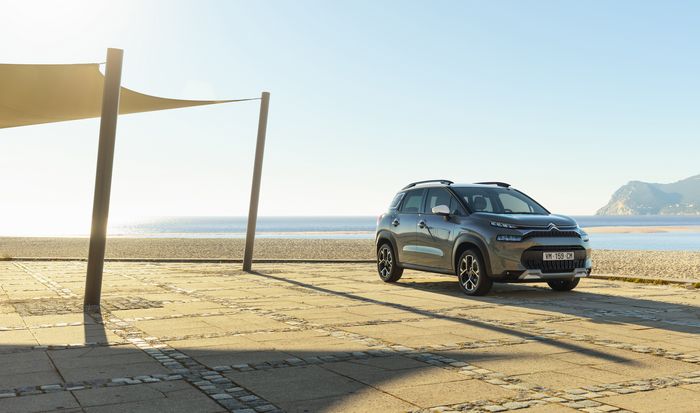 interior
The interior trim is easy to make, so it feels different. It is the advanced comfort seat that has evolved to bring you the comfort of a living room. The sponge thickness has been greatly increased from 2mm to 15mm. Secures a luggage space with a capacity of 300L. In addition, a 6: 4 split foldable rear seat with a reclining function is adopted. If you slide the seat to the front, the luggage space capacity will increase from the usual 410L to about 520L. If you fold all the rear seats, it can be expanded up to about 1,289L. By tilting the passenger seat back forward, a long object of about 2.4m can be installed indoors. Uses a 7-inch touch screen. Also equipped with a mirror screen. Compatible with "Apple CarPlay ™" and "Android Auto". With numerous driver assist functions, comfort has also evolved. Two types are available: a chic "standard" and an "emerald" that coordinates a vivid emerald accent color.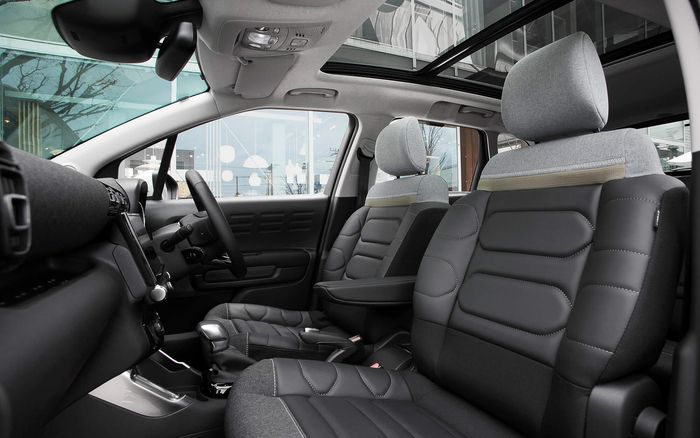 safety equipment
LED headlights and intelligent high beams are standard equipment on all grades. "Blind spot monitor system," "active safety brake," "lane departure warning," "traffic sign information," "driver attention alert," "front, back sonar, back camera" will be adopted.
About the new C3 minor change specs
spec
C3
AIRCROSS SUV
C3
AIRCROSS SUV
Blue HDi
full length
4,160mm
4,160mm
Full width
1,765mm
1,750mm
Overall height
1,630mm
1,630mm
Wheelbase
2,605mm
2,605mm
engine
1.2L in-line 3-cylinder
PureTech
Turbo engine
1.5L in-line 4-cylinder
clean
Diesel turbo
Maximum output
96kW (130ps) /
5,500 rpm
88kW (120ps) /
3,750 rpm
Maximum torque
230Nm /
1,750 rpm
300Nm /
1,750 rpm
Trance
Mission
EAT6
(6-speed AT)
EAT6
(6-speed AT)
WLTC mode fuel economy
16.7km / L
21.3km / L
Price (10%)
From 3,207,000 yen
3,475,000 yen
From 3,292,000 yen
3,615,000 yen
Citroen
https://www.stellantis.jp/news/20220701_citroen_new_c3_aircross