Suzuki will make some improvements to the "Crosby" and release it around August 2022.
table of contents
About Suzuki's new Crosby partial improvement
Changed the exterior design. (Changed the front grill and aluminum wheels.), "USB power socket (Type-A / Type-C instrument panel, 2 pieces)" is added to the grades "HYBRID MZ" and "HYBRID MV". "Premium UV & IR cut glass (front door)" and "Windshield with IR cut function" are used for the grade "HYBRID MZ". The interior is newly set with "Reddish Brown Sheet". "Brown Interior Package" is newly adopted for "HYBRID MZ".There are 8 new body colors and a large lineup.
New setting brown interior package "HYBRID MZ"
"Brown Interior Package" is newly adopted for "HYBRID MZ", and "Luxe Suede & Brown Leather Style Seat Skin" instrument panel color panel is "Brown Metallic" Door Trim Color Panel "Brown Metallic" Todoor Trim Cloth "Black Leather" "Tone".
About the new Crosby specs
spec
New Crosby
full length
3,760mm
Full width
1,670mm
Overall height
1,705mm
Wheelbase
2,435mm
engine
In-line 3-cylinder
1L VVT turbo engine
Maximum output
73kW (99PS) /
5,500 rpm
Maximum torque
150Nm (15.3kgm) /
1,700-4,500 rpm
motor
Maximum output
2.3kw (3.1ps) /
1,000 rpm
motor
Maximum torque
50Nm (5.1kgm) /
100 rpm
Trance
Mission
6-speed AT
Drive system
2WD (FF) / 4WD
JC08 mode fuel economy
20.6 ~ 22.0km / L
Riding capacity
Five people
About Crosby
Suzuki released the new "XBEE" on December 25, 2017, which has a larger displacement than the new "Hustler" mini vehicle. It is a model with a larger displacement than a mini vehicle (660cc) and will be equipped with a 1L in-line 3-cylinder VVT turbo "BOOSTER JET" and a mild hybrid. The vehicle tax for light vehicles is 10,800 yen, and the next cheapest one is 29,500 yen with a displacement of 1.0L or less. The price of 1.0 to 1.5L is 34,500 yen, which is three times that of a mini vehicle. Suzuki's 1.0L lineup is naturally a mild hybrid model that can be expected to improve fuel efficiency if it is 1.0L or more. The engine is an in-line 3-cylinder 1L VVT turbo "BOOSTER JET" engine + motor (mild hybrid) mounted on the Swift. Maximum output: 73kW (99PS) / 5500rpm, maximum torque: 150Nm (15.3kgm) / 1,700-4,500rpm, maximum motor output: 2.3kw (3.1ps) / 1,000rpm, maximum motor torque: 50Nm (5.1kgm) / 100rpm, Transmission: 6-speed AT, drive system: 2WD / 4WD, JC08 mode fuel consumption: 22.0km / L (2WD), JC08 mode fuel consumption: 20.6km / L (4WD), power performance is on par with 1.5L due to turbo engine and mild hybrid It has been enhanced. Two new modes have been adopted for 4WD vehicles: "sports mode" for powerful driving and "snow mode" for suppressing tire slippage when starting and accelerating on snowy roads and ice-burning roads. Equipped as standard with two functions: "Grip Control" that supports starting on muddy and slippery roads, and "Hill Descent Control" that maintains the vehicle speed at about 7km / h when going down steep slopes.
About the new Crosby (XBEE) mild hybrid
The ISG (generator with motor function), which has excellent power generation efficiency, uses the energy during deceleration to generate electricity and charges the lead battery and lithium-ion battery for idling stop vehicles. A hybrid system that further improves fuel efficiency by assisting the engine with a motor when accelerating. Efficient power generation using ISG (generator with motor function) deceleration energy. It also has a motor function, restarts the engine quietly after starting, and assists the engine with the motor when accelerating. Dedicated lithium-ion battery Supports the large current required for motor assist. Allows frequent assistance. All cars are equipped with a paddle shift with manual mode.
About the new Crosby (XBEE) size
As for the overall height, the overall width and overall length will be increased like the Hustler, and the wheelbase will be slightly extended accordingly.Overall length: 3,760mm (3,395mm), overall width: 1,670mm (1,475mm), overall height: 1,705mm (1,665mm), wheelbase: 2,435mm (2,425mm), minimum ground clearance: 180mm, passenger capacity: 5 people
Hustler size (). The next-generation lightweight platform "HEARTECT" has been adopted to reduce weight and increase rigidity. All cars use the same tires and wheels, and the tire size is 175/60 ​​R16 82H.
About the new Crosby (XBEE) interior
All models are equipped with a self-luminous meter that constantly emits light. Set a large 3.5-inch multi-information display on the right side of the instrument panel. Functional buttons are arranged around the instrument panel, and the meter has a large diameter and is designed to be easy to see. The navigation system and other switches are also located at high positions for good operability. The passenger side has a design that makes it easy to store small items. The rear seat can be divided into 5: 5 and can slide around 165 mm, and the seat back can be reclined.
Crosby part specification change
Suzuki released the "Crosby" on October 15, 2020 with some changes in specifications. With some specification changes,Adopted Suzuki's first "lane keeping support function"In addition, "Adaptive Cruise Control with All Vehicle Speed ​​Tracking Function",Adoption of "dual camera brake support that detects pedestrians at night"This has further enhanced Suzuki Safety Support. It falls under the category of "Support Car S Wide" promoted by the Ministry of Economy, Trade and Industry and the Ministry of Land, Infrastructure, Transport and Tourism, and "Collision Damage Mitigation Brake (AEBS) Certified Vehicle" by the Ministry of Land, Infrastructure, Transport and Tourism.
Water-repellent finish on personal tables (left and right rear seats), antifouling type luggage floor, steering audio switch, etc.Newly set "HYBRID MV" with easy-to-use equipmentdid.
"Tough khaki pearl metallic" "Premium silver metallic" "Speedy blue metallic with white 2-tone roof specification" "Tough khaki pearl metallic" "Burning red pearl metallic with black 2-tone roof specification" "Super black pearl" "Caravan ivory pearl metallic" Added "3-tone coordination specifications".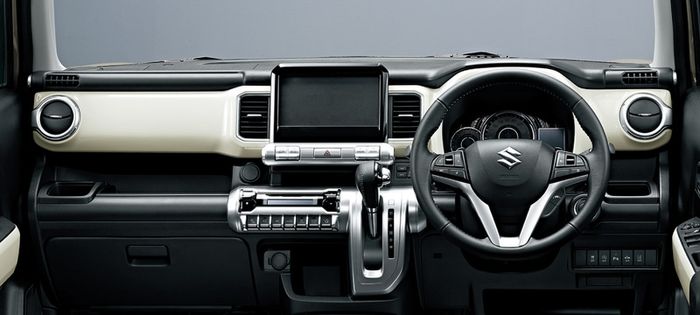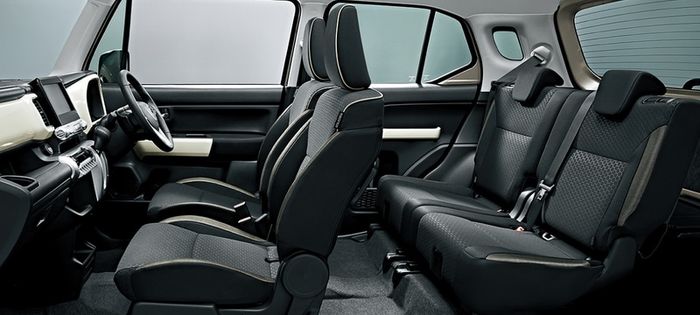 New Crosby Partial specification change Body color
Premium Silver Metallic
Pure white pearl
Super black pearl
Speedy Blue Metallic White 2 Tone Roof
Caravan Ivory Pearl Metallic White 2 Tone Roof
Classy brown metallic white two-tone roof
Rush Yellow Metallic White Two Tone Roof
Tough khaki pearl metallic black two tone roof
Burning Red Pearl Metallic Black Two Tone Roof
Pure White Pearl Black Two Tone Roof
Caravan Ivory Pearl Metallic 3 Tone Coordination
Super Black Pearl 3 Tone Coordination
New Crosby Partial specification change Price grade
grade
engine
Drive
method

Trance
Mission

Price (10%)
HYBRID MX
1.0L
DOHC VVT
Direct injection turbo
(Mild hybrid)
2WD
6AT
1,805,100 yen
4WD
1,950,300 yen
HYBRID MV
2WD
1,948,100 yen
4WD
2,093,300 yen
HYBRID MZ
2WD
2,062,500 yen
4WD
2,207,700 yen
Suzuki
https://www.suzuki.co.jp/
New Crosby (XBEE)
https://www.suzuki.co.jp/car/xbee/